Advertising Opportunities
Featuring over 27,000 user reviews, Trailspace is the largest and most active independent outdoor gear review site on the web.
Each month more than a quarter million active outdoor adventurers use Trailspace to discuss and research gear and technical clothing.
Is your brand part of the conversation?
Download the Trailspace media kit (PDF)
Display Advertising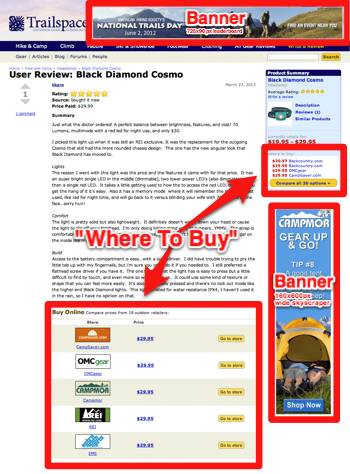 For online branding and awareness campaigns, nothing beats evocative visuals and dedicated space for your message. That's why we offer banner/display ads in some of the largest and most popular formats, including:
728x90 leaderboards appearing at the top of every page site-wide
160x600 wide skyscrapers above the fold on every page of the site
300x250 medium rectangles on select pages
234x90 at the top of most pages
Standard image ads (GIF, JPEG) and rich media files (e.g. Flash) are acceptable
Both leaderboards and skyscrapers can be targeted to specific content areas of the site or run site-wide.
Please contact us to discuss pricing and availability.
Comparison Shopping
Since 2002, outdoor gear shoppers have relied on Trailspace's "Where to Buy" comparison shopping engine to bridge the gap between reading product reviews and actually finding retailers who carry the products they want.
"Where to Buy" links are perfect for retailers and for manufacturers who sell direct via their websites. Advertiser links appear twice on each review and product-detail page: in the upper right corner of the page and also immediately below the review text.
To display your current inventory and pricing, we accept data feeds in a variety of formats. If you already share data with another comparison shopping service, we can probably work with your existing data feed.
"Where to Buy" ads are available on a per-click basis, or via your affiliate program. Positioning is competitive: higher per-click bids translate to better positioning, and generally more customer click-throughs, on products with multiple advertisers.
Please contact us for a traffic and cost estimate.
Download the Trailspace media kit (PDF)