1934 A.T. Scouting Trip Gear List
Below is the gear list from the final Appalachian Trail scouting trip, taken June 21-28, 1934, in western Maine by members of the Bates College Outing Club—Professor William H. Sawyer, club president Sam Fuller '35, secretary Harold "Ace" Bailey '36, and member Edward Aldrich '35. Reportedly 45-50 pounds per pack.
Read "Blazing a Good Trail: The AT in Maine" for the full narrative.
Equipment Used on A.T. Scouting Trip—June 21 to 28, 1934
Cooking Implements

5 cups
6 knifes
6 forks
1 can opener
7 spoons
6 plates
1 kettle
2 towels
1 dish cloth
1 sieve
1 frying pan
1 biscuit pan
paper napkins
salt and pepper shakers
1 pkg. Rinso
1 box matches

Necessary Articles

4 large packs
1 large tent
2 blankets per man
1 emergency kit
1 large axe
1 small axe
1 altimeter
1 directional compass
1 compass per man
can of Fly-Tox and gun
roll of toilet paper
fishing rods
bottle of insect lotion per man
two pair heavy socks per man
pair of heavy shoes per man
good maps
tags to mark trail
1 pair of field glasses
notebook and pencil
good camera
harmonica
playing cards

Food

7 cans condensed milk
1 peck potatoes
1 peck carrots and beets
1 dozen oranges
1/2 peck onions
salt
pepper
2 pounds of cheese
3 jars of apple butter
1 can of brown sugar
1 package of prunes
1 package of pancake flour
1 jar of jam
2 cans of corn beef
2 packages of tea
1 box of matches
1/2 pound of corn meal
2 pounds of coffee
1 package of Bisquick
one dozen eggs
4 bars of milk chocolate
1 package of oatmeal
3 cans of logan berries
4 cans of corn
4 cans of lima beans
4 cans of baked beans
2 cans of fruit
3 cans of peas
steak
ham
Necessities Required on an Outing Club Hike
(from 1930s Bates Outing Club handbook)
Clothing

Footwear

High boots, or regular policeman's shoes (with hobnails or without).
Heavy sneakers will serve the purpose.
Heavy woolen hose.

Pants

Woolen knickers (not full) or
Army pants, or
Riding breeches, or
Ordinary trousers tucked into high boots.

Shirts

A light flannel shirt, and a heavy flannel shirt

Outer Garments

A heavy sweater, or
Sweat shirt, or
Woolen or leather jacket.

Hats

An old felt hat is the thing.

A red bandana

Sleeping Equipment

A light sleeping bag with water-proof covering, or

Two woolen blankets and a poncho and 6 blanket pins.

Toilet Articles and Miscellaneous

Toothbrush and paste.
Soap and towels.
Flashlight.
Waterproof match container.
Jack knife

Knapsack

It should be large enough to hold blanket roll, extra clothing, toilet articles, and about 10 lbs. of food. *Knapsack is necessary only when supplies, etc. have to be packed into camping place.

First Aid Outfit

Small vial of iodine.
Gauze bandage.
Adhesive tape.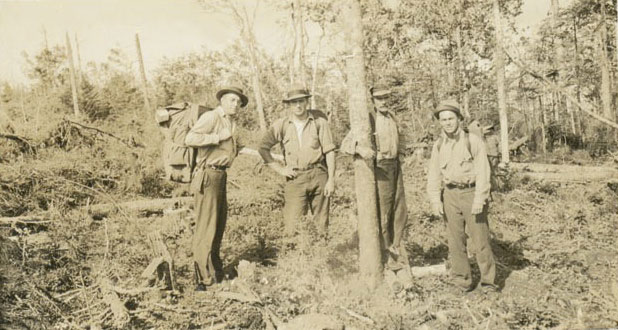 Above: Bates Professor William H. Sawyer, Samuel T. Fuller '35, unkown, and Edward Aldrich '35.

Top image: Prof. Sawyer, Sam Fuller, Warden Conant, Ed Aldrich. 1934. Avery Collection
Photos by Bates Outing Club secretary Harold "Ace" Bailey '36.