This forest is my forest...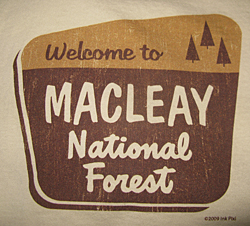 Recently I mentioned what a thoughtful, generous, health-conscious gift I gave my brother for the holidays in the form of stainless steel water bottles. Well, obviously I don't think big enough, because I just opened his gift to me and apparently I now have my very own National Forest, which is quite exciting.
I have started my own list of rules for MacLeay National Forest, which I will implement as soon as I can locate it on a map.
So far in my extensive Google research I've located Macleay Island, Macleay River/Macleay River Basin, and Macleay Gorges, all in Australia. Interesting fact: Macleay River has the world's second-fastest flowing currents during flooding. There is also an upper and lower Macleay Trail in Portland, Oregon. No forests though.
You can get your own personalized National Forest apparel at inkpixi.com.
Add your voice
to the world's most comprehensive and useful collection of
independent outdoor gear reviews
.
Review Your Gear