Meet Arson: Trailspace's Most Helpful Reviewer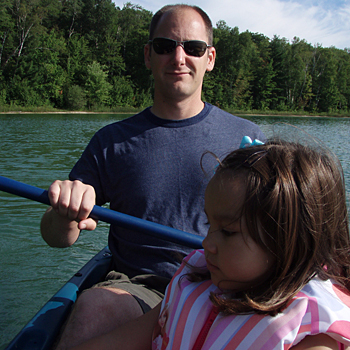 We're recognizing Trailspace's outstanding reviewers and community members as part of our 20,000 Reviews Contest.
Today we meet Arson, the member with the most helpful review ratings of all, as rated by other members.
Arson is Anson, a firefighter/paramedic who lives in the Indianapolis suburbs.
Here's a little more about the guy with the video gear reviews, in his own words.
Activities: Most of my outdoor activities are fly fishing, hiking, and kayaking. I grew up in Michigan, so I primarily go there for the trails and the fish.
Family: I have two daughters and a beautiful wife. They allow me to go out and do "The Wild Man" thing in between gymnastics and ballet classes. I love them dearly and gladly give up the remote trail or trout stream to go have a tea party with my girls.
On Being "Most Helpful": I am really emotional about winning the "most helpful" award from Trailspace. It touches me deeply to know my reviews are helping people. That is why I do it. Like firefighting, I do the reviews to help people and it means so much to have this recognition from my peers. Thank you.
I started doing reviews specifically to give back to all of the people who had given me a review of a product I was considering purchasing. I find Trailspace an invaluable service and I want to thank you for doing an exceptional job, and thank everyone who contributes reviews to help me when I go looking to buy a piece of gear.
Thank you and congratulations, Anson!
For his efforts, Anson will receive:
Congratulations, Anson!
Thanks to Princeton Tec, Nikwax, CamelBak, Clif, and Leave No Trace for donating the prizes.