The Gift of Outside: An Atypical Top Ten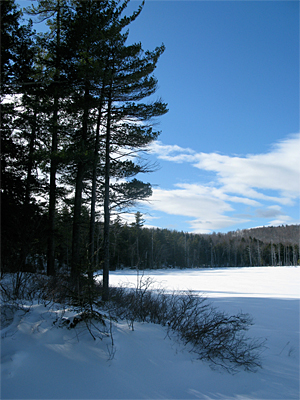 Today my preschooler asked what I wanted for Christmas. "Nothing," I told her, "just you and our family."
"Just us?" she asked. "And outside?"
The kid knows me.
On that note, here is my end-of-the-year, top-ten list for giving the gift of outside:
Opportunity: For many, finding the time to go out on that hike, backpack, or climb is the toughest part. So give someone the opportunity and incentive to go. This might mean watching the kids all day, or all weekend. Or committing to a monthly hike together. Make it official with a homemade coupon. I know that sounds cheesy, but the physical reminder makes the outing more likely to happen, not forgotten in the new year.
Outdoor Skills: Has your spouse always wanted to try ice climbing? Needs to review her backcountry first aid? Wants to identify birds on his nature hikes? Take a class, solo or together.
Get Involved: Give a gift membership to an outing club or an outdoor non-profit, depending on personal interests. Here are some organizations we support at Trailspace.
Protect and support the special spot where your friend hikes, skis, climbs, or paddles. Whether it's $5 or $500, a donation toward forever protecting a specific wild place, especially one being threatened, is a real outdoor gift.
The Essentials: Know someone just starting out in the outdoors? Give him some basics to get out there and back safely. If he's missing one of the 10 essentials, get it for him or supply a gift card to do so. Be aware of return policies and encourage him to exchange any gear you picked for whatever model he really wanted.
Gear: You want to give outdoor gear (not a boring gift card), but have no idea what to get? If your friend hasn't dropped hints, or you missed them, consider these suggestions: maps and guidebooks to explore new destinations, trekking poles, winter traction, food, wool or synthetic baselayers, liner gloves, hats, stuff sacks or dry sacks, cookware, a lightweight insulated sweater or vest, or a small lantern. Of course, those are things I think are useful. I don't know your friend. He might really want some down booties or a big knife. Be practical. Get the good one. Remember the gift receipt.
Outdoorsy for the Indoorsy: Everyone on your list might not be into the outdoors like you. But you can still give semi-outdoorsy gifts. Replace a bottled water habit with a stylish reusable water bottle. (Water.org is selling limited edition CamelBak Better Bottles; all proceeds go toward providing access to clean water globally.) And armchair adventurers enjoy a good outdoor read. You might even entice them outside on your next hike.
The Big Ticket Item: This one is a long shot for most of us. But, if you can afford it and it would be appropriate to give, it's hard to beat waking up to a new set of backcountry skis, a shiny kayak, or that Hilleberg tent she's dreamed about. Like I said, it's a long shot and should only be done under the right circumstances. (i.e. you have the cash and you know the recipient and their gear desires intimately.)
The Splurge: A splurge needn't be a big ticket item (see #8 above). Instead, give something special the recipient would use and love, but wouldn't buy for herself (you know, because she's too practical and all that). Give the fancy chocolates for backpacking, if you usually eat gas station candy. Give the new stove that works on the first, not tenth, try. Give the pretty wool baselayer, if she usually settles for deep discount threads. Give outdoor gear or apparel that's a pleasure to use and enhances the recipient's outdoor enjoyment.
Outside: Now, how much does all that gear really matter? If it helps you stay safe and enjoy the outdoors, great. If it starts becoming the ends and not the means, step back and forget it. It's not about the gear. Really. Go outdoors. Take a loved one. Enjoy the gift of outside. What more could you want?