Gregory overhauls Alpinisto climbing pack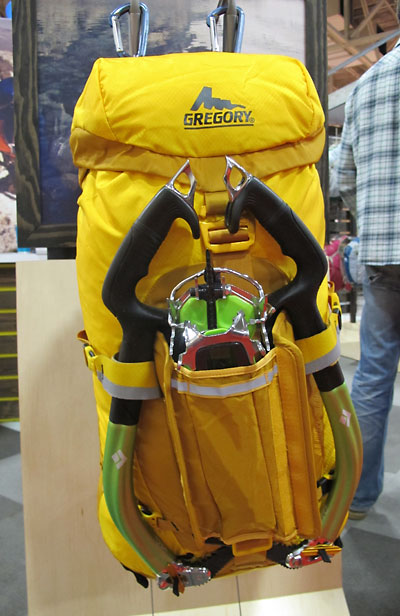 Gregory took the Alpinisto, one of its classic mountaineering packs first launched in the early 1980s, and "completely redesigned it from the ground up" for fall/winter 2012, according to Cory Lowe for Gregory.
"The Alpinisto has been a favorite among guides and pros for years and we approached the redesign knowing that we were messing with a classic," said lead pack designer CJ Whittaker.
"We made a lot of substantial improvements in the suspension, the materials, and the overall feature set so that we're confident the new Alpinisto will meet the needs of the most demanding mountaineers."
The redesigned Alpinisto, still available in 35- and 50-liter sizes, features a Fusion Flex suspension system that can carry up to 35 pounds, fully-stowable outside crampon pocket, and sled-pull attachment points integrated into the waist belt for pulling big loads en route to basecamp.
The ice tool attachment system, designed to be compatible with all modern tool head designs, threads directly through the tool's head (see above) and also keeps your tool secure in place against the pack—no flopping—when the pack is unbuckled (see below).
Both Alpinistos can be stripped down to a bit over 2 pounds by removing the waist belt padding, frame sheet, stay, and included bivy pad. The 50 liter has a removable top lid, so it actually is lighter fully stripped (2 lb 2 oz versus 2 lb 4 oz).
Weight: 3 lb 10 oz (full), 2 lb 2 oz (stripped)
MSRP: $239
Available: Fall 2012
Weight: 3 lb 6 oz (full), 2 lb 4 oz (stripped)
MSRP: $199
Available: Fall 2012