9:54 p.m. on February 26, 2012 (EST)
Bill S

4,404 reviewer rep
6,005 forum posts
Barb and I were out wandering in the Santa Cruz Mountains yesterday. When we returned home and I took my shower, I discovered I had a hitchhiker.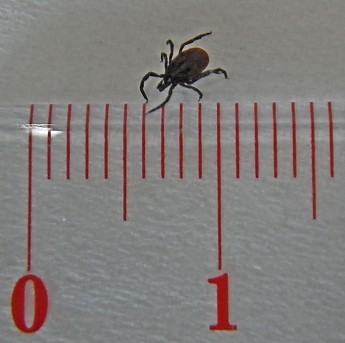 If you haven't seen one before, this is a deer tick, one of the critical participants in the Lyme disease chain (update - Ixodes pacificus or Western Black-legged Tick, the western version of the deer tick and a Lyme carrier). The scale is a cm scale, so s/he is about 4 mm in length - pretty tiny.
Lyme disease is endemic to the Northeastern US, but it is found in the Santa Cruz Mountains along the San Francisco Peninsula (rarely) and a bit more common in Marin, Sonoma, and other North Bay counties.
This critter was already embedded, but "tick" tweezers, properly applied (recommended method of extraction), removed him/her. I took the critter to my Urgent Care center for full identification and checking for Lyme. It is very unlikely that there is a problem (it had not had a chance to really start the "extraction" process, even if it is an actual carrier). The full-blown consequences are arthritic-like inflamation of the joints and other nasty stuff. But Lyme is fully treatable if caught early enough.
This has been a strange winter, little rainfall (less than 1/3 normal) and moderately warm for this season).
If you are in a tick-infested area, wear closed clothing (close off the pants legs - long pants, of course), preferably permethrin-soaked, and check yourself thoroughly all over for the critters (have a friend or relative inspect all hidden areas, since the ticks love warm dark areas). They usually wander for several hours before latching on, so you can often just brush them off or even rinse them away in the shower (we were out there in the brush for something like 9 or 10 hours). If one has attached, do NOT try the old wives tales of putting a match to their back end or other similar remedies (causes them to inject their stomach contents with the viruses back into your bloodstream). Preferably use tweezers made for tick removal.