10:50 p.m. on January 15, 2011 (EST)
andrew f. (leadbelly2550)

TOP 10 REVIEWER
REVIEW CORPS
5,732 reviewer rep
2,048 forum posts
a few feet of snow fell in the Northeast this week.  i'm lucky enough to be up here this weekend, rather than watching an inch of now-grimy snow slowly melt away in Washington.  first run with rebuilt bindings, new claws.  very fluffy snow, i was sinking in maybe 6-8 inches on the fresh snow, though still better than post-holing around.  barely sunk in when i hit blown/packed snow.  great weather - mid-20's, snow stuck to all the trees.  really nice to be out today.   
these are about 25 years old.  bindings have been replaced a few times.  on this pair, i pop-riveted the claws on after some tenuous moments on hard snow with the last set of claws, which were really chewed up.  some of the lacing hardwear is getting rusty again, so they may be due for another set of laces & neoprene flaps on the top part of the binding.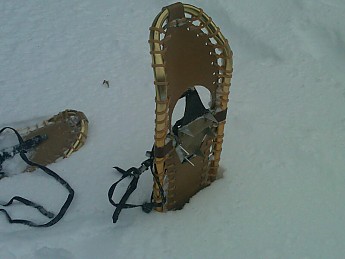 loving the new claw.  stamped stainless steel, tremendous traction.  extra parts purchased from Arctic Trekker.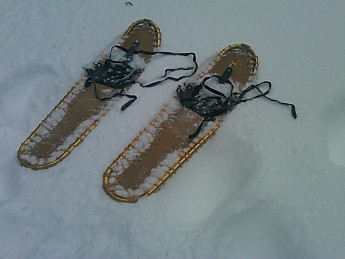 these are 9 1/2 inches wide, 35 inches long.  in terms of size and surface area, equivalent to the Atlas 1235 or the Tubbs Mountaineer 36.  i think the MSR lightning ascent maxes out at 30 inches in length, though i could be wrong.  these have enough float for 205 pounds of me, winter gear, and a 60 pound pack in deep snow. 
They are heavy, about six pounds for the pair.  compare that to about 4 1/2 pounds for similarly-sized snowshoes from Atlas, and that's a meaningful difference.  the Tubbs Mountaineer 36 weighs about the same, though, and i suspect the arctic trekker snowshoes that are virtually identical to these weigh about the same.     
lacing up the bindings requires use of your hands - definitely not as easy to use as modern bindings.  on the other hand, it's a very secure fit with the boots, and other than years of wear & tear, i have never had the lace-up bindings fail. 
anyone know if the MSR lightning ascent is available in a 35 inch length?