9:56 a.m. on October 6, 2013 (EDT)
melensdad

118 reviewer rep
131 forum posts
I'm a hunter, fisherman, gun builder, etc and I know that because of my purchase of "tax stamps" for hunting and my purchases of guns/gun parts/fishing equipment/hunting equipment, etc that I am supporting the maintenance of wilderness habitat because there is an 11% excise tax on hunting/fishing/gun related items that is a dedicated tax going to support the lands. "Tax stamps" like duck hunting stamps, big game stamps, upland bird stamps, which are required taxes if you hunt, are also dedicated taxes for habitat preservation, game management, wilderness maintenance, etc.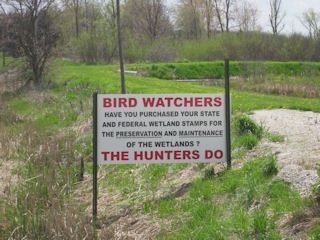 But the above sign got me to wondering, if we, as hikers/backpackers actually contribute to maintain the lands we use? Sure, in some areas we pay a pittance for a backcountry pass on some of the properties, but other than that is there any real tax that we pay? Are we freeloaders who use the land and don't financially contribute to it with tax dollars?
Oh sure, we may be members of various hiking groups who go clean land. Or maybe we are members of a group that creates a trail. But do we financially contribute to the purchase and annual maintenance costs of the wild?
Are there outdoor use taxes on our tents? Boots? Backpacks? Stoves? etc or are we freeloading off of other outdoor groups and using lands without real contribution? I'm clearly uncertain if we are contributing financially. Not just with regular sales tax dollars, but is there some special excise tax that we pay to help support the lands we love? I simply don't know. Anyone have a clue?