2:23 a.m. on May 8, 2011 (EDT)
CamMc
0 reviewer rep
3 forum posts


G'day All
This is my first post. I found a used Moss Tent at a pawnbroker and after a bit of research found out that these tents are highly regarded. From the look and fell of it I can see why!
I believe it is an Olympic (dimensions for the tub floor are 52", 46", 52", 52", 46" and 52" clockwise).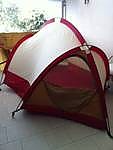 I found what looks to be a date tag with the numbers "91 - 4". One on the fly and the other inside the tent with the other tags re flamability etc. Does that mean built in April 1991?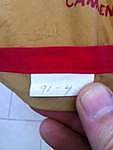 Well it needs a bit of love as follows;
The tent pole (Black easton 304 Tentube 775W) that supports the hoop in the fly has two tubes that are split. Is it possible to get respectfully repaired using same or nearly exactly same materials? If so, a contact or link would be appreciated.
The fly has a lot of black spot mildew marks on it. Possible to clean these out?
The tub floor has a few black marks as well along with a tacky feel (same goes for the pole sleaves) and a lot of a fine "white" residue over it (talcum powder???) that won't brush off.
The inner tent has a few marks the worst of which seems to be a transfer of the red pole sleeve or tub colour onto the cream coloured inner and also the tan coloured doors - can this be cleaned off?
Tent pegs - got a mixed bag. Mainly light soft alloy solid tube ones shaped like a shepherds crook. What was original for this tent?
Apart from that all good.
Appreciate all the tips I can get to clean this pup up to scratch again. I can post more pics if needed.
cheers