11:47 p.m. on August 23, 2011 (EDT)
apeman

0 reviewer rep
1,330 forum posts
contuined from "wanted buy/trade trangia candle lantern" in the Classifieds
@ lazya4:  Here are some picts to show you what I was talking about in reagrds to the lamp oil burner that repalces the candles in a candle lantern.  I like the oil burner for a number of reasons, 1st the candles are suppose to be dripless.  The are only sometimes and if you bump you lantern to hard the wax will come flying out getting all over your gear.  This does not happen with the oil burner. Second, quite often the dripless candles start dripping getting the inside of the lantern coverd in wax making it hard to clean and hard to replace the old candle for a new one, Third I have found no consistancy in how long the candles last so it's hard to know how many to bring, I've had them last 1 1/2 nights (really) and I've had them last almost a week.   Another trailspace member reminded me of this on a recent outing.
From left to right, a never used lantern that I got at a garage sale, three pack of candles that are 15+ years old, My brass candle lantern 20+ years old,  the lamp oil incert that replaces the candle and candle assembely 15+ years old, a bottle of lamp oil.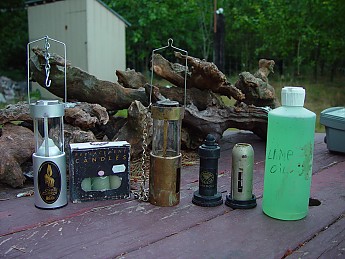 Close up of the lamp oil incert with the screw on cap.  This cap screws on very, very tight and does not leak even when tipped over.  In fact if you screw the cap on to tight it takes a pair of pliers to lossen the cap.

The incert with the cap off, Please note the little loop on the cap so you can hook a lanyard to it so that it does not become lost.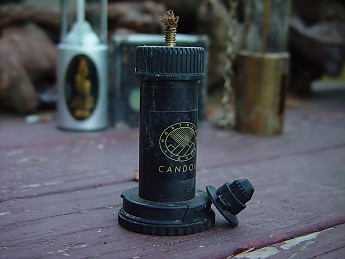 After much trial and spilling this is the best container I have found to haul and transfer the lamp oil to the incert.  You can use any size bottle you want, whats improtant is the flip spout on the top of the cap.  When I'm done and ready to pack up I carefully pour the remaining oil back into the bottle.  Just like white gas, I have never had a spill.  I have never been out long enough to have to refill a the oil incert.  I believe the longest I have been out is for 7 days and there was still plenty of oil left.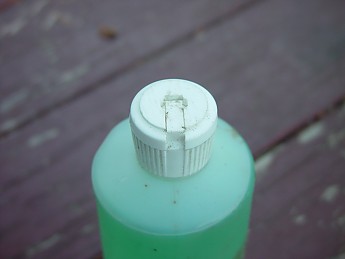 The remaining reason that I prefer lamp oil over the candles is that one of the last times I went out in really hot weather the three candles I had with me melted making the candle lantern dead weight and leaving me without light.  Lucky for me my friends had a headlamps.