9:37 p.m. on August 25, 2011 (EDT)
apeman

0 reviewer rep
1,330 forum posts
I you don't want to read all of this then scroll to the bottom and find the answer.  If you want the story plus a bunch of Intergrel Designs info that is very interesting then read this:
So ever since Rick posted the pictures and the information about the Intergrel Designs  Wedge I started trying to wrap my mind around what this thing was.  A tent with a door on the top.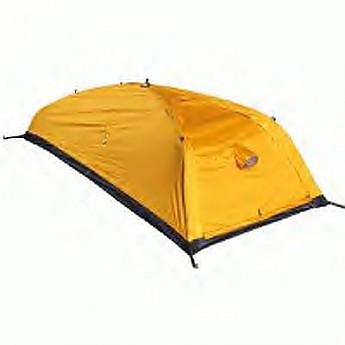 When rick posted this I looked................................and I looked................for a very long time.  My first thought was "this is the dumbest thing I've seen in a long time".  The I thought, stop, your obviouly jumping to conclusions,  so I read what all had to say.  Later on, my second and third thoughts were, "man, this is still the dumbest thing I've seen in a really really long time" at least had given myself time to expand my thoughts.  I was and had been trying to figure out for the last month or so as to why a Respected tent maufacture had made a tent with a door pointing to the sky.  Little was allayed after finding out that they have a removable yet necessary vestibule that if left at home, lost, blowen away by the wind, damaged by the wind, damaged by falling objects, incert your own personally thought up disaster, ect.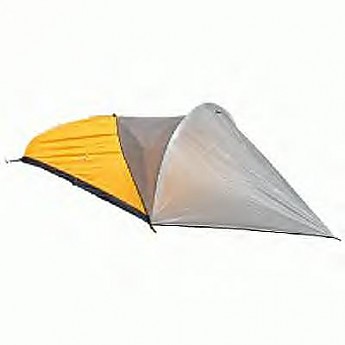 So, a large number of times while tring to go to sleep I thought of this tent right before drifting off to sleep, or not now, as I was wide awake trying to figure out what the heck this thing for.  Can you imagine weathering a week long snow storm with a door facing up wards, how about a week long rain storm in the North West with 20 inches of rain.  Or better yet, how about a there day howling ,raging sand storm.   So staying up until late into the mornings on many night, some times till light was begining in the sky I delved into the recess of as many backpaing, outdoor, tent, hunting,and any other fourm that mentioned the tents name (I have found that we are truly blessed to have a fourm such as Trailspace).  It took me a while to remember that there is a Cached function on Google.  As I'm sitll on Dial-up my search was expdentionally increased, thank my deity I rememberd the Cached function or I would have gone mad reading my way thru some of these sites.  Days and weeks went by with much recherche and little answers.  I even went to their web site where I was given a small clue but this grasshoper did not pass the priviate eye test.  I went back to the site time and time again as I trolled all the other sites that had information.  While I was own on my motorcycle trip for three weeks on a micro brewery tour and going to the Longbeach kite festivel this topic took up much of my though process (along with many thoughts regarding"Risky behavior", still thinkin about "risky behavior").  Today I was PMing Rick when yet again I brought up the subject of the Wedge door mystery.  We had already gone thru the gamit of what it could be and come up with nothing.  I finally suggested a backwoods crack house, it was all I could finally come up with while Rick thought because of its flame retardent rating (now that thinkin)  that maybe it was a portable backwoods meth lab.  I then though ok this is enough, this is wakked, WHY DOSE SOMEBODY JUST PLEASE TELL ME WHAT THIS DANG THIS IS FOR...................................(real thought process kicks in and tells me, yea dude, why don't you just call them)............huh..........I had now just embarresed myself infront of myself.  Ok then I googled there site and got there phone number but something was amiss.
This where I take the time to offer my condolances to those who proudly raise the Maple Leaf on thier Flag poles.  I am sorry for the loss of your premier tent maker/manufacture to another country.  You will be happy (or not so much) to know that Integral Designs has not left the North American Continent.
When I looked at the phone numeber the prefix was that of the place I grew up in as a child.  That's weird I thought.  I was 303.  The Colorado front range,....... further more ther address was listed as an address in Louiseville, CO, just a hop,skip and jump away from Boulder.  So I called.  Karen answered the phone and the first thing I asked her was if, since they were located in Canada, was this the American office at which point she replied no this is where the company is now based.  The way I understand it a UK company has bought them and moved them to the US under  RAB USA LLC wich is owned itself buy the UK company Equiptment Outdoor Technology.  I so hope I got it right , but it is along those lines.  She also inform me that all of Integral Designs tents will now be made in China, but that all the same standards of quality and material will still be kept and meat.  I respond that I very much hope so and that only time will tell, though I belived her.  So I explained that reason I am calling has to do with one of there tents.  As you all know I don't beat around the bush (unless I'm writing on of these things   ;-}}}> ) I started out  by asking her "knowing that gravity exeists, why did you build a tent with a door that opens upwards, to the sky.  Before she can answer I explain why I'm wondering and how much thought I'd put into trying to figure this out.  Thru my minds third eye I could see her smiling as I could just tell she had an answer for me.  She waited unit I explaied everything and with a bemused vioice told me,  "So........With the theme of Jepeordy the...........the answer is"...............what is a tactical snipers tent.  Dang I said that is the only thing this tent would be good for, that's great,  Then I said, now I want one.  Can you imagine if you camoed the tent, spread a bit of alfalfa about and waited for Mr. Deer or Mr. Elk........dang, now that's my idea of hunting.  She agreed with my assessment of the tent and informed me that there will be a new model with a better positioned door to make the tent more user friendly.   We then spent about 15 minutes discuess the fine art of venting tents.  Since this tent has no real practical use other than hunting and or if your a sniper I would expect that some of these will be avaliable in the near future for very good prices,  I am now on the hunt.  I want one now that is has a purpose, and I just might go hunting now.
For those who just want and answer:
The answer is it was designed for the US military as a tactical sniper tent.