8:03 p.m. on October 22, 2013 (EDT)
Bill S

OGBO
Joined: Mar 14, 2001
Posts: 5926
I went to Riverside, CA last weekend for my 55th high school reunion. While there, Barb and I hiked up Mount Rubidoux (now a city park), one of the earliest places I did serious rock climbing in the mid-1950s. First image is at the summit, next to the huge cross, where the Easter Sunrise service has been held since 1911. I'm not sure why the plaque says the cross was dedicated in 1959, since I know it was there when my family moved to Riverside in 1955.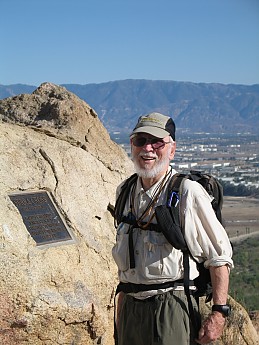 Next image is some climbers on one of the climbs just below the summit I did "back in the day". They offered me a belay, but I didn't have my harness with me, and was wearing trail runners without my rock shoes with me.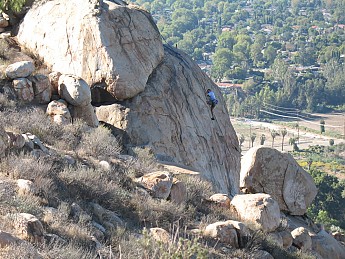 Lack of rock shoes didn't completely deter me. Barb took this photo coming off a bouldering problem.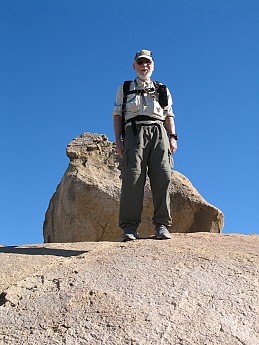 Hard to believe how long it has been since I last climbed here. The rock is well-weathered granite, and somewhat crumbly. The city itself has changed greatly since high school days - much larger than it was "back in the day". Probably the first time a Trailspace hat has been on the mountain, though.
Vote:

2
Thank you for voting!