2:10 a.m. on March 12, 2013 (EDT)
bheiser1

Joined: Aug 10, 2007
Posts: 1365
This was on the trail toward Alta Peak in Sequoia National Park, a couple miles from the peak.  I turned around because I ran out of time (and because the trail crossed a steep slope, and I saw a couple mini avalance snowballs, or at least that's what I imagined they were).  I'm lacking in experience in winter conditions to make me comfortable crossing such a spot, especially when solo, and especially on a trail with no fresh tracks (so I am confident there wasn't anyone for at least a couple miles in any direction).
Anyway it was a most excellent hike.  I was in the fog and clouds hiking up to the ridge at Panther Gap.  A while later, along the ridge, the clouds began to clear and I was treated to an amazing view with an undercast.
I camped in the new winter camping area at Wolverton "snow play area" in the park.  Unfortunately the winter camping at Lodgepole campground is no more.  Due to budget constraints they closed Lodgepole for the winter.  Apparently this was due to maintenance costs (and running the heat to maintain the rest room).  The new camping area isn't as nice (it's basically a parking lot) but it's better than the place being shut down completely.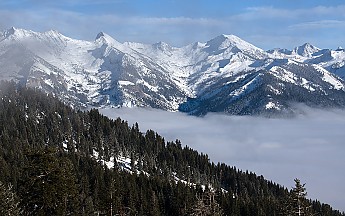 Vote:

3
Thank you for voting!