1:14 p.m. on August 10, 2011 (EDT)
gonzan

775 reviewer rep
2,162 forum posts
In five weeks I will be heading out to Wyoming for ten days of Backpacking, hiking, and plein air landscape painting. The first three days of the trip will be spent hiking 3/4 of the Teton Crest Trail.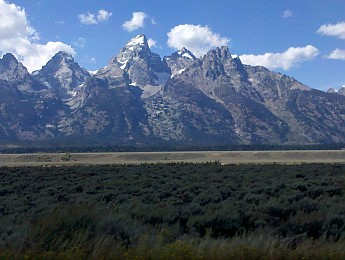 TCT Hike Plan:
First Day: Begin at Cascade Canyon TH at around 10am, Sat. 9/10
Proceeded up the Cascade Canyon South Fork Trail towardsHurricanePass.
Camp fist night at upper end of the South Fork of Cascade Canyon, belowHurricanePass.(If I make exceptional time, I may cross over the pass and camp in the National Forest, ideally at Basin Lakes.) Distance to upper end of the South Fork: 9.4 miles
Second Day, Sun. 9/11: Climb Hurricane Pass, Proceed past Basin Lakes and through Alaska Basin. (or leave directly from Basin Lakes if Sat. time permited going that far)
Continue south on the TCT through Mount Meek Pass, along Death Canyon Shelf, over Fox Creek Pass, and down to Marion Lake
Camp second night at Marion Lake - Distance from Cascade Canyon: 10.8 Miles (8.8 miles from Basin Lakes) 
Third Day, Mon. 9/12: Hike down and join the Upper Fork Granite Canyon trail, proceeding to the main canyon, then continue down Granite Canyon.
Cross the Valley Trail and hike on out to the Granite Canyon trailhead. Distance from Marion Lake to trailhead: 10.4 miles
Here is a simple map of the route: The Red line is my first day hike,  Green is the second day, Purple is the Third Day. Blue Circles are anticipated camping locations. The Orange Line and Circle are the alternate first day rout and camp location.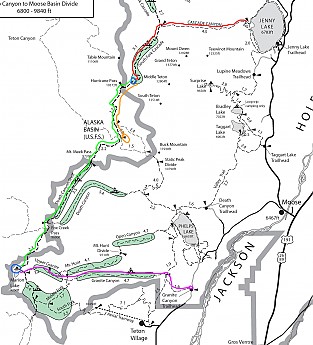 Logistics and Details:
Friday, 9pm - My Flight arrives in Jackson, where I will be picked up by the rental car shuttle and taken to Jackson to get my rental.  After picking up the car, I will run a couple quick errends to get fuel for my stove, etc.
Friday, 10:15pm - After getting any errands out of the way I will head up to Gros Ventre Campground to sleep for the night.
Saturday, 6am - I will get up and hit the road towards the Granite Canyon Trailhead, where I will leave my rental car.
 Saturday, 7:15am - I have a taxi scheduled to meet me at the Granite Canyon TH and take me up to Moose, where I will catch the Resort Shuttle up to Jenny Lake. Working out logistics for this stage of the trip has been a ridiculous headache. It is going to cost me $35 for the Taxi to get only 6 miles from the TH to Moose. Most of the taxi services wanted $55-$75. Good Grief. The shuttle all the way from Jackson to ColterBay only costs $12. The taxi company is supposed to look into cutting me a deal to take me on up toJenny Lake, if it is less than $20 more, I will just do that.
Saturday, 8am - Once at Jenny Lake I will have to pick up backcountry camping permits and a bear canister from the ranger's station. I will also have to pick up Bear Spray, since the freaking airlines won't permit that in checked baggage; firearms and live ammunition - yes, bear spray....no? Oh well.
Saturday, 9:15am – Since I will have quite a ways to go, and a stiff dose of elevation to gain, I will catch the Jenny Lake water taxi over to the Cascade Canyon Trailhead. That will shave off a couple miles of hiking, and it should be a beautiful ride across the lake.
Saturday, 10am – Begin the hike up Cascade Canyon
(hiking details- see above)
Monday afternoon/evening – Arrive back at Granite Canyon trailhead and retrieve rental car. After the hike I will be driving out to Dubois, where I will be staying for the next six days. I will primarily be out landscape painting with a group of other artists, but I plan to do some more hiking and spend a couple nights out in the Shoshone National Forest, which surrounds Dubois. The mountain ranges north of Dubois are actaully nearly as high in elevations as the Tetons.
I will post more details for those plans as I work them out.
I have a few questions, especially for anyone who has direct experience or knowledge of the Tetons in September:
I am leaning towards taking my Liquid gas stove (Optimus Nova+) instead of one of my presurized alch stoves.  I was thinking better safe than sorry, considering nasty storms are not that unlikely up there in Sept. Am I off base, is that overkill and unnecessary?  Should I save weight and just go with the alch stove?
Considering the heavy snowfall this past winter, is there any likelihood that there will still be enough snow that should I plan to bring an Ice Axe and microspikes?
I have read that in August and Sept, between Basin Lakes and Marion lake, the streams can get pretty dry. How are the conditions this year- should I be concerned about that and hump water from basin lakes?  
Are there any points in my planned itinerary where I need to make adjustments?
Any ideas to make the logistics before the hike work better?
Thanks for any and all input!