9:25 p.m. on June 11, 2012 (EDT)
XterroBrando

1,559 reviewer rep
443 forum posts
My son and I have been eyeing this Mountain since he was 8, when we started backpacking mountains whose elevation was commensurate (per thousand feet in elevation) to his age. 2 weeks before his 12th birthday, last November, we ventured out with some relatives to summit San Gorgonio Mountain on a late Fall backpacking adventure. unexpectedly heavy snow kept us from our goal because some of the supposed "experienced" and "fit" members (author and son notwithstanding) had to quit, so we are playing catch-up to bag a peak in the 11,000-12,000 ft range, especially before my boy turns 13.
Picture from the failed attempt up Vivian Creek Trail: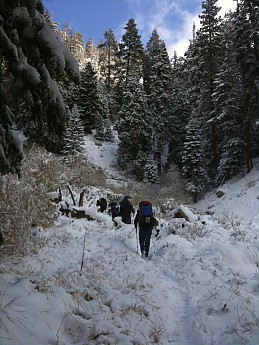 My best friend of 16 years hasn't been back-packing since he was in college, has no gear, and has a son (14) who was wanting to try backpacking. I have been blessed with the opportunity to purchase more gear than I need personally in order to allow for growth of my family's interest in the Outdoors, and also to share outdoor experiences with others that might not otherwise "get out there" if they had to purchase or rent equipment. So I invited them to join us on a 2 1/2 day, 2 night backpacking trip to San Gorgonio Summit via the South Fork Trail in the San Gorgonio Wilderness. We would leave June 1st and return June 3rd. More details to follow...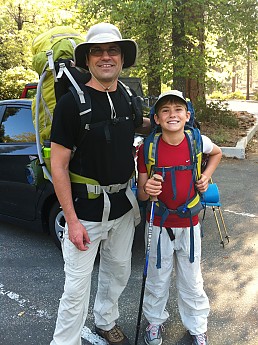 Just before hitting the SouthFork trail at 5:45 pm PST. note TS cap worn proudly by my son!