12:21 p.m. on June 19, 2012 (EDT)
Rick-Pittsburgh

1,711 reviewer rep
3,962 forum posts
So I was able to get away for a few days of on-trail time. 
I decided to do a SOBO trip from Rt31 to Rt653:


My Wife dropped me off at the Rt31 parking lot, I donned Big Blue, and made the 1.5 mile hike to the Rt31 shelter area. 
After I eat a snack(meal to most people) I decided to do a bit of exploring(looking for bugs and critters.)
Instantly I made 3 new friends.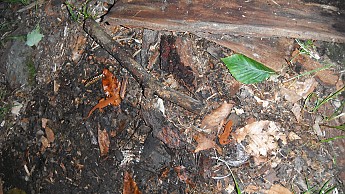 Red Spotted Newt:
Apheloria Virginiensis(large millipede.) These secrete a cyanide compound as a defense. If you handle one wash your hands immediately afterwards(do not rub your eyes, stick your fingers in your mouth, pick your nose, etc:)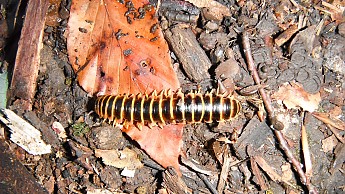 So after I am done playing with bugs and other various critters I finish setting camp and hang my bear bag:)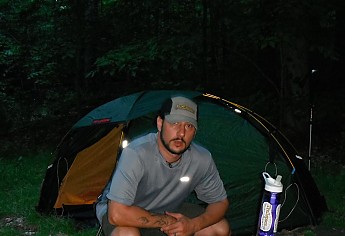 As the night went on I noticed that the moths were magically drawn to my Leki poles: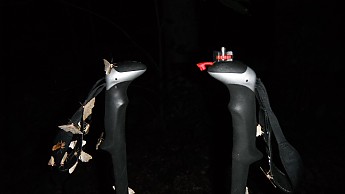 So after the fun and excitement I crash out and call it a night. 
Sunday morning was beautiful. I made my way out of the Rt31 shelter area and back to the trail: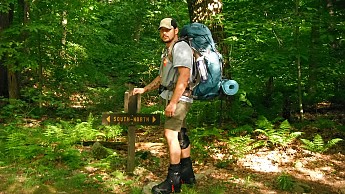 Along the way I found the perfect companion to pace myself with: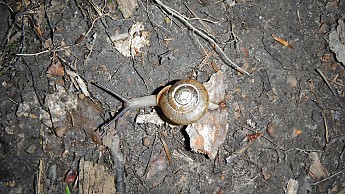 Everything is just so green up here. Alot different from when I was up here in February: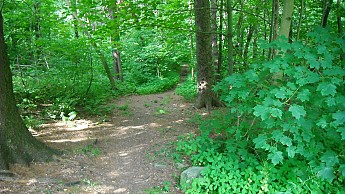 The Trailspace hat wanted a pic on the mile marker: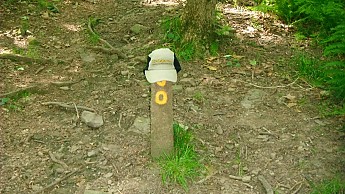 Then Big Blue wanted one of his naps so the Trailspace hat & the Leki poles decided it was a good time to join in for an early afternoon siesta: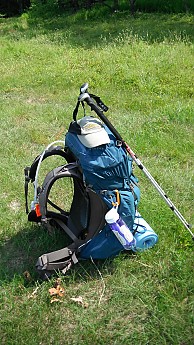 I then made my way through Seven Springs ski resort: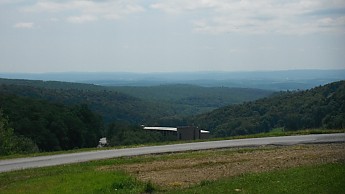 Decided to take a "flower power" pic along the way: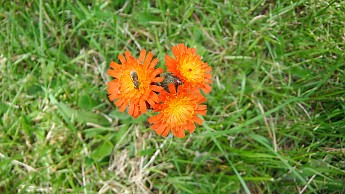 As I was making my way to Grindle Ridge shelter area there is a shooting range close to the trail. 
These signs were up for the LHHT Ultra race: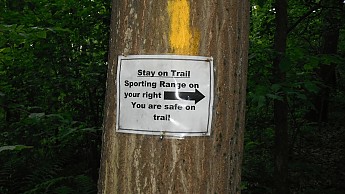 I make my way trough the barrage of gun fire to Grindle Ridge and set up camp around 2pm: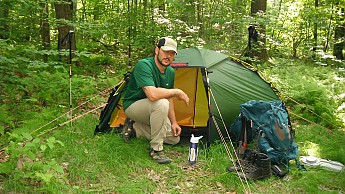 Nothing really exciting this evening. The weather was beautiful. I pulled out my pad and just laid there relaxing for the rest of the afternoon well into evening. 
As you notice in the above pic I have the Hille fully guyed out. There is a reason for this. 
At around 9pm the weather did a complete 180 for the worst. I spent the rest of the evening pinned down in my tent with alot of rain and high winds. 
So I woke up in the morning(Monday/day 3) and the rain was still coming down in buckets. The Hille passed this test w/o a hitch. 
I have to say that ventilation was very good in this shelter for this type of weather(temps at night was in the mid to low 50s.)
...the next morning...
I then waited for a window in the weather so I could get packed up and on my way.
I pulled the inner out of the Soulo so I could pack the inner separately from the rest of the wet tent plus this gave me a larger area to get my gear packed while still being protected from the elements(this is one of the many reasons I am so fond of using a footprint:)
(welcome to "Camp Catastrophe." Where the storm outside your tent is minor in comparison to the storm going on inside.)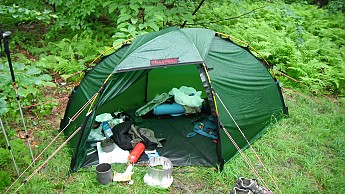 As I am packing I decide its time for some oatmeal and go-go juice: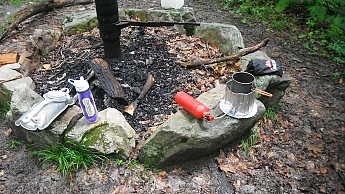 All of a sudden I see sun... Huh? What is this? Better get packed up. I know this isn't going to be around very long: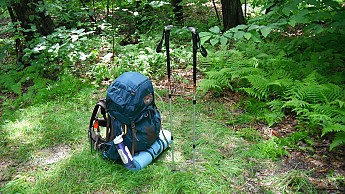 No sooner then I get back on the trail the thunder, wind, and rain kicks back up. Go figure.
Singing in the rain(Gene Kelly would be proud:)
After about 3 miles of tromping in yet another wash-out the weather clears. 
I then make my way through an area that has various rock slots: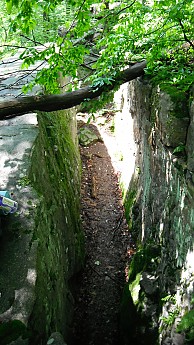 As I make my way passed the vista over-looking Middle Fork I once again hear thunder, the winds are kicking up, and the sky is dark. 
(I just knew the sun wouldn't last lol:)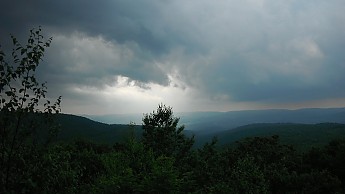 I then make my way to Rt653 to get picked up.
And so it ends...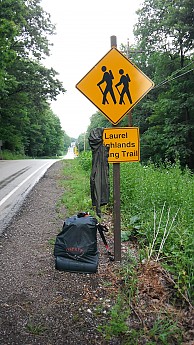 Over-all it was a great trip. Very nice weather in the beginning and not so nice weather towards the end.
"Started sunny, ended soggy."
I gotta say; I have an odd appreciation for hiking in the rain during the warmer seasons. 
As always I found myself somewhat saddened when it all came to an end and look forward to the next time I will get back out there(which will be soon.)
The knee feels great and I am ready for a longer trip. 
Thanks for taking a look. 
Until next time....