11:16 a.m. on July 5, 2012 (EDT)
Peter1955

1,379 reviewer rep
1,339 forum posts
Took a group to Jasper National Park this past weekend for a series of day hikes.
Most were from the Edmonton Hikers Group, but I was also supposed to connect with four clients who were going to join us for Sunday and Monday.  Possible glitches - high water levels had flooded 350 campsites in the park so accommodations might have been tricky, but I'd booked a cabin at Maligne Canyon Hostel back in November so the group booking was okay. Last minute cancellations left one bunk open, but the reservation the clients had made was nowhere to be found. Took a bit of hustling to get that one figured out, but I made it work.
We drove out Friday evening, and a friend and I stopped on the way up to check out the scenic views and to see how high the water levels were.
River banks were overflowing,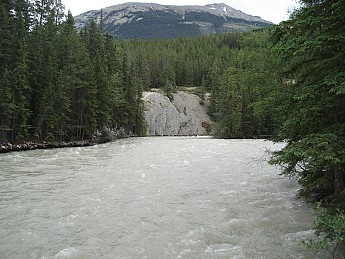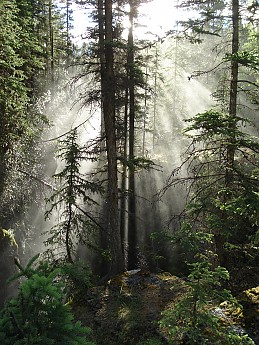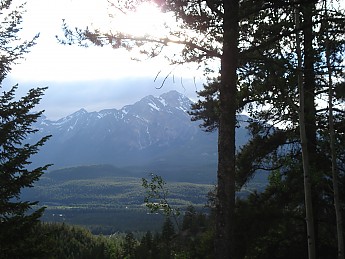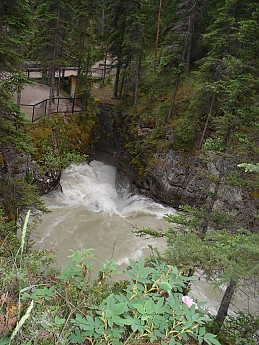 ...and Maligne Canyon was a torrent.
We met up with the rest of the group at the hostel (right at the top of the canyon) and got to bed by 10:00.
Our first hike was to Wilcox Pass. Getting there involved a 1-hour drive down the Icefields Parkway.
Scenic views all the way, and I stopped at Tangle Ridge for a farewell visit. Viad, the American company responsible for building a glass-bottomed walkway over the Grand Canyon, is planning another one at Tangle Ridge, privatizing a section  of the National Park so they can sell off the views that up until now have been free.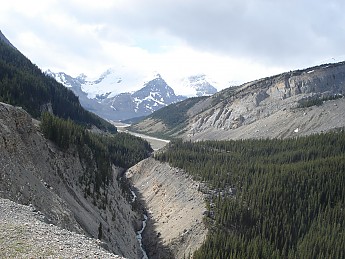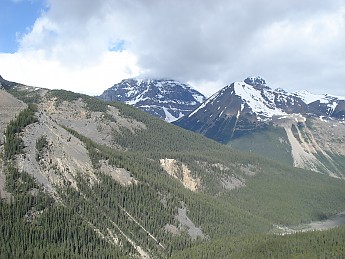 I can see why.
The environmental impact study said there were no mountain goats at Tangle Ridge...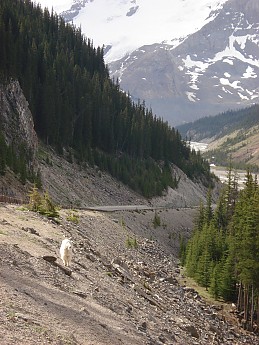 Who could have imagined that a big corporation would lie about something like that just so they could make some extra money?


(...moving right along...)
The Wilcox Pass hike is just over 4 km to the highest point of the pass. Elevation gain is just 350 metres, but since you're starting at 200 metres, most of the hike takes place in the alpine.


The photos can speak for themselves:
Athabasca Glacier coming off the Columbia Icefields.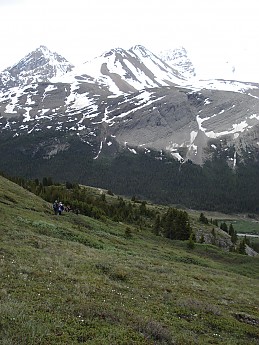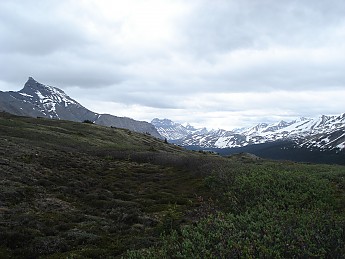 A pretty little lake on the way down.


On the way back, my friend and I stopped at Sunwapta Falls. The first set is overun with tourists, but it was still pretty.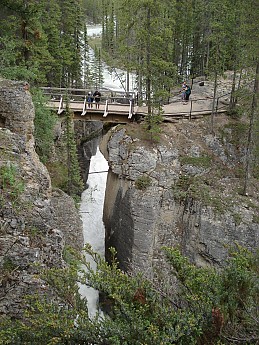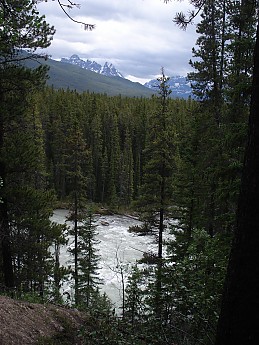 We thought we'd take the short 2 km walk down to the second set of falls - wider and with a number of steps - but halfway down we ran into a black bear. It was 'whoofing' at us from the bushes then popped out and did a little bluff charge, We backed away, apologizing for our intrusion, and decided it would be wiser to return to the trailhead. No worries - I had my bear spray out just in case, but I always try to be polite to large animals.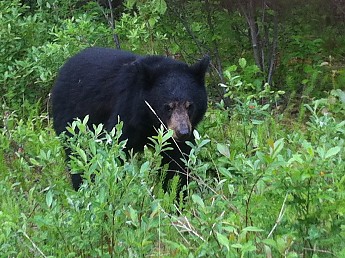 Back to town, then I headed off to meet up with my clients. We had a nice supper then rejoined the group at the hostel.