4:57 p.m. on July 5, 2012 (EDT)
Peter1955

1,379 reviewer rep
1,339 forum posts
Last day. Two of the clients had gone, and a couple of group members had to head home early. That made for a nice manageable group.
The Sulphur Skyline trail is just over 4 km long, but it has 750 metres of elevation gain, for a ratio of about 1:6. For new people it's a great way to learn about pacing - anyone can do it if they're willing to pause whenever necessary to take a break. It's also good for showing people what they can achieve if they set their minds to it. The new ones are on top of a real mountain for the first time, surrounded by other mountain tops and they get a small glimpse of why people do it.
The trail starts at the parking lot for Miette Hot Springs and begins with a walk up an easy path to the spa's water storage tank, the next section is gravel then the trail begins an unrelenting climb across a mountain flank. At the Mystery Lake/Fiddle River junction, you hit a series of switchbacks, 15 in all, that take you up to a small meadow (marked by a large white erratic of quartzite) at the foot of the scree slope to the top. Another 150 metres, and you're on the summit!
Two hot young mountain guys check out Christine as she peels off a layer.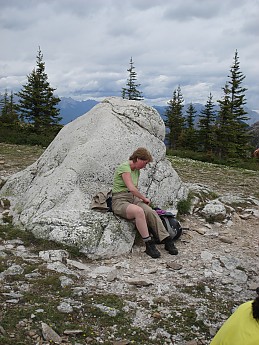 Notice red trees on the south-facing slope. Mountain Pine Beetle.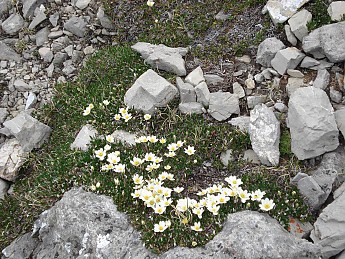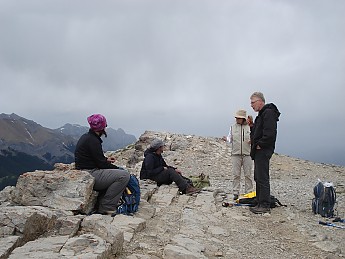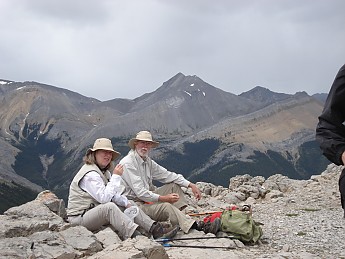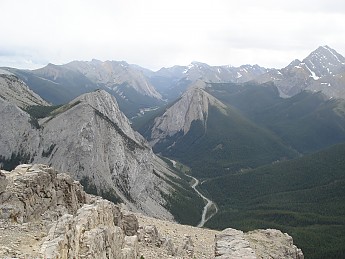 Rest spot below.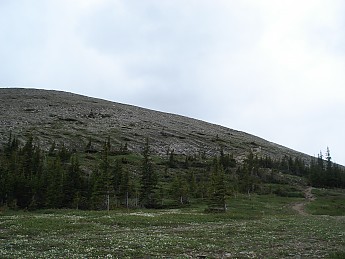 And going back down again.

All in all, a nice weekend. Good people, good conversations, a bit of exercise, and a lot of outdoors.
Banff on Friday, then back to Jasper the week after that. My wife might get to see me a few times this summer. :-)