12:06 p.m. on July 16, 2012 (EDT)
Peter1955

1,379 reviewer rep
1,339 forum posts
I'm not real fond of leading larger groups - I wind up being a sheepdog way too much of the time.
For my trip last weekend, I had 16 people in total, including a number of new ones, so I picked an easy beginners' trail at Parker's Ridge. While the elevation gain is minimal (250 metres to the first plateau, then another 50 more to the peak) the rewards are great, with views of Mount Athabasca to one side and a view of the Saskatchewan Glacier, from above, from the other. I'll try to let the photos speak for themselves.
The trail starts with a steady climb up the side of the ridge. There are a number of switchbacks to make it easier, but it's still pretty steep.
It's still pretty steep; we got to watch a few snowboarders zip down some of the remaining snow patches just next to the trail. A great spot to practise your self-arrests, too, if you happen to have your ice axe along.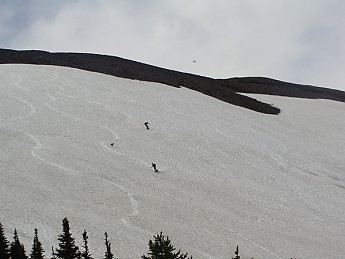 and snowboarders hiking back up.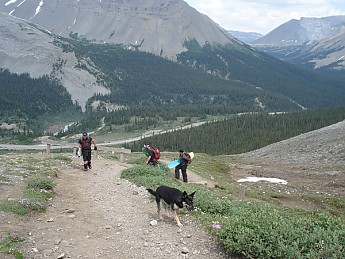 Nice views on the way up, then you reach the plateau. There is a junction - stay left for views of Saskatchewan Glacier.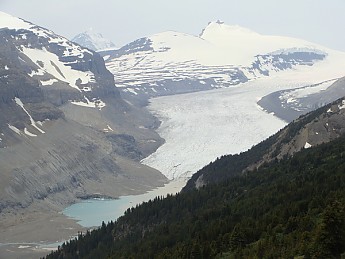 We wandered around on the clifftops, snapping pictures - great views from above. The Saskatchewan Glacier is the primary source for water for the central prairies from Edmonton to Winnipeg. The location of the lake is where it ended just a decade ago, and like every other remaining glacier in the Rockies, it's lost 70% of its volume.
...and posed for a group photo (me in front making a fist)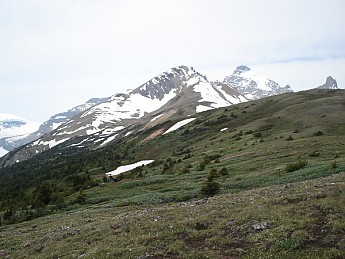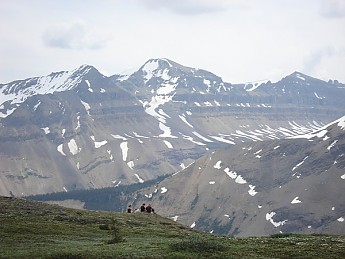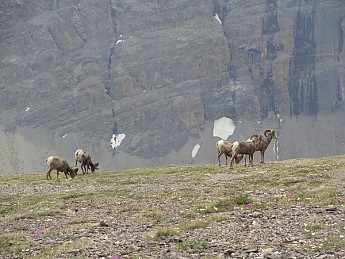 Then off to the highest point of the ridge...
It was a bit of a climb, and the trail got rougher, but we stopped at the top for lunch in the shelter of some windbreaks.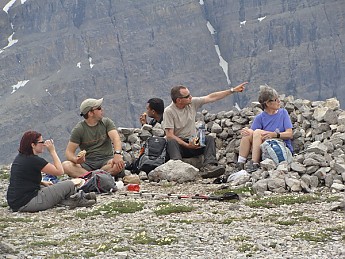 Nice views of Hilda Glacier and the climbers route to Mt. Athabasca.
Back down...
(photo op for young Chinese lady to send back home to her folks)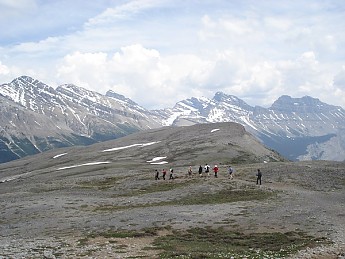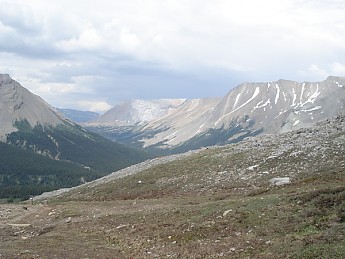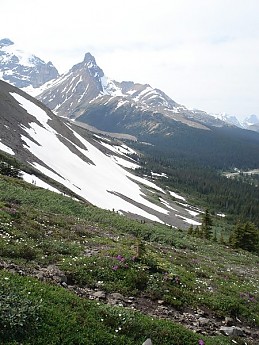 ...and I got to be a sheepdog to herd that last stray back to the fold.
All in all a pleasant day. Remember I said it was a beginner's hike? Some people seemed to think it was hard! That's the problem with big groups. There are always a few newbies whose abilities lag far behind the others. They all made it to the top anyway, although not without a lot of poking and prodding, and everybody got some great photos to take home.