2:00 a.m. on July 18, 2012 (EDT)
bheiser1

1,422 reviewer rep
1,344 forum posts
This is a report for a recent backpacking trip I took to the North Fork of the Trinity Alps in Northern California.  This was a 3-night trip from July 2nd thru 5th.
This trip served multiple purposes.  First, of course, was the enjoyment of being out on the trail, in the mountains, hiking and camping in the wilderness.  Second, I have an upcoming JMT thru-hike (or, as I'm thinking of it, a JMT thru-hike+, because I am planning enough time to allow for more than just a hurried hike from end to end).  So this Trinity Alps trip was the second of several trips enabling me to shake out my gear, and to do a bit toward conditioning my body for the trail.
I chose the Trinities for this trip mainly because I haven't backpacked there since 2007, and have been wanting to get back.  The particular route I chose during a discussion with a ranger in the Weaverville USFS office, because it offered the kind of distance I was looking for.  As it turned out, the majority of it (aside from a few miles of steep & often overgrown trail) was also "easy hiking" (smooth trail, low elevation (3,000-6,000 ft), so it was a good choice for an early season hike.  Additionally, since most of my trips last summer were in the eastern Sierra, this almost entirely wooded trip was a real change of pace.
The trip started on July 2, when I drove to Weaverville.  I arrived there mid-day, stopped for a large Subway sandwich, and then visited the USFS office to obtain a wilderness permit.  I had originally planned to go back to the Swift Creek area, where I'd been before.  But upon hearing my list of "requirements", the ranger suggested the North Fork area.  In that area, there are several remote lakes, as well as some significant distances to enable me to make good use of the days ahead.
Permit in hand, I headed for the "Hobo Gulch" trailhead.  To give an idea of the remoteness of this region… Weaverville is an hour or so west of Redding, CA.  From there, it's another half hour or so to a paved side road.  Once on the side road, it's a few miles to a junction where a twisty dirt road leads to the trailhead.  The sign indicates "12 miles" up that road, but my odometer suggested it might be more like 15.  Looking at the bigger picture … in that region, there's very little from there for another 85 miles to the Pacific.  Going north, there's very little til. … well, at all.  :).  To the east, there's the small town of Weaverville, then the distance to Redding and I-5.  Yep, it's pretty remote.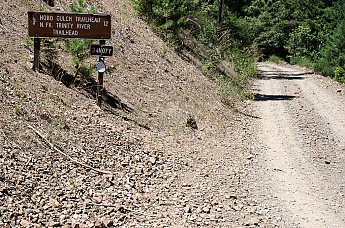 The trailhead is another 12 miles this way...
By the time I got to the trailhead, changed into my hiking garb, and got started, it was 5 or 5:30 pm.  On this trip, I wanted to try an approach to meals that I've read about from thru-hikers on the JMT and other long trails.  I wanted to try eating my meals along the trail, then stopping at a (possibly dry) campsite when it's convenient, then hiking in the morning to find a good breakfast spot.  So on this first day, I stopped along the North Fork of the Trinity River, fetched some water, and made dinner.  This was my first opportunity to try the Sawyer Squeeze filter I'd picked up for the JMT trek.  So far, so good :).
After dinner, I continued along to the junction of the trail to Papoose Lake.  There was no way I'd make it to the lake before dark.  In fact, darkness wasn't far off.  I spent some time exploring an interesting-looking ridge near the trail where I thought I might find a "campsite with a view" … but no such luck.  The ridge turned out to be mostly covered in chaparral.  What little open space there was seemed to be a fairly well worn animal path - not a good place to pitch my tent.  So I climbed back down the (steep) ridge to the trail, and quickly found a campsite alongside another creek - this one was Rattlesnake Creek.  I slept surprisingly well for my first night out.
The next morning (day 2) I stuck to my plan - I packed up and quickly hit the trail, back along the North Fork of the Trinity River again.  I hiked for several miles and found a well used campsite along the trail, with good access to the creek.  I also took this opportunity to top off the charge on my iPhone, which I was using to run Gaia GPS, since there was good sun.
Back on the trail again, I took a branch heading towards Grizzly Meadows and Grizzly Lake, some 12 miles away.  The trail passed through various woodlands, some open areas with prolific wildflowers, and an interesting old cabin in a meadow.  Eventually I reached the Grizzly Meadow area.  My intent had been to climb up the so-called "Grizzly Scramble" and camp by the lake.  Wow was I in for a change of plans.  When I saw "scramble", I thought "ok, I'll hike up an unmarked use trail, scramble on some rocks, etc".  What I saw before me looked more like a rock climb.  No thanks, not for me!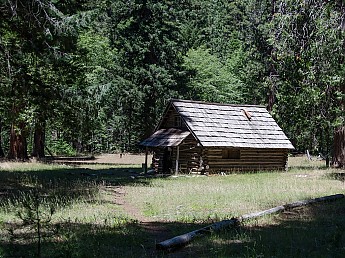 Cabin in the wilderness...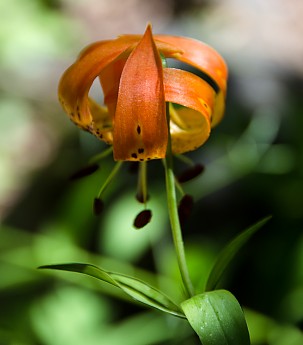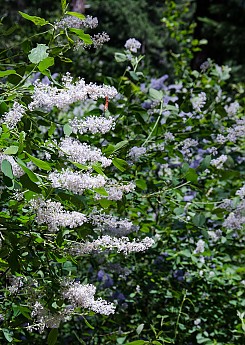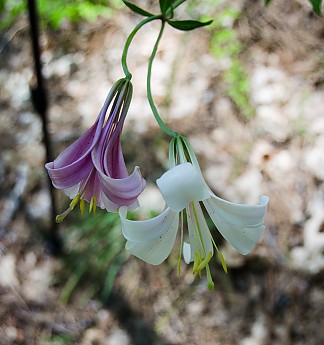 Wildflowers...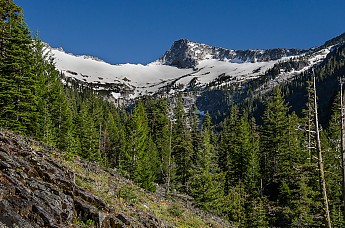 Glacier above Grizzly Lake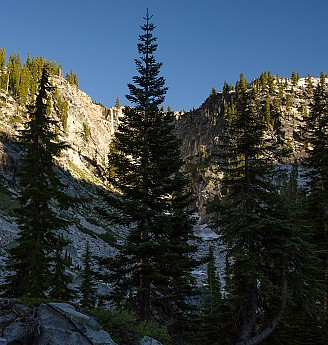 Grizzly Scramble
That decision having been made, I thought about camping in the beautiful Grizzly Meadow.  Most of the sites I'd seen along the way had been occupied already.  There was one nice site in the meadow, but it was right at the bottom of a major rockslide.  That didn't seem like the best choice of sites.  So I backtracked several miles to an open area near the creek, where I'd stopped for water earlier.  That site was taken now too!  So I continued on, and fortunately found a place not too much further, and still within reasonable distance of the water supply.
That was a tough night.  With the unanticipated backtracking, I had covered just under 17 miles.  That was a new record for me, EVER, even for day hikes.  I was so tired when I had set up my camp that I didn't even want to deal with dinner.  I eventually downed a trail bar, but couldn't bring myself to deal with the arduous task of boiling water.  I was "painfully" thirsty though, so I did manage to schlepp back to the creek to refill the Sawyer bag, along with the bottle I used to fill the bag.  So I was set for water for the night, drank some, and went to bed.  Those 17 miles made my feet hurt!  And even beyond that, I'm not sure why, but I just didn't feel sleepy.  I was very tired, but laid there for a couple hours before finally drifting off into an intermittent sleep.
I slept late the following morning (day 3, July 4th).  Fortunately my feet felt somewhat better.  The sun was shining on my site not too long after I got up, so I put things out to air, set up the charger for the iPhone/GPS again, and made a leisurely breakfast.  It was actually a nice spot with a view of the terrain below, so I was in no hurry to leave.  I refilled my water, and drank like water was going out of style (my body felt like it had).  This was Independence Day, and I was thoroughly enjoying my independence in the wilderness!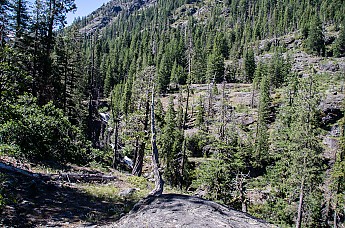 View of Waterfall from my Campsite
So by about 1130 :) I finally hit the trail.  I continued a few miles to a junction I'd seen the day before. I stopped here for a snack, some water, and to contemplate my surroundings.  Once thing I had noticed the day before, and again today, was that there was obviously a Butterfly Convention in progress in the Trinities.  Here's just one of many examples of them … more butterflies than I've ever seen in once before… not in this shot specifically, but all around me!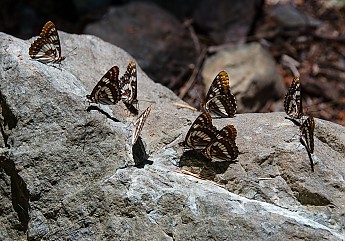 It's a Butterfly Party!
Butterfly, meet (taste?) Human!
There was a sign there, pointing to Papoose Lake.  Hmm … that trail isn't on the map the USFS supplied me!  But it was on the Gaia map, so I was golden.  I decided to take that route, as an alternative to the way I'd come in.  According to what I could see visually, and what I could see on the Gaia (USFS) map, the terrain would be more challenging than on the way up.  Wow, was I ever right about that.  The first order of the business was to cross a calf-deep, rapidly moving creek (the picture doesn't do it justice).  No problem, this was actually the third such crossing of this trip - I did two the day before.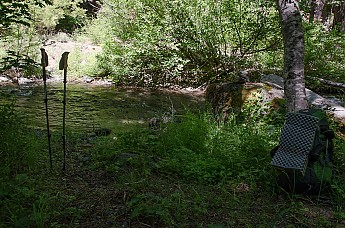 It's Deeper & Faster than it looks!  And I think I chose the right color pack!
Shortly after the creek crossing, the trail started climbing.  As I read in an Appalachian Mountain Club guidebook in the 70's, "this trail goes directly at the mountain".  I guess the people who designed trails in the Trinities went to a different school of switchback design than those who planned the trails in the Sierra.  In the Trinities, they go steeply at the mountain, whereas in the Sierra they seem to go at a gentle grade, endlessly sweeping back and forth.  Well, at least they're direct! :).  Anyway, the trail continued, with numerous uncleared downed trees, and even through one short stretch that resembled a gravel slide more than a trail.  Finally I hit a relentless climb up to the top of a ridge.  It was slow going, with yet more downed trees, and one spot where I lost the trail on a switchback due to overgrown brush.  Eventually I made it to the crest of the ridge.
At the ridge top, there was a campsite, with the obligatory fire ring [how can anyone build a campfire atop a 6,000 ft ridge, with no water supply for miles around, in a hot dry area with tons of brush just waiting to be ignited???].  In addition to the fire ring, there turned out to be a very large, very loud, very angry hornet (or some kind of bee, I didn't ask).  He (she?) seemed very intent on driving me away (and succeeded, fortunately without stinging me).  I didn't linger long … quickly re-donning my pack and making my way … … … ummm, where?
The trail had completely disappeared at the ridge top.  I spent some time scouting around, but with the intermittent growth, downed trees, and overgrown bushes, it was impossible to visually determine where the trail headed.  Gaia GPS to the rescue!  Using the GPS I was able navigate to the trail, and found it fairly quickly.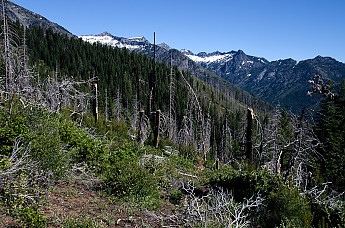 The trail goes that-a-way ... I think ... maybe...
The trail led to "Bob's Farm", where apparently there was a farm in the past, and now there's the remnants of a campsite.  Once again the trail disappeared.  Gaia, once again, helped me navigate back to the trail, though this time it involved some backtracking.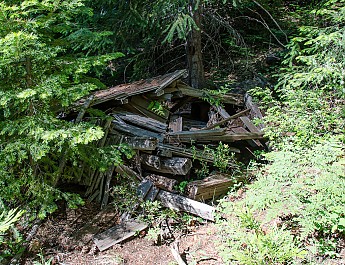 Ummm, Bob's Farm?
Once I found the trail, all was good again, and I continued onward, slabbing down the other side of the ridge I had climbed earlier.  Along the way, I ran into a guy (who told me several times that he was 70 years old … dang, he could have fooled me), along with his two sons, from Oregon.  They were there going in the opposite direction, basically doing my route in reverse.  We chatted for a while, he (the 70 yo guy) turned me on to the oh-so-sweet smell of a nearby "Mountain Lily", and then we parted ways - them on to camp on that ridge top (I warned them about the angry hornet, but they were undeterred), and me on to find a campsite along Rattlesnake Creek (from 2 nights earlier).  I was starting to feel the effects of the long day the day before, and the last couple of miles before reaching the creek seemed like about 20 miles.  But I made it, made another crossing of Rattlesnake creek, and in another half mile or so found a great campsite.  I slept better that night! :)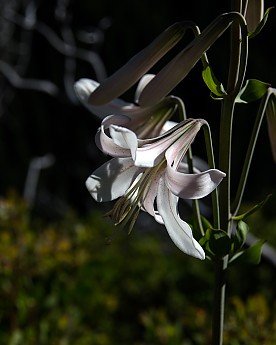 Mountain Lily
The next morning, day 4 of 4, I ate breakfast at my site again … and then headed out for the trailhead.  Along the way I passed a beautiful pool I had passed on the way in on day 1.  What a beautiful spot.  When you see the photo you can just imagine what I did here … it's much deeper than it looks.  But it's cooooold!  There's a glacier up above Grizzly Lake, so no wonder…  Anyway, I spent about an hour there, and then continued onward.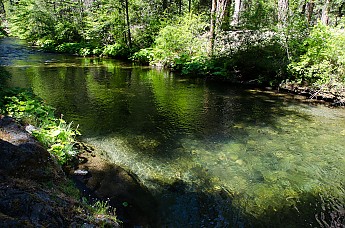 It's time for a dip!
The rest of the hike out was casual - I wasn't in any hurry to get out of the wilderness.  As I mentioned in the beginning (thanks for reading this far!), this really felt like wilderness.  Well, it is wilderness, and not just in name (Trinity Alps Wilderness).  Compared to most places, even the Sierra, the distances with very little in any direction really give one a feeling of being in a remote and special place.  I ended up taking the "scenic route" home … west on 299 to Eureka, then down 101 … instead of back to I-5 the way I'd gone up.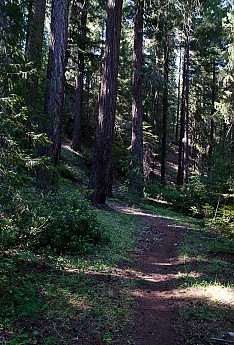 What a nice relaxing way to end a 40 mile hike.
... and the obligatory trailhead-exit mug shot!
This was a great trip - most of my equipment "shake-out" went well.  I learned some things which I can apply to my JMT trip.  My feet hurt, but I did fine.  I did a total of just under 40 miles on this trip, and visualized myself going another 180 (e.g. the 211 + 11 mile exit trail on the JMT).   And I will! :D.