2:37 p.m. on August 17, 2012 (EDT)
BigRed

TOP 10 REVIEWER
REVIEW CORPS
2,829 reviewer rep
927 forum posts
Shortly after my little adventure with Ralph, my good buddy Eric, his wife Alison and two daughters Kirsten (13) and Ingrid (10) came over the puddle for a Norwegian adventure. My wife Nancy. younger daughter Zoe, and Ralph completed the party (but wife missed the first couple of days because the airline lost her luggage when she came back from England and she had to wait for it to turn up). Between us Eric and I planned an ambitious sampling of some of the better spots in western Norway for the 10 days they were here. We managed to pull pretty much all of it off despite unstable weather -- in fact we got the good weather when we needed it most.  
We started with a two night hut tour in Romsdalsalpene (The Romsdal Alps). Zoe and I hiked up through a cloud layer and over a pass to the first hut, Måsvassbu, while Eric and family went in by a shorter route. Here's Zoe coming up on the pass (Løftskardet), with the spiny ridge at the top of the Troll Wall in the background: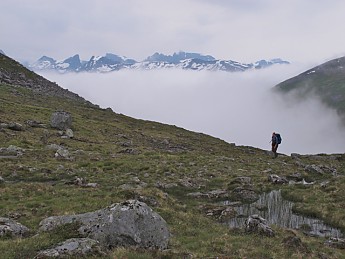 Here's the whole crew minus my wife ready to leave Måsvassbu: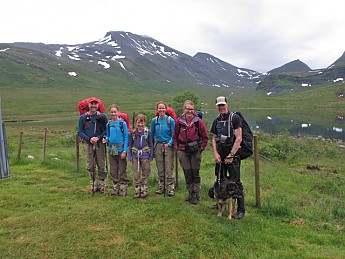 Eric and co. crossing some talus a few km out of Måsvassbu, which is by the lake in the background: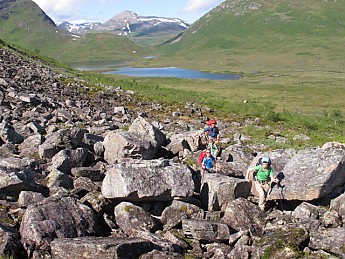 A stream crossing a little higher up: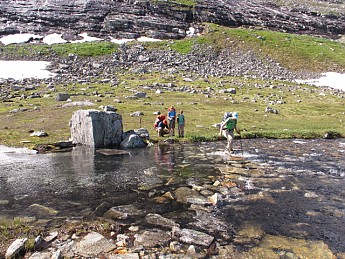 Above Mørkvatnet as we approached a pass: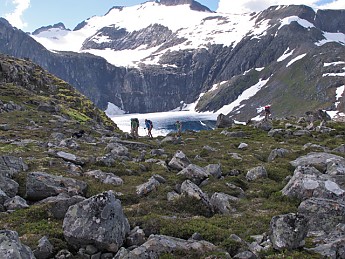 That brought us to the shore of Kjøvdalsvatnet (next photo), where we rested (Ralph and I went for a swim) before continuing up to our second hut, Vasstindbu.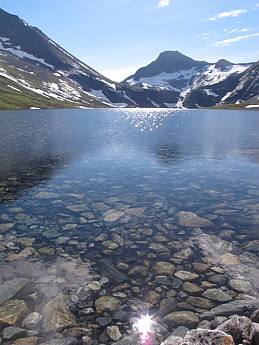 Here's the family starting the climb: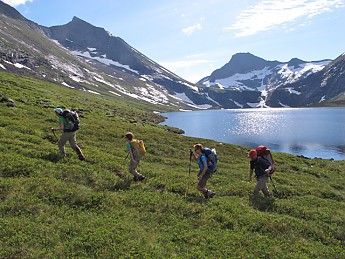 The climb to Vasstindbu is steeep and looose but Ralph dug it: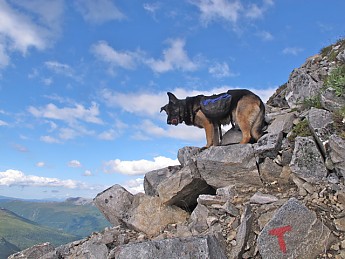 It started to cloud in as we settled in at Vasstindbu, which sits high on a ridge and promises good sunsets, weather permitting: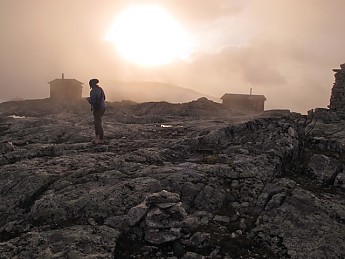 Vasstindbu has only six beds, just enough for us. We were the only ones there at first but then another couple arrived late and took two of the four bunks in the safety/overflow hut, on the right above. Towards sunset the clouds started to break up again: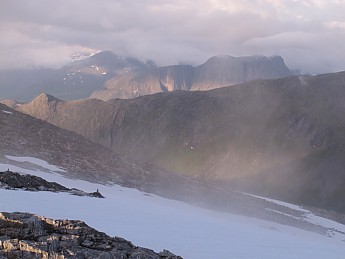 At 10:30 PM we were treated to a doozy of a sunset: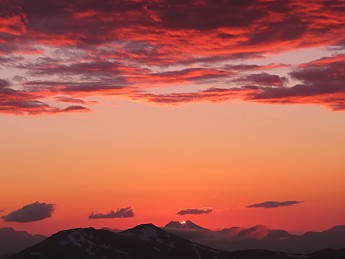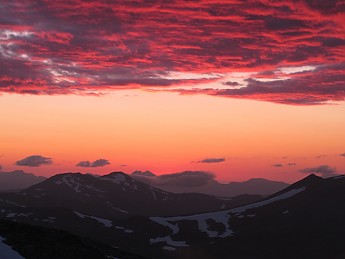 Breakast at Vasstindbu, which is tiny. This is taken standing in the main doorway. There are four bunks in the back room plus two out of sight on the left, a little cooking area out of sight on the right: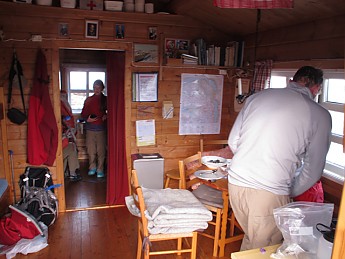 We retraced our steps down to Kjøldalsvatnet and then went over another little pass to circle back to the cars.
To be continued...