6:41 p.m. on August 24, 2012 (EDT)
cletus

0 reviewer rep
27 forum posts
I usually take a haj to the west from the steamy southeast in the summer to enjoy some type of recreation or another. Some years its kayaking snowmelt of various states, banging down slot canyons in canyon country, or backpacking in the mountains. This year I had a planned biking trip that included 3 colorado stops, a moab blitz, and I have a white rim trail permit in Canyonlands NP for a 4 day self support. Things came up and my S.O. aka the boss, could not make the trip. Luckily I was able to get away for some backpacking. I decided it was fine time I saw the infamous Wind River Range that I have heard so much about.............it did not disappoint. I flew into Jackson, WY and stayed with a buddy the first night then the next day I food shopped and then we took his raft down the Snake River for some fishing and relaxation. Relax we did and even caught a few Snake River Cutt Throat trout along the way. The next day I departed for Pinedale area and then on to the Big Sandy TH. I took off towards Big Sandy Lake the first day so I could start on the pass early the next morning.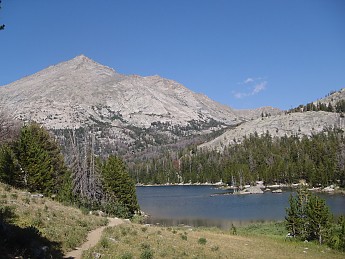 Home at Big Sandy Lake on night1.  I was awakened by bloody murder screams at 11:30pm by someone camped 300-400 yards away that had a bear come in to rob them. My canister was 75-80 yards away so I went back to sleep.
I did fish for at least an hour with no catches and only 1 bite. Oh well.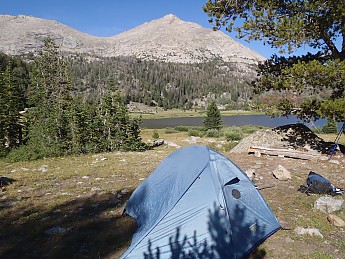 The next morning I was on my way up Jackass Pass towards the Cirque of the Towers.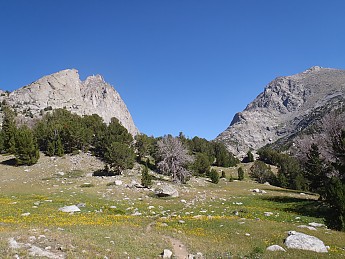 Warbonnet hovering over North Lake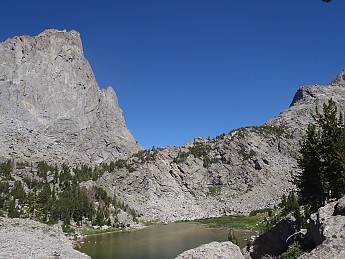 Peaks of the Cirque come into view but the pass is still elusive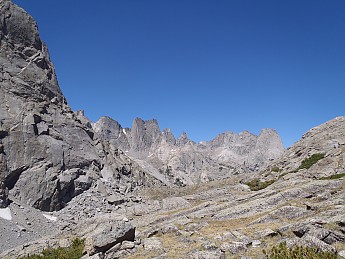 Warbonnet over Arrowhead Lake.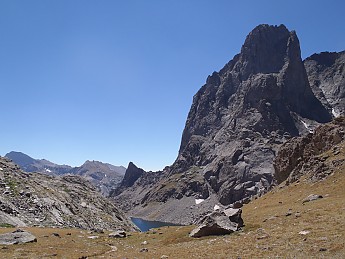 Jackass Pass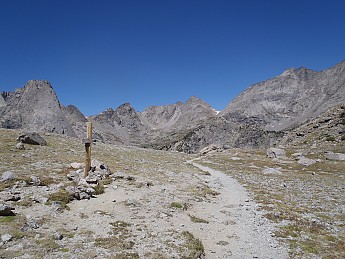 The Cirque and Lonesome Lake while heading down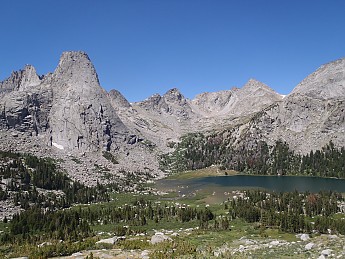 Pingora acoss the Lake. Standing on rocks of the outflow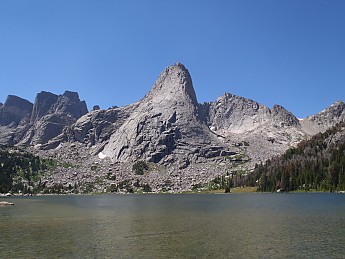 I then headed down the NF of the Popo Agie river to Lizard Head meadow to set up for the next days uphill battle.
The next day looking back at the river valley while heading up the Bears Ears
trail to the Plateau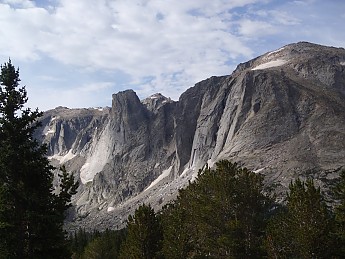 Lizard Head Peak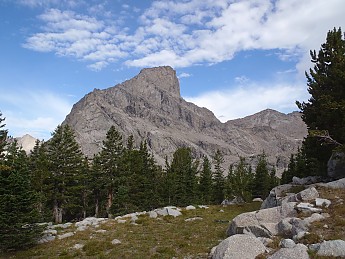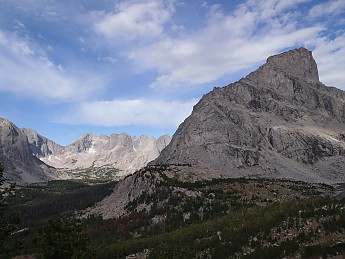 Lizard Head with some glacial lakes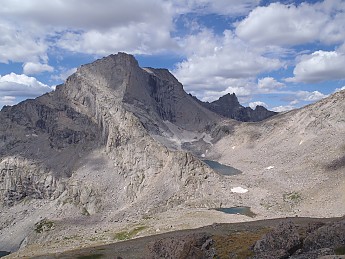 One of the Bear Lakes below lizard head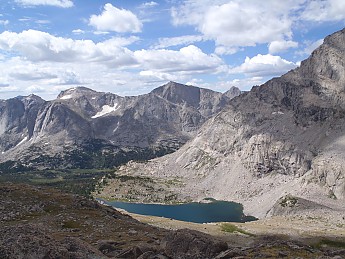 Finally up on the plateau ~11,500-11,800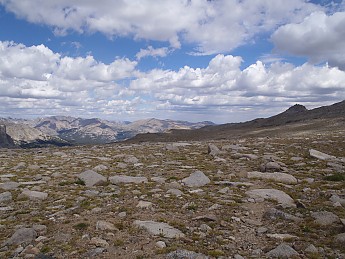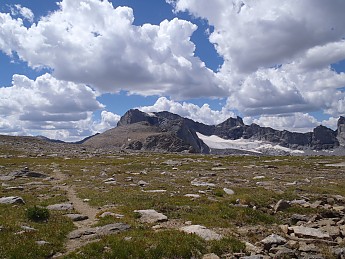 Looking west...or where im heading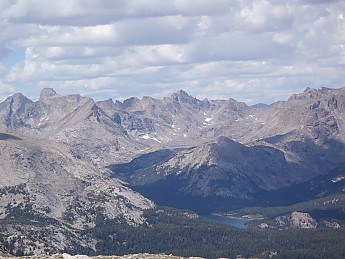 Breifly jacketed up for a little ice shower.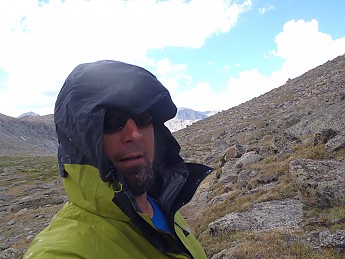 Beautiful Valentine Lake. Where I had planned on staying but I arrived early and decided to press on to get closer to the next days pass. Wish I would have stayed put at this gem.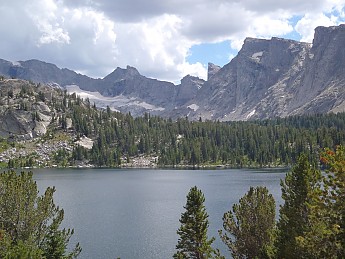 I ended up staying in Ranger Park on the NF of the Little Wind River. Nice meadow with some grazing muleys.
The next day I head uphill towards Lake Washakie, Macon Lake then Wash. pass. Pictured below is Washakie peak. the pass is just out of screen on the right.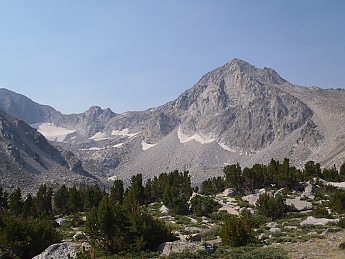 Up on the pass with Macon lake on the left and Washakie lake further below.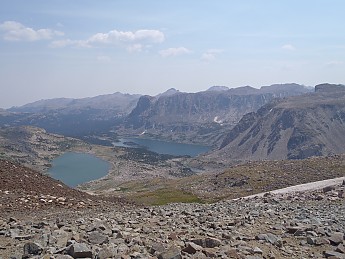 Other side of hte pass looking North.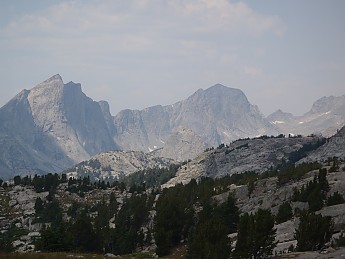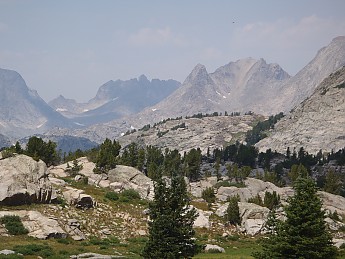 View towards the backside of the Cirque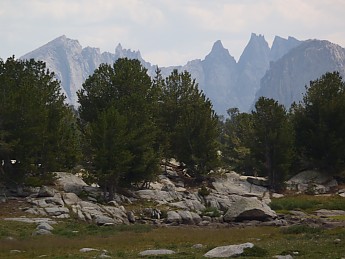 Marms Lake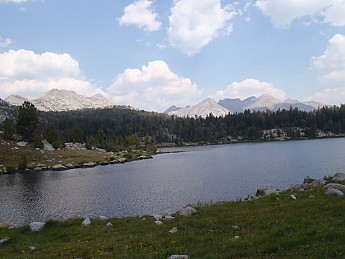 Night 4 I set up at what I thought was a less than desirable lake. But then I started fishing and almost every other cast with any lure yielded these. So it was a good last night of the first trip. I stopped after I caught 8.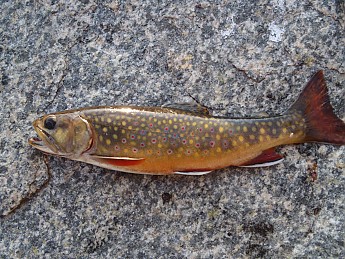 Out early on day five.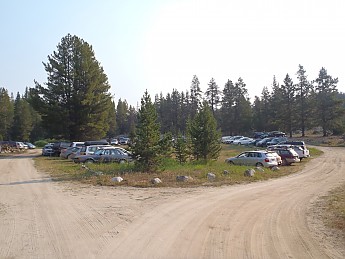 A view of Big Sandy TH. Lots of folks yet I didnt see very many folks per day on the trail and even the Cirque wasnt crowded. Mosquitos on this trip were almost nonexistant.....think I saw 3....really.
After this I ate lots of food at the Rock Rabbit in Pinedale and headed back to Jackson to sleep one night and pick up my buddy so we could head out together on another loop out of a different TH. Stay tuned for Trips 2 &3.
msmith