1:33 p.m. on October 10, 2012 (EDT)
Peter1955

1,387 reviewer rep
1,339 forum posts
Not much in this TR, but I just had to wrap up the weekend!
Had a great Thanksgiving dinner at the Shunda Creek Hostel after our Coliseum hike, soaked in the hot tub out on the deck for a while, had a few drinks, then went to bed.
We got up the next morning and started packing up. The sun started to come up as we ate our breakfast, and it was only then that we realized that the day had dawned to a light but steady drizzle.
The original plan was to do Mt. Baldy, an easy slog up a fire road to a summit with a watchtower and a bunch of communication towers on it. Somehow there didn't seem to be much enthusiasm for a 4-hour slog up a muddy track, especially when we realized there would probably be clouds at the summit so we wouldn't have anything to look at!
Instead, we opted for an easy walk through the forest on the valley floor. The trail crosses a few streams, now swollen with rain, winds through the pine forest, crosses a few marshes, and ends up in a meadow before looping back. Soft autumn colours, wet grass and trees, a few muddy sections, and an easy pace.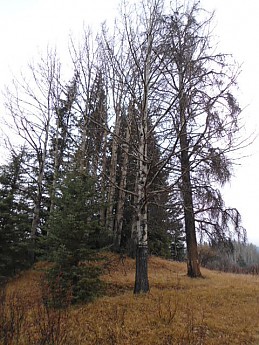 Time to play a bit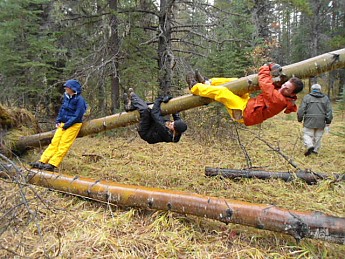 then back to the hostel for the drive home.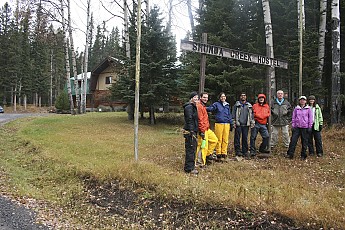 It was an easy walk in the rain, and quite different from the other two days. From now on, our trips to the mountains will probably involve a lot more snow, but we manage to get out there one last time.