1:48 p.m. on August 12, 2013 (EDT)
Peter1955

1,379 reviewer rep
1,339 forum posts
A decade ago, Marble Canyon, high in the mountains, was a warm, wet oasis.  Surrounded by pine forest, its depth and the spray from the waterfalls and rapids inside it protected vegetation normally found only at much lower elevations. 
In a single day in July of 2003, five different lightning-ignited fires started in Kootenay National Park. While three were quickly extinguished, the remaining two took off, fuelled by the dry forests. By the time it was contained and out, 40 days after it started, 170 square km - almost 12% of Kootenay National Park - had burned, including the Tokkum Creek/ Marble Canyon area.
Now it provides a rare opportunity to view the succession of life after a forest fire, as well as offering views of the canyon depths.
The surrounding mountains still show signs of the fires with only dead trees sticking up from the slopes.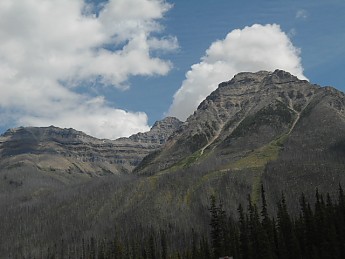 burned off brush, with scrubby weeds...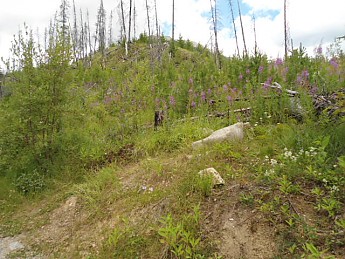 ...and new pine trees growing in, pushing their way through the stumps and fallen logs. It is interesting that many kinds of conifers require heat for the cones to germinate, so forest fires trigger a wave of new growth.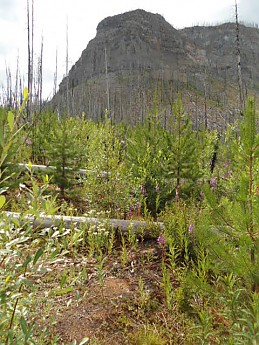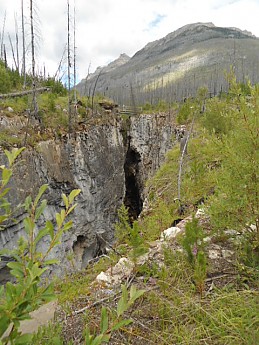 There are a couple of spots in the canyon where water seeps from the canyon walls, building ice walls where climbers practice in the winter. Look for spots on the rails where the paint has been worn off, and where logs have been dropped to prevent ropes from rubbing on the rocks at the top.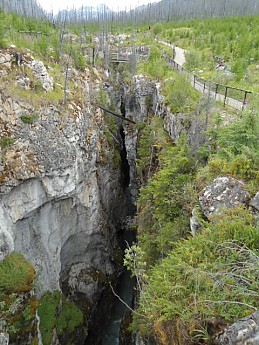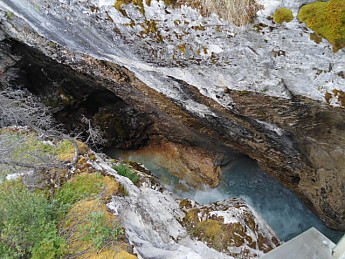 Numerous erratics, rocks carried from other places, rest on top of the limestone and dolomite of the canyon.

...and of course a few animals looking for handouts (golden-mantled ground squirrel).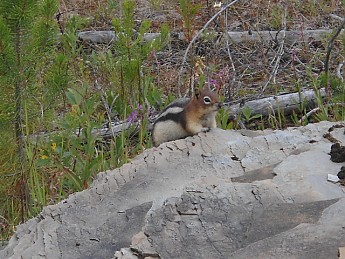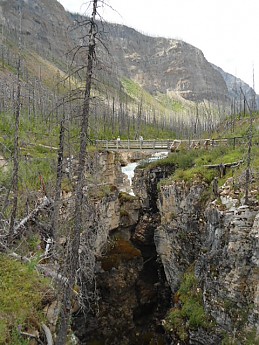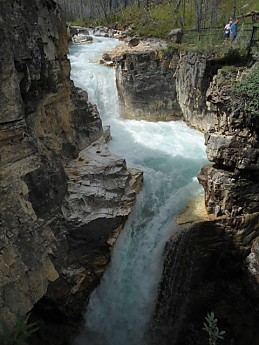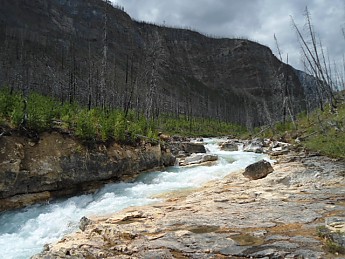 As is so common around waterfalls in the Rockies, a memorial plaque to two people, this time two young sisters, who strayed too close to the canyon sides.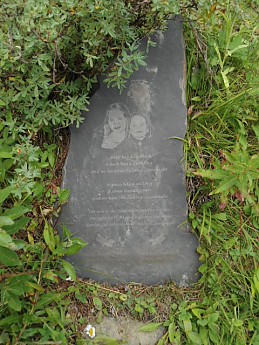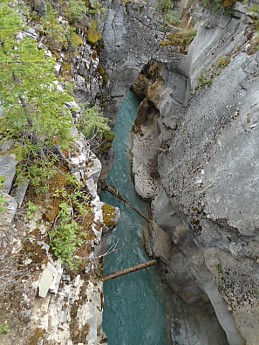 Not a hard walk, by any means, but a most informative one.