6:15 p.m. on June 23, 2014 (EDT)
TJ1984

1,894 reviewer rep
475 forum posts
The Moleson is part of the Swiss Prealps, which is essentially the edge of the Bernese Alps. It stands at 6568 feet, with a prominence of 1680 feet. Because it stands somewhat removed from the more "congested" chains, it provides an excellent lookout into the surrounding area.

I have had an obsession with doing this hike for a while now, and it started quite randomly when I was looking up some information on cheese of all things. The village of Gruyeres is at the foothills of The Moleson. While looking it up, I stumbled on a photo of this mountain, and since then I have wanted to hike it. Even though its not particularly high for Swiss Alp standards, it is quite shapely... and really, if this was situated anywhere else, it would be quite a standout!
 
This past weekend, I decided to just go ahead and do it. I booked a last minute flight to Geneva, got the necessary hotels, and did it!
Like any good hiking trip, it started with some simple gear planning, and I decided to go fairly lightweight, especially since I was traveling with just a carry-on. I took my TNF Angstrom 20 bag, Merrell Protera minimalist hiking shoes, TNF Venture rain shell (just in case), an OR Neoplume primaloft jacket in case it got cold on the summit (it didnt!), 3L source bladder, a Rab Boreas wind shirt, OR backcountry kit with my essentials (sunscreen was a big one!), my calories for the hike (4 gels, and 2 cliff bars), Fuji X20 camera, and Fizan ultralite poles.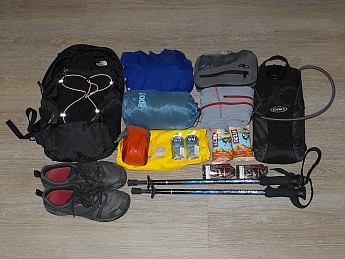 Because the forecast was for 27 degrees during the day, the smart thing to do was have an early morning or "alpine" start. Of course logistics dictated otherwise, and I started my morning in Geneva... took a two hour train to Bulle, got checked in and started my hike in the burning mid-day sun at 12:15! That wouldn't stop me, this was a dream I was fulfilling!
You can start at Bulle and walk to Gruyere at the foothills. Its about 1 hour, and while the scenery is pretty, its not that exciting and rather flat, so I wouldn't recommend it, and would just take a train if I were to do it over again. Still The Moleson is in sight, and serves as a good motivator.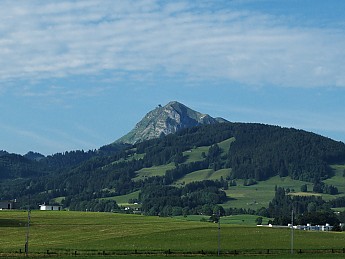 Once in Gruyeres, you can see it towering over the landscape, summit in the clouds. It looks both inviting and imposing, and only furthered my excited as I pushed along. At the edge of Gruyeres is where the well marked trails begin.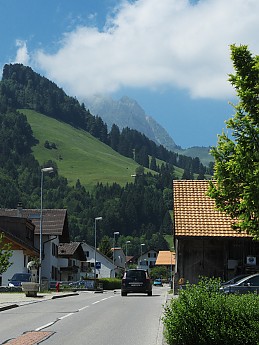 The trails for the first 3000 feet alternate between wooded trails, alpine meadows, and fields of very happy cows responsible for delicious swiss cheeses and chocolates!

Wooded trails: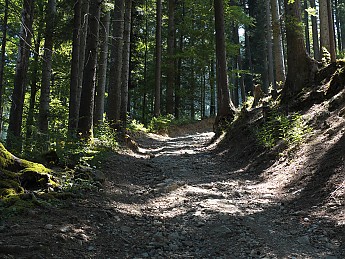 Looking back at some lovely meadows and some very nice looking peaks... I wish I could summit them all!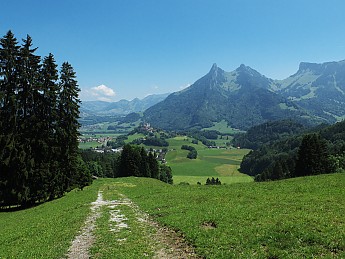 Starting to get closer and closer, and my heart starts to beat a little faster. A combination of fatigue, adrenaline, maybe a bit of sun exposure!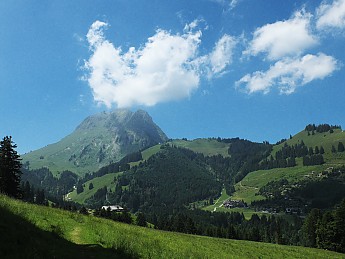 There is right of access for hikers, which means you often have to pass through farm land. Even though the cows are quite big and can be intimidating they are incredibly docile, and kinda cute.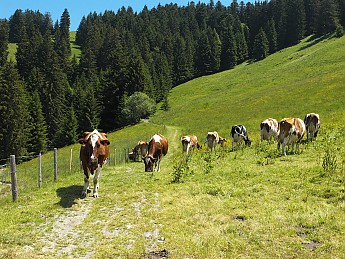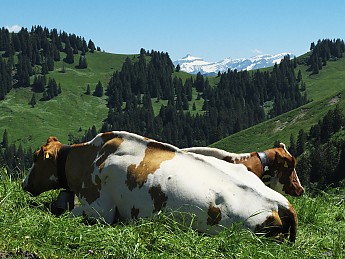 On the way up, you pass through several villages, whose economy centers mostly on cheese making, and tourism.
As you wind your way up the mountain you get to enjoy it from multiple angles, though progress appears slow as it always seems to be towering above you.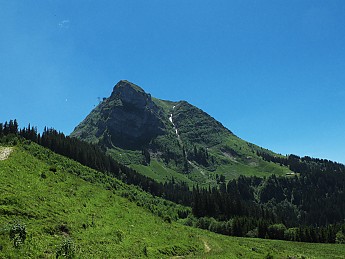 Finally, getting closer and the cliff edges are in clear view.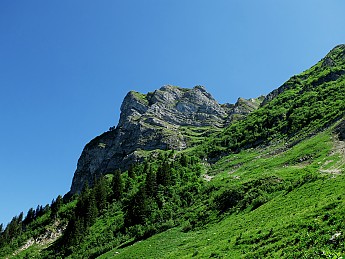 As you wind your way around the back of the mountain, the final summit approach comes in clear view. After the initial trail, it is mostly smooth wet stone from run-off melting snow, or fine loose scree so you have to be a little careful.
Now finally at the top! There are several peaks connected by a ridge. The drop-off is fairly steep but there is a chain to grab onto.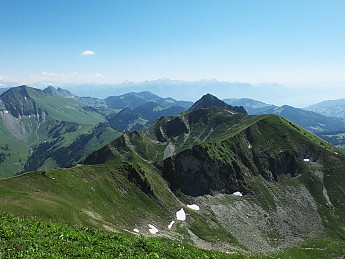 Because there is skiing on this mountain, there is a Gondola that goes to the top, so that does draw tourists that summit the easy way! Not a fan, but it is what it is. Thankfully the majority of the hike is unspoilt. The good news is that if you want to make the hike shorter, you can start at segments much closer to the summit. I made it about as long as you can, but I enjoy pushing myself, and the distance I traveled is certainly not necessary to have an amazing day out.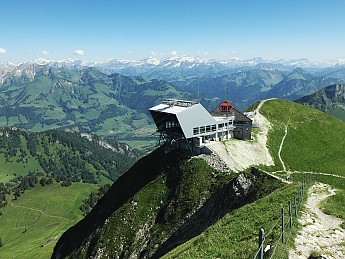 In the distance, you can see where I started my hike in Bulle.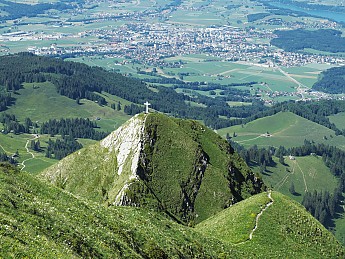 After exploring the entire summit, I finally took my first, and well earned break of the day!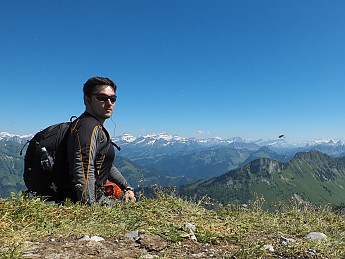 Where I got to enjoy some stunning views of the surrounding countryside and the Bernese Alps.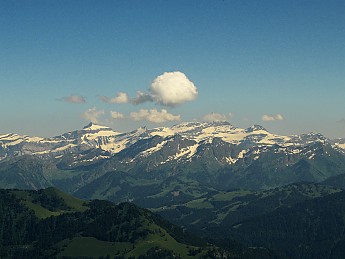 After that, I walked all the way back. The day was long and hot, and I was a little tired. I admittedly had no sleep the night before due to sheer excitement, but I was still running on adrenalin. After a couple of hours, I found myself back in Bulle, where I settled into a nice outdoor patio, watched some world cup soccer with the friendly locals and had a nice meal.

It was a fantastic trip and was even more fun than I could have imagined. I cant wait to go back to Switzerland to tackle a few bigger mountains!
I commemorated my trip by purchasing one of these little guys; a Victorinox SAK Climber. I figured its as good a momento for the occasion as I could think of, and also one of the few models I could take as a carry-on for direct flights back to the UK.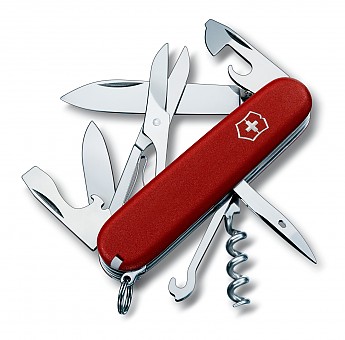 (image from Victorinox website)