12:06 a.m. on April 16, 2011 (EDT)
BigRed

TOP 10 REVIEWER
REVIEW CORPS
2,828 reviewer rep
930 forum posts
We wanted to use daughter Zoe's spring break to get out and about. Tempting to do some spring skiing in the Sierra, but then we heard the siren call of canyon country. We invited Zoe's old VT school chum Annevitte along for the trip, and AVs father decided to come too, making it a party of five. We rented a seven-seater van for the week so we could travel in comfort, and headed for the desert.
We camped the first night at a Utah State Park (Sand Hill) not far from Zion, and drove in via the south entrance the next morning. After some consultation at the backcountry desk, we decided to head right into the Kolob Canyon section of the park for an overnighter, via an easy 6-mile hike into a designated campsite that put us in good position for an evening walk up to Kolob Arch. Here's a few of us near the start of the hike.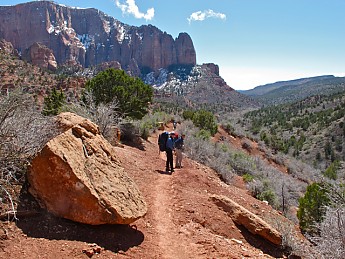 Zoe and Annevitte shared Zoe's new two-door Eureka Spitfire 2 (not rain-tested yet but seems to be good value...)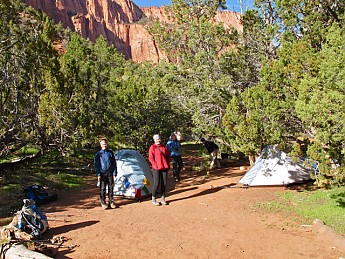 We got back to the big canyon early enough to secure a campsite and do an afternoon hike past the Emerald Pools, ending in close encounters with mule deer and a small flock of turkeys, with the toms really strutting their stuff.
On Monday we got a fairly early start to avoid any crowds on Angel's Landing. As it turns out, none of the women had the stomach for the exposed hike to the top, so Matt and I had to do it ourselves. It only requires a cool head, no real skill other than hanging on to a chain an putting one foot in front of the other. Although we weren't first, we were actually the only ones on top for about 5 minutes. Here's Matt on the way down.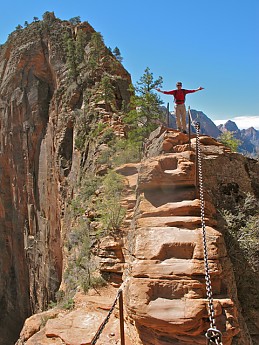 And here's Angel's Landing with Observation Point in the background.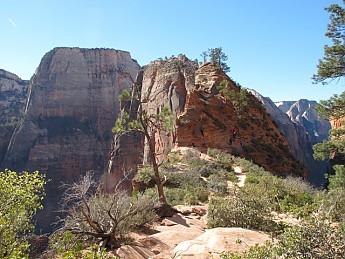 In the afternoon, we all headed up towards the latter, but only Matt and I (again) had the energy to finish it off, a double-header for the day. (If you add up mileage and elevation, it's no big deal). So, here's a view downcanyon from Obs point.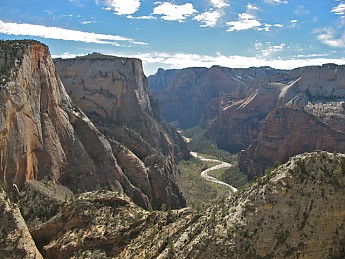 Early Tuesday AM I took the bus partway up the canyon for a solo sunrise run, then we headed off for Bryce. With the campground at about 7500 ft it's a lot colder up there, and the forecast was for bad weather, so there wasn't much competition for campsites, but we managed to get in a nice 8 mile afternoon hike among the hoodoos.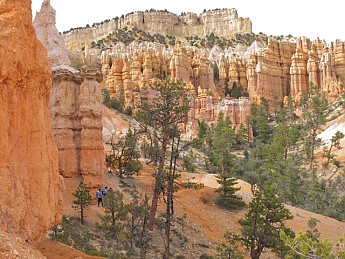 We were clouded in in the AM, but before we left the clouds lifted enough for us to go up to some of the viewpoints and see a little more.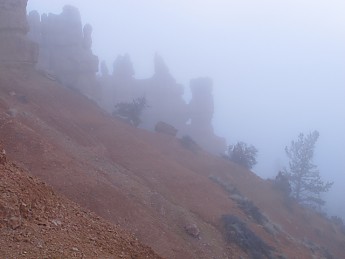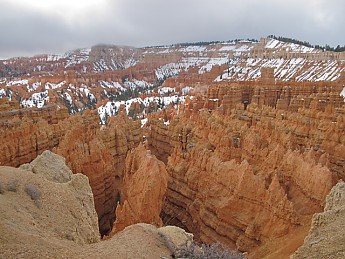 The next stage took us to Page AZ, where there are some primo redrock slot canyons. Antelope Canyon seems just too overrun and controlled for my taste, so I had set my sights on Upper Waterholes, but when we got there we found that the rules had changed since the web page I read about it on was published. It is now required that you go in with a Navajo guide, and that will cost you $100 a head for about an hour in the canyon, getting there in a 4WD rather than hiking. I think it's fine for the Navajo to take control and earn some money for access to their lands, but that was way over our price range, so we settled for Middle Waterholes, easily accessed from a bridge on the main road south of Page.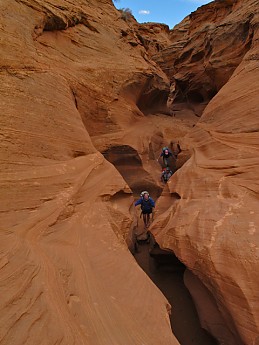 We spent a couple of hours working our way up through the slot and back, the only ones there. I guess it's not quite the same show as Antelope or Upper Waterholes, but still right purty.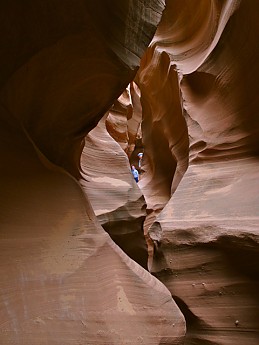 Matt and Annevitte had never been to the Grand Canyon, so after a night at the camground near Glen Canyon Dam we headed for the South Rim, hoping to get in a dayhike down into the canyon. But we were greeted by falling snow with forecasts for a whole lot more, so we just kept right on going down to Route 40 and onwards to Valley of Fire SP near Lake Mead in Nevada, arriving a bit after dark and just squeaking into one of the last available campsites, it being a Friday night and all. The campground was right in among the red rock formations that give the valley its name.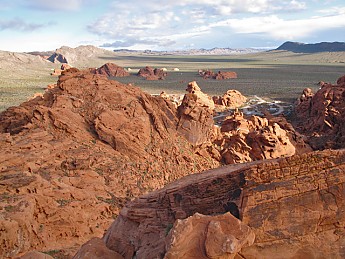 We stayed here two nights, using the day for various short day hikes under at times threatening skies, even a tiny bit of hail...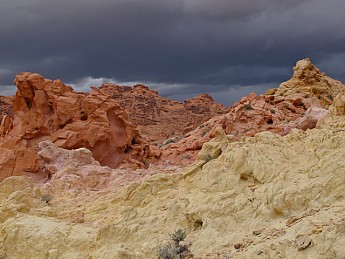 And finished with a sunset hike up a ridge behind the campground to get the big picture.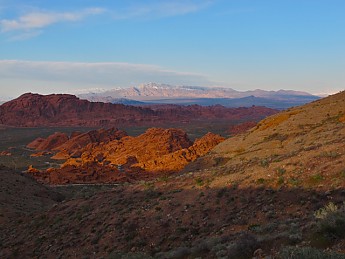 Back to Riverside for showers and supper, then we took Matt and Annevitte to the airport for a red-eye special back to Boston and VT!
So... yet another mostly frontcountry trip. I had hoped to get off road again in Bryce but the weather did not cooperate, I think they got a foot or more of snow up there starting not long after we skeedaddled. I find the RVs with generators and satellite dishes and AC at the campgrounds more than a little trying, but the base camp and day hike approach is a good way to cover some territory, and I don't really object to having a picnic table and a warm place to "sit". My other daughter will be visiting from Norway in June, and we'll head back to Zion for an overnight hike though the Narrows, then figure out what else we want to do.
Lots more photos here.