User Review:
A3 Honey Graham & S'Mores
Rating:


Source: received it as a sample, freebie, or prize (Seth at Trailspace)

Summary
A nice little crispy snack bar, good s'mores flavor.
Pros
Small
Crispy
Has s'mores flavor
Only 110 cal
Light on the stomach=eat on the go
Cons
Tad on the sweet side for me
A3 Action Snax Honey Graham & S'mores
I like S'mores. Anything s'mores flavored always grabs my attention. The A3 Action Snax S'mores bar was no exception. At 110 calories it was a low-risk option for a quick snack with the hopes of satisfying the craving for chocolatey, marshmallow-graham goodness without the time and mess of making a real s 'more.   
I get the feel that this is a smaller company just starting out.  I hope they stay with it.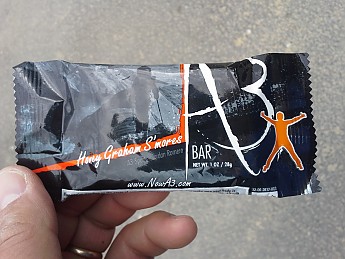 Ingredients:
Lots of organic ingredients, if that's your bag. I don't know what vegetable glycerine is but almost all the other ingredients on the label sounded like real food, so that's a plus. It's also certified gluten free which might also appeal to those who must or choose to eschew this ingredient. Like I said, at 110 calories it's the kind of thing that might fuel and satisfy without a big, filling lump in your belly to kill your rage.  
Texture/appearance:
The soy crispies give it a rice crispy-feel when chewed and not really a graham cracker feel but they did a good job of making it appeal to the eye with the drizzled icing across the top. You can see chocolate chips which is a must with anything claiming to be s'mores flavored. Don't discount eye-appeal, just try to feed your kids blue potatoes (a natural variety that tastes identically to normal ones) and you'll see what I mean. I'd give it the other 1/2 star if it resembled an actual s'more.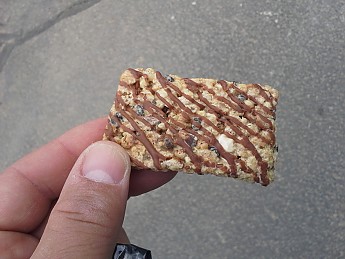 Taste:
Like I alluded to, it isn't just a s'more in a wrapper, it's a s'more flavored energy bar.  If you eat one knowing this you won't be disappointed. I did taste the required elements; I tasted graham, chocolate and something resembling marshmallow. I liked it.  The sweetness might be a bit over the top when you are really working hard since sweetness can taste magnified under exertion but during moderate exertion these are a fine treat. 
Conclusion:
If these are available and the price is right I will add them to the bag of snack bars I bring on trips with me.  While I might not go out of my way to find them I won't turn one down either. Life-changing? No. A good, small snack with lots of energy? Definitely. If you have a chance to get these and encourage a smaller snack maker give em a go.
Thanks, Seth for sending these!