User Review:
Alico Men's Tahoe
Rating:


Price Paid: $154

The Alico Tahoe is a hiking boot made by Alico sport, an Italian company. As far as I know, sierratradingpost.com is the sole US distributor of Alico boots, and they only carry a handful of the Alico line.  
I bought these boots because I was looking for a durable boot that would offer more protection during bushwhacks with a welt sole that could be replaced, as I have grown weary of the kabuki dance involved each time I needed to replace my trail runners du jour. At the time of this review, these boots have been used for day hikes ranging from 7-12 miles in length in order to break them in for longer treks, plus one overnighter.  
I currently have 175 miles on them, with a majority of these miles coming from on-trail use with short bushwhacks. I have had an opportunity to use these boots on ice and snow as well. The terrain I have hiked in has been mostly forest trails, marsh boardwalks, some bushwhacks through thicket, and the occasional hike through mud, snow and/or ice as nature dictates. I live in west Michigan, so steep rocky mountain trails are non-existent unfortunately.
I ordered these boots in a 10D (D being "standard width") from the aforementioned STP.com, which also offers a "2E" width.  According to STP, MSRP is $274.95 with a perpetual "sale price" of $199.  I got 50 bucks off since STP had a promotion where any first purchase through STP was 25% off.  
Straight out of the box, you can't help but notice that these are just a nice looking boot.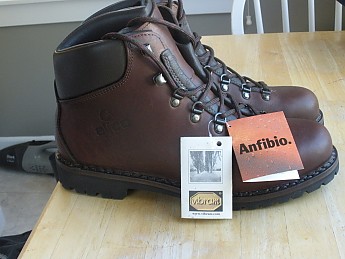 Alico's official site, alicosport.it displays a different version of this boot, so I didn't use any of the info provided there. Per STP.com, these boots weigh 3lbs 4 oz per pair, are 5.5 inches high, and feature a nylon and steel half-shank.  
These boots are 2.8mm full-grain Anfibio leather with a fully gusseted tongue.  The boots are lined with dri-lex, designed for "excellent moisture movement properties as well as outstanding abrasion resistance, hand-feel, and attractive patterns and textures" per dri-lex manufacturer website.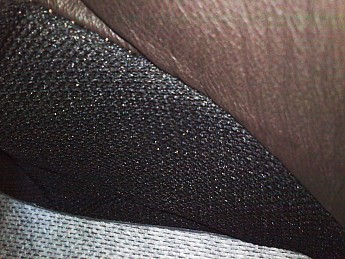 The sole is your standard Vibram Roccia block. 
Putting these boots on my feet for the first time, I was struck by how stiff they were (remember, I have used trail runners exclusively until getting these). I felt like I was wearing ski boots as I walked around my living room. During my first day hike, I made it about 4 miles until my feet began giving me serious grief.  
I have been able to progressively increase my mileage until I hit around 125 miles, at which point I felt comfortable finally taking these on an overnighter to get a feel for how my feet might tolerate them on a longer trip. Following the overnighter, I treated these boots with Obenauf's leather oil, as they looked like they needed some hydration.

I did stay mostly comfortable on the overnighter, but I think it will take all of 200 miles to fully break these in. Since the overnighter, I logged an additional 50 miles on them.
Things I love about these boots: They are obviously durable and well-made. I have kicked plenty of stumps and branches during hikes accidentally, as well as having to kick through some thick stuff on bushwhacks and the leather has held up well without anything more than scuffs. The Vibram sole is grippy in mud, ice, and snow.  The only surface I have slipped at all on would be wooden boardwalks covered in early morning dew, and I don't know of many soles that can keep you from slipping in that situation.  
The dri-lex liners manage moisture extremely well, as my early hikes were in late August and heat was not lacking. The laces on these boots do not slip, and double knots are not necessary.  The padded ankle support is very comfortable. I haven't done the "bathtub test" with these boots, but I have hiked in rain and through plenty of puddles following treatment with Obenauf's with no leaks.
I also like how these boots are Gore-Tex free, as Gore-Tex liners just wind up as sweatboxes on my feet. These boots run narrow, and are a perfect fit for my lower-volume foot (I believe European boot manufacturers generally make lower-volume boots than their American counterparts, but I am not certain). I also just like how these boots look. After 175 miles, a damp cloth following a hike makes these pups look virtually untouched.  
Things I am not as high on: These boots come with a cheap foot bed worth slightly more than paper towel. I replaced them with Sole Softec Response insoles. While I was planning on replacing the soles anyway, it was kind of disappointing to see the insoles as nothing more than a thin slip of fabric on top of cheap foam.  Also, I would prefer eyelets to D-rings for laces, but that is a minor nit to me.  Most people prefer a leather-lined boot over a synthetic material, so I would be interested in comparing the two.  For now I don't have a leather-lined boot for reference.
Based on the few negatives I have mentioned, I suppose it would be fair to give these boots 4 or 4.5 stars.  However, I feel that the discernible build quality and durability more than make up for any shortcomings elsewhere.
I plan on returning to this post with a follow-up after a planned 50-mile full-on backpacking trip in Ontario this coming Spring. Until then, I will continue working on breaking these in.

Where to Buy
sponsored links
Help support Trailspace by making your next purchase through one of the links above.