AlpineAire Foods
Scrambled Eggs
1

review

5-star:

0

4-star:

0

3-star:

1

2-star:

0

1-star:

0
Reviews
For a comparative Instant Camp Eggs Cook-Off, I tested…
Rating:


Source: received for testing via the Trailspace Review Corps
Price Paid: Samples provided by the manufacturer for testing and review.

For a comparative Instant Camp Eggs Cook-Off, I tested and reviewed the following packaged plain egg products:
AlpineAire Scrambled Eggs, 
I prepared each egg product for breakfast after early morning hikes, using the same stove and cookwear each time (the stove was an Optimus Nova, and the cookset was an anodized aluminum one with a non-stick coating from Primus). For the seasoned egg versions I added black pepper and cut-up or pre-shredded cheddar cheese.
This review focuses on AlpineAire's pre-cooked Scrambled Eggs. (While the Scrambled Eggs are pre-cooked to minimize cooking time and fuel, AlpineAire also makes an uncooked Scrambling & Omelet Egg Mix.)

AlpineAire package.
Pros:
An alternative if you are prone to burning eggs — dried eggs soak up boiling water

Container re-seals.

Pre-cooked to minimize cooking time and fuel.
Cons:
They take a long time to absorb water — much longer than the 10 minutes indicated on the package. Even after waiting twice the designated time, the larger pieces had a chewy/rubbery texture.

These would have benefited from breaking up the larger pieces in advance.

Needs seasoning

Total cooking time is long because the eggs have to sit, and messy because, as instructed, you have to pour off the excess water. (AlpineAire also makes an uncooked Scrambling & Omelet Egg Mix.)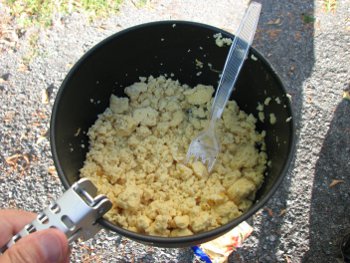 AlpineAire Scrambled Eggs prepared.
Here is a detailed rating of AlpineAire's pre-cooked Scrambled Eggs.
Packaging: Resealable plastic/foil
Ease of Preparation:


Must add boiling water and allow to sit for a long time, then pour off extra water.

Texture (plain):


Slightly watery, larger chunks were very chewy.

Texture (seasoned):


Seasoning did not affect texture.
Flavor (plain):


Moderate egg flavor, essentially unseasoned
Flavor (seasoned):


Seasoning improved the flavor somewhat, but ingredients were harder to mix in. Would need a fair amount of salt.
How Filling (plain):


Very dense and filling
How Filling (seasoned):


No significant change with my added ingredients.
Ingredients and Preparation:


Have to pour in boiling water, then wait for the hot water to soak in. The waiting time was longer than stated on package (10 min). Pouring off excess water, as instructed, was a pain.
Servings per Container*:


Says six servings, feeds more like three. Large package size because it's freeze-dried.
Container Weight:


Larger, bulkier package.
Manufacturer's Claimed Product Weight: 5 oz
Trailspace Weight (Product and Packaging): 5.1 oz/ 146 g
*(Manufacturer serving sizes reflect the USDA's recommendation of no more than two eggs daily per person.)
Read the full Instant Camp Eggs Cook-Off review.

Where to Buy
sponsored links
Help support Trailspace by making your next purchase through one of the links above.
Manufacturer's Description
Visit AlpineAire Foods's Scrambled Eggs page.
Retailers' Descriptions
Here's what other sites are saying:
AlpineAire understands it's hard to pack eggs when you're camping. That's why they've done the legwork for you with their Scrambled Eggs Cooked and Freeze Dried. If you own a cookstove or even just a pot and some matches, these freeze dried and dehydrated meals are the way to go. They're lightweight, compact, and super easy to prepare. The meals are packaged in resealable foil pouches. Most weigh between 5 and 7 ounces and offer 2 servings. To prepare a meal, just add a couple cups of hot water right to the pouch. A few minutes later you're ready to chow.
- Backcountry.com
Just add water to these cooked eggs & enjoy. BREAKFAST
- CampSaver.com
Just add water to these cooked eggs & enjoy. As a pioneer in the food marketplace for over 21 years, AlpineAire Foods has a reputation for excellence surpassed only by their distinction for outstanding taste. AlpineAire produces freeze-dried, dehydrated and ready-to-eat instant meals, side dishes, breakfasts, soups and desserts. Their products can be used every day but also for backpacking, hiking, hunting, fishing, and long-term food storage. They also offer selected items for those who are gluten-intolerant. Naturally Good Food Anytime/Anywhere
- Altrec Outdoors
AlpineAire Foods Scrambled Eggs
currently retails for:
$7.75
MSRP: $7.99

where to buy: