ALPS Mountaineering
Cascade 4200
4

reviews

5-star:

1

4-star:

2

3-star:

1

2-star:

0

1-star:

0
Lots of room. Lots of hidden extras. One or two questions…
Rating:


Source: bought it new
Price Paid: $80

Summary
Lots of room. Lots of hidden extras. One or two questions about the stitching.
Pros
Roomy
Nice design
Adjustable torso
I purchased the ALPS Cascade 4200 on clearance before my first backpacking trip in February of 2011. Here's what I've found out about it so far.
First, I'm a short guy, and so having a pack with an adjustable torso is important. This pack works well for that, and the pack is very adjustable. It's a very comfortable pack although, for what the pack is, the shoulder straps could be a little bigger. The hip belts are comfy though, and that, to me, is more important (given that your hips are what bears the majority of the weight).
4200 cu. in. is insane. Probably more pack than I need.  But they do an excellent job of balancing this weight throughout the pack, with a sleeping bag compartment below (my whole sleep system fits in there) and spacious side and front pockets.  I can't imagine needing any more room in a pack unless I was packing stuff for two people.  The lower portion of the pack also features a drawstring close-off deal that works well for separating your sleeping stuff from everything else.  This also acts as a means to compress the stuff below, giving more room for the heavier stuff above.
So... the really cool things about this pack:  The top part of the pack is removable, which is pretty standard.  But hidden behind a layer of nylon are some webbing straps that convert this thing into a fanny pack.  This, I can see, is going to be useful if you might be setting up camp somewhere and need a day pack to take out from your campsite.  No extra bag needed.
Secondly, and far more useful, is that the rain fly for your bag is attached in a little pocket at the base of the pack.  I didn't even know it came with the pack until I did some research and found out it was there.  I actually e-mailed ALPS saying mine didn't come with a rainfly.  They told me where to look.  Voila.
So, here's why it only got 3 1/2 stars... I haven't used this thing nearly enough for the stitching to be as bad as it is on it.  The rest of the pack is fine but my right shoulder strap is literally holding on by a thread.  I'll be sending it in to get replaced as soon as I can.  But otherwise the pack is really nice. 
I bought this Cascade the day before my 2 days trip…
Rating:


Source: bought it new
Price Paid: $99

Pros
roomy
good balance
good quality
I bought this Cascade the day before my 2 days trip to a continental divide place, 12.000 feet. I wasn't sure about this backpack. Let me tell you, it's awesome.
I loaded up to the limit, about 40 pounds, is very roomy and very good balance. Be sure to adjust every strap before you leave. On my way up, we were caught by a storm and I have the chance to use the cover, works just fine.
I have the 4200 cu. in. variety and although this…
Rating:


Price Paid: $65

I have the 4200 cu. in. variety and although this is a 5lbs.+ bag, the comfort was well worth the extra weight. The bag is great for 3-4 day getaways if you're an "average" packer. By "average" I mean that I don't care how much my items weigh, but I bring only what is necessary (i.e. backpacker's tent w/ fly as suppose to a tarp or a family cabin). 
I really appreciated the two large zippered pockets on the sides of the pack, where my old pack just had more webbing pockets. It was a great place to stash additional gear that I neither wanted buried inside nor exposed in the lower web pockets. 
The sleeping bag compartment was roomy enough to swallow my tent, my bag, and fleece blanket, while the internal divider helped to keep the rest of my gear at the right height along my back.
The material felt nicer than my old pack and the bag's quality looked to be nicer than that of my girlfriend's new Kelty. The large #10 zippers were also much appreciated.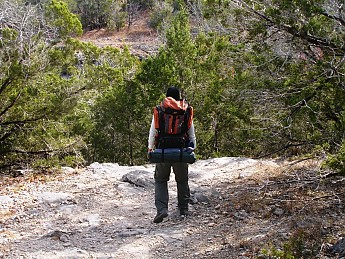 Like most bags, the top compartment can be used as a waist-pack.  The belt within is wide, so I was able to sling it across my back like a messenger bag, cinch it tight, and monkey around while bringing the essentials along without discomfort.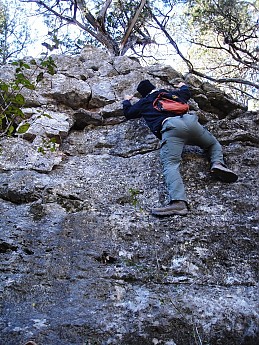 I have to say, I honestly love this bag.  Maybe my last one wasn't a right fit or well past its expiration date, but the Cascade was everything I was hoping for and a little more.  Rock on, Alps! 
ALPS Mountaineering Cascade Pack I took this pack…
Rating:


Number of Pockets: 5 (Including one pocket to separate items inside the main part of the pack)
Height of Owner: 5'7"
Price Paid: $700

ALPS Mountaineering Cascade Pack
I took this pack through the Superstition Mountains and the Grand Canyon on a two week backpacking trip. This pack is durable and reliable. I even took it overseas through Hungary.
For many people, the pack will provide adequate size for a three day trip. However, if you are planning on backpacking for a week and would like to have plenty of food, I would find something with more space.
For someone who is going to be carrying less the average group member or going for three days, this pack is perfect. For a person who is going to be caring more then the average group member or someone who is going it solo, more space will help you a lot.
Manufacturer's Description
Visit ALPS Mountaineering's Cascade 4200 page.
Retailers' Descriptions
Here's what other sites are saying:
Carry everything you need for a weekend backpacking trip or lightweight week-long adventure in the Alps Mountaineering 4200cu in Cascade Backpack. Its Comfort Glide Suspension system allows for easy torso length adjustment so you can find the perfect fit without a struggle.
- Backcountry Outlet
The Cascade is a popular internal choice in the ALPS Mountaineering line. Differing from the other internals offered, the Cascade has a large zippered pocket on each side of the pack, making it convenient to get to certain items quickly, while you're out on the trail. In addition to the large outside pockets, the Cascade has lower side bottle pockets, a large front pocket, and #10 zippers on the lower door offering easy access to your sleeping bag or other gear below the internal horizontal divider. Our Cascade has our Comfort Glide Suspension System. This adjustment system will allow you to adjust to that perfect point. The SoftEdge shoulder straps have 2 layers of foam to give you maximum comfort and adjust. The modular waist belts have 3 layers of foam (a stiff outer layer, a firm middle layer, and a soft inner layer) for maximum load carrying capabilities combined with the ultimate in comfort. The Air Mesh on the inside of the belt stretches with the foam so there are no wrinkles to rub against your body. With ALPS Mountaineering internals, you're not going to have to purchase the pack and all kinds of accessories. The rain cover is INCLUDED and is now part of your pack... conveniently stored in a pocket at the bottom of your pack. Don't worry about buying a fanny pack for those quick hikes away from camp either because the top pocket converts to a fanny pack. When you're ready for your trip and your pack is full, but you still have a few things to take, don't worry! The top of the Cascade extends with a spindrift collar, so you can "over pack." The top pocket adjusts up and down to keep it in the correct position and we've included an "Over the Top" compression strap to stabilize your extra gear. Once you try the Cascade, you won't settle for anything less.
- CampSaver.com
Nylon ripstop top, 1000D bottom with dual-directional aluminum frame. Top loading with extendable top lid that converts to a fanny pack. Spindrift collar with draw cord, Over the Top compression strap. Hydration pocket & port, zippered side pockets, lower side bottle pockets, large front pocket, lash points on front pocket, lower door, internal horizontal divider. Includes rain cover.
- Altrec Outdoors
ALPS Mountaineering Cascade 4200
MSRP:
$169.99

The ALPS Mountaineering Cascade 4200 is not available from the stores we monitor. It was last seen February 5, 2014 at CampSaver.com.
If you're looking for a new weekend pack (3,000 - 4,499 cu in), check out the best reviewed current models.
Specs
Weight
5 lb 6 oz

Capacity
4200 cu in

Fabric
Nylon Ripstop Top - 1000D Bottom

Fits Torso
15 in to 21 in

Access/Loading
Top

Sleeping Bag Compartment
Yes