User Review:
Backpacker's Pantry Scrambled Eggs
Rating:


Source: received for testing via the Trailspace Review Corps
Price Paid: Samples provided by the manufacturer for testing and review.

For a comparative Instant Camp Eggs Cook-Off, I tested and reviewed the following packaged plain egg products:
Backpacker's Pantry Scrambled Eggs,
I prepared each egg product for breakfast after early morning hikes, using the same stove and cookwear each time (the stove was an Optimus Nova, and the cookset was an anodized aluminum one with a non-stick coating from Primus). For the seasoned egg versions I added black pepper and cut-up or pre-shredded cheddar cheese.
This review focuses on Backpacker's Pantry's Scrambled Eggs.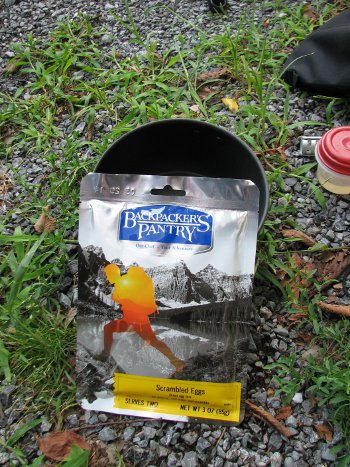 Backpacker's Pantry Scrambled Eggs package.
Pros:
Best flavor of the group, comes pre-seasoned with some salt and pepper

Very good consistency — similar to cooking fresh eggs.

Easy to prepare and cook

Resealable container

My overall favorite
Cons:
They aren't fresh eggs, but I really had very little to criticize about them.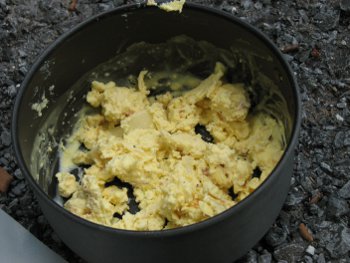 Backpacker's Pantry Scrambled Eggs prepared.
Here is a detailed rating of Backpacker's Pantry Scrambled Eggs.
Packaging: Resealable plastic/foil

Ease of Preparation:


Just add water and cook

Texture (plain):


Looked and felt close to home-cooked scrambled eggs

Texture (seasoned):


Cheese improved texture slightly

Flavor (plain):


Some pepper and saltiness already present, fairly good egg flavor

Flavor (seasoned):


Pepper and cheddar cheese blended in adds some saltiness and bite — I enjoyed this.
How Filling (plain):


A little more substantial than the organic version, very filling

How Filling (seasoned):


No significant change with my added ingredients.

Ingredients and Preparation:


Just mix with water and eat, very easy

Servings per Container*:


A lot of food for a small package, but only feeds one person, half of what the package says.

Container Weight:


Heavier than the organic version, but worth the extra weight.
Manufacturer's Claimed Product Weight: 3 oz

Trailspace Weight (Product and Packaging): 3.5 oz / 98 g
*(Manufacturer serving sizes reflect the USDA's recommendation of no more than two eggs daily per person.)
Read the full Instant Camp Eggs Cook-Off review.
Where to Buy
Buy Online Compare prices from 4 outdoor retailers:

sponsored links

2
$3.12

4
$6.08

$4.90

$4.50

$4.50
Add your voice
to the world's most comprehensive and useful collection of
independent outdoor gear reviews
.
Review Your Gear