User Review:
Big Agnes Fly Creek UL2
Rating:


Price Paid: $349

Context:
I mostly go on short (typically two days two nights) backpacking trips in and around East Tennessee, USA. Although the days out are short the miles covered are often more than 15 per day, so I try to be somewhat light in gear weight.
Prior to purchasing this tent I mostly used a The North Face Solo 12 which I came to despise for its constant condensation in my area.
Preface: 
I bought the BA Fly Creek 2 in mid 2010 and have now used it for at least 50 backpacking nights. (I'm a geek. I counted: 31 of those nights are actually documented here on Trailspace in the Trip Reports forum. ))
I purchased this product on-line without ever seeing it in person and gave great weight to its awards and favorable press. 
My first night out in this tent was on top of Mt Sterling in the Smokey Mountains during a strong wind and rain storm and although I had many misgivings the tent held up just fine. This initial good first impression didn't last as subsequent use and experiences slowly made other impressions.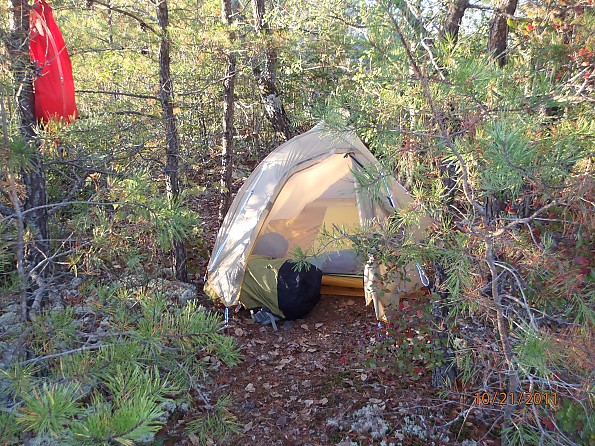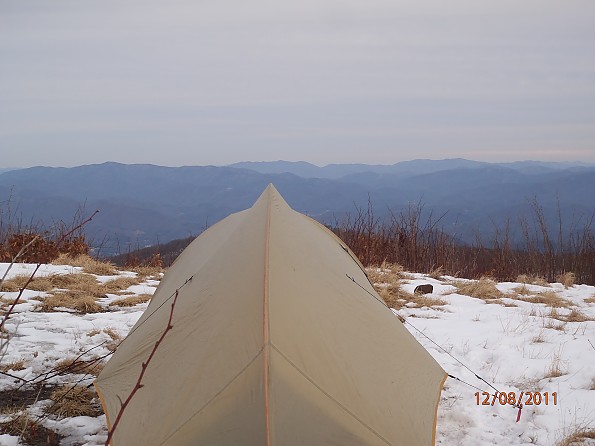 Pros:
 • Light weight: this is the two person model and as packaged is less than 3 pounds. 
• Overall strength: Pole structure is very strong for a hub type system (a very stable pitch):
Monsoon winds at Phantom Ranch Grand Canyon

Cons 
• The floor is so thin that even when using a footprint you must be very careful in choosing and grooming a campsite before pitching this tent:
While camping atop a 5000 + foot bald I awoke to water pooling in the floor of the tent. I later discovered several small abrasion holes and repaired them with TearAid tape. It's easy to penetrate this floor unintentionally and I now carry both a factory footprint and a piece of 2 mil plastic to reinforce the ground sheet.
• The distribution of space in the design allows the tent to drape and touch even a short person like me trying to sit up in it. In condensation scenarios this is a bummer.
• It is susceptible to misting and runoff in extended rain: On more recent trip during torrential rain (about 16 hours worth ), I experienced what was probably a combination of "misting" and condensation pole hub runoff resulting in several large drops of water falling through the upper mesh onto my face.
 Summary 
This tent really is just ok and a bit disappointing for the money. I consider it to be more of a large delicate bivy than a true tent, but its price is very tent like. Its remarkable light weight seems to come at the sacrifice of durability. For the long miles days where you'll only be in the tent for sleeping it's serviceable (that's mostly what I do with it). 
I've gotten 50 nights of mostly successful shelter out of this product so it gets at least two stars for that, and Big Agnes is great company to deal with so that counts for an additional half star.
Where to Buy
sponsored links
Help support Trailspace by making your next purchase through one of the links above.