User Review:
Big Agnes Fly Creek UL3
Rating:


Price Paid: $120

Summary
Very light 2-3 person tent. First impressions of the tent, and of BA customer service.
Pros
Light
Customer service
Compresses very small
Cons
Seems fragile
Strange pole system
This tent is uber-light. I found it at the REI garage sale for $120 as a pole had broken. How could I pass that up?  Now I can take my toddlers on a short backpacking trip, with very little to pack on my back. This completes my fast-and-light-with-kids arsenal. I recently bought the tent, and have only set it up in my living room. Let me explain the pros and cons I have listed:
Light-That's the name of the game here.  Light light light.  Three pounds is very little.  What else in your pack is less than three pounds? Not the pack, maybe not your bags, probably not your food and definitely not a dutch oven. This compresses to about the size of a mailing tube.  
The pro will come with the cons. This is my first experience with BA, and it was great.  The pole system and fabric are rather fragile-seeming, and I bought this with an already broken pole segment. The pole system somewhat resembles a stick man, as all of the poles come together as one segment.  You may think, "what's wrong with that?" Well, nothing if kids are not interested in what you are doing.  Mine were, and each had grabbed a different arm or leg of the stickman and ran in opposite directions.  No gear failure there, nothing broken.  
Now the issue of customer service.  I contacted BA to see if I could get a new set of poles, and they emailed me the next day.  They let me know the price, and said fixing it would be cheaper.  I then informed them that only one pole was broken, and if I could buy one pole segment all would be well.  They asked for my address, the length of the pole, and sent me a pole within a week of my original inquiry. FREE.  I expected to pay, but nope.  I think they understand that while their tent is ultralight and not made for heavy abuse, they will do anything to make the customer happy.  Yep.  I'm happy.  
That's what this tent is: Ultralight. Not a basecamp/carcamp/kidcamp/scoutcamp tent.  Trade durability for portability, and lose nothing in customer service.  Big Agnes, I'll repeat with something else some day.  I wasn't sold on the ultralight tent with a "big" in the brand name, but I am now.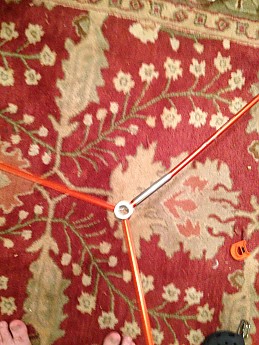 This is one of the O-things that hold the poles in one big setup. Also, you can see where I fixed the pole temporarily.
Where to Buy
sponsored links
Help support Trailspace by making your next purchase through one of the links above.