User Review:
BioLite CampStove
Rating:


Source: received for testing via the Trailspace Review Corps (sample provided by Biolite for testing and review)

Summary
The Biolite Camp Stove is an innovative design utilizing TEG (Thermal Electric Generator) technology, and if continued to be developed has the potential to make revolutionary changes in the outdoor community. With the Biolite Camp Stove you can cook your food, keep your electronic gadgets charged, and have a little ambiance at the camp site. The Biolite Camp Stove is not without flaws, but with a little fire building practice and some patience it can be a reliable and useful piece of kit.
Pros
Boils 2 cups of water in as little as 2 minutes
Boils 4 cups of water in as little as 4.5 minutes
Charges a multitude of USB devices
Will charge an Iphone 4 (1420mAh) 1% every 4-5 minutes
Will charge a Blackberry Bold (1260mAh) 2% every 4-5 minutes
Cons
The stove is heavy at 33oz
Can be challenging to get a strong, healthy fire capable of charging devices in a short amount of time
Burns fuel rapidly and is not fuel efficient compared to other wood burning stoves
Cannot feed stove fuel with a pot on the stove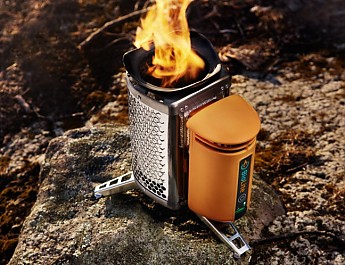 (Provided by Manufacturer)

I had the pleasure of testing the Biolite Camp Stove for the past two months. Through the course of testing I conducted about 200 test burns, and used it in the field backpacking 4 days. Building a healthy and strong fire in the Biolite can be challenging, but with a little practice and patience you will quickly learn the trick. Charging devices on the stove is amazing and incredibly frustrating all at the same time, and again with a little practice and patience you will learn the quirks of the stove.
 Construction:
When I first received the Biolite I was very impressed with the quality of the packaging. It comes in a very robust, well designed, and professional looking package, this package far exceeds the quality of any other package I have ever received from any manufacturer.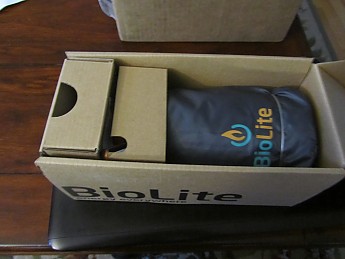 Have wire cutters handy, makes getting it out of the box much easier!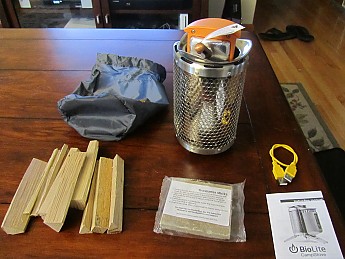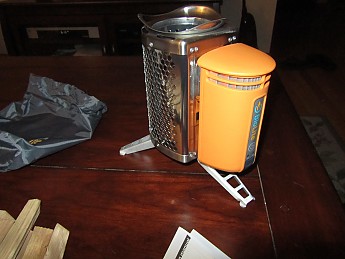 The Biolite Camp Stove weighs in at 33 oz, and is slightly larger than a 1L Nalgene bottle when disassembled. Three fold out legs lock the power module in place, and provide a very stable platform for the stove. Pots can be placed directly on top of the stove thanks to a integrated pot stand. There is not a removable ash pan to allow the stove to be emptied of ash while in operation. The overall build quality of the Biolite is just as impressive as its packaging; it is evident that a thoughtful and skillful team used proper tools and machinery to construct the stove. There are no sharp edges, all seams are rounded and pop riveted, and there are no burrs on any of the cut or drilled surfaces. In my opinion this is a truly quality product. A stuff sack is also provided to store the stove when not in use.
Design, and Fire Building Quirks:
The actual design of the Biolite I feel impairs upon proper fire development due to lack of natural ventilation/ airflow, and with a few modifications would overall be a much better product. With that being said, I found the Biolite easy to use and operate once the quirks are understood. The instructions that come with the Biolite are clear and easy to understand, however are not as useful in practical application of the stove.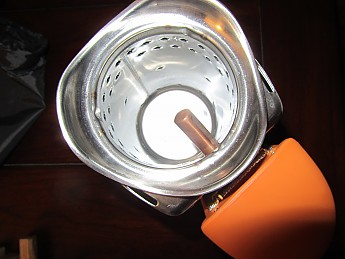 There are not enough ventillation holes in the bottom of the fire chamber in my opinion. So a higher pressure air is coming out of them which in turn blows harder on the fire, which makes also makes it a bit harder to establish a healthy fire at times.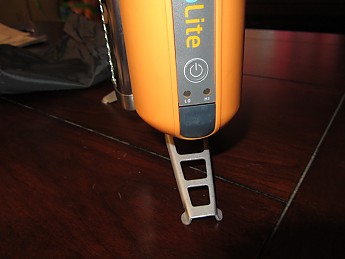 Building a fire in the stove can be a true lesson in patience at times. Unless you are using perfectly dry wood, and a mix of some soft and hard wood it can take up to about 15 minutes to get a healthy enough fire to cook on with no risk of the fan blowing it out and impairing development.
With ideal wood you can have a healthy fire going in about 3-5 minutes. With wood scavenged from the ground that is at least somewhat dry I found that on average a healthy fire could be obtained in 5-9 minutes. With less than ideal wood or somewhat damp, wet etc the time can be as much as 20 minutes to obtain a healthy fire.
I found that if you are following the instructions that came with the stove and filling the stove loosely with fuel, adding a lit fire starter, and waiting 10 seconds before turning on the fan to LO you will sometimes not be able to easily get a healthy fire started. I found that in the majority of instances I needed to wait at least 1 minute before turning the fan on.
Turning on the fan too soon would impair the fire from developing and it would just smolder and smoke excessively and for a prolonged period of time instead of combusting into flame. Turning the fan on HIGH before a healthy fire is established with the fan on LO will also impair fire development. 
My testing found that it is better to wait a little longer than the manufacturer recommended 10 seconds before turning on the fan for optimal results. It is also critical that the stove be loosely filled with fuel. There are a limited number of ventilation/air holes in the fire chamber and they can easily be blocked by adding too much fuel and as ash builds up during operation.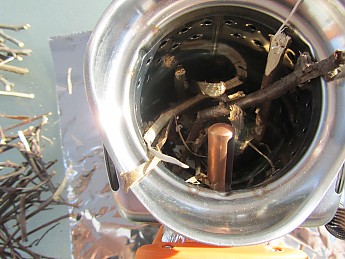 Any more wood than this and you may have trouble getting the stove lit.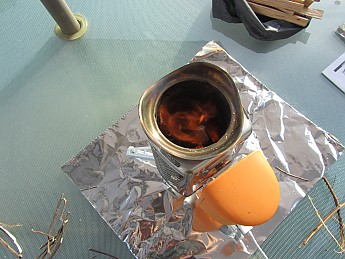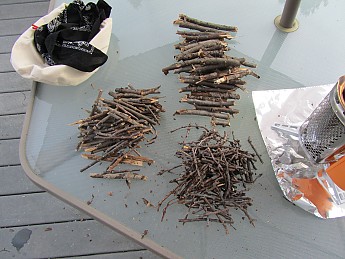 This is the amount of wood required for one 30 minute test burn. When the Biolite is on HI it really burns through the fuel.
Stove Operation:
Building a fire in the Biolite to cook on is fairly easy, but I find that best results are achieved when you loosely fill the stove with fuel, and light the stove from the top. Once you build a fire, get it burning good for 30s-1m, turn the fan on LO and wait an additional minure or two and then turn the stove to HI, feed it continually every 15-30s, and you can cook to your hearts content.
Over the course of my 200 test burns, approximately 80 of them were using a variety of pots to boil water. It is important to note that this stove consumes fuel very rapidly when the fan is on HIGH, and thusly you must continuously feed the stove for optimal performance. 
Below are the averaged results of approximately 20 burns per pot.
            Average Boil Time-2 Cups     4 Cups             8 Cups/*Full
Snowpeak 700ml mug: 2m 51s         N/A                  4m 23s           
Mors 1.8L Bushpot: 2m 5s                 4m 37s            10m 48s
MSR Alpine SS 1.5L pot: 2m 33s       4m 53s              9m 39s
MSR Alpine SS 2L pot: 2m 20s          4m 29s             10m 17s
Times listed above are after a healthy fire has been established, with the Biolite fan on HIGH, continually adding fuel as needed to maintain a strong fire.
Charging Devices:
Charging devices on the Biolite is really quite simple, IF you have the time and patience to do so. The Biolite is capable of charging at 2W@5V continuous, and 4W@5V peak. I was able to charge my Iphone 4, Blackberry Bold, and L&M Solite 150 headlamp successfully with the Biolite.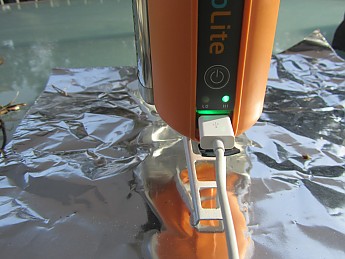 The charge indicating light will turn green when it is ready to output power to your devices. The charge light is the long green light directly above where the usb cable is plugged in.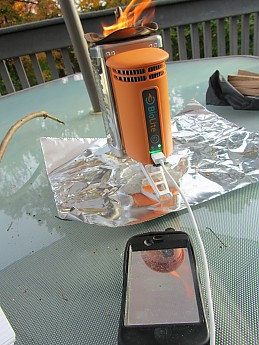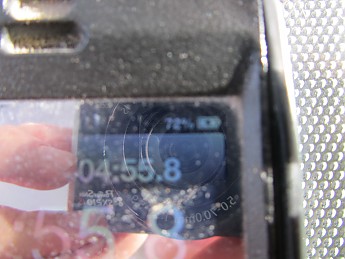 Before the first use of the stove the manufacturer recommends conditioning the Biolite Camp Stove's internal battery by pluging the power module into a USB port using the provided cable for approximately 6 hours or until the light on the Biolite turns solid orange. I performed this step overnight when I received the Biolite and the next day I began testing.
On the very first test I was able to boil 4 cups of water in my Mors pot in 4m 19s, and the green charge indicator came on at the 8m 22s mark. I was initially impressed with the amount of time it took both to boil water and to get to a state where it was able to charge. I immediately plugged in my Iphone 4 and was able to charge my phone 1% every 4-5 minutes on average.
Needless to say I was very impressed, and I was able to maintain the fire in the stove long enough to charge my Iphone 15% before needing to dump out the ash. The charging capabilities of the Biolite are by no means lightning fast, but is ample to keep a device topped off while making your normal meals out on the trail. To charge a device you need to maintain a very hot and healthy burning fire. A mediocre fire will significantly add to the time required to enable the charge function
After the first test I was really looking forward to putting the Biolite through its paces. I had never worked with TEG technology before, and to say the least was intrigued and really excited at the potential this stove had to offer. Sadly, that is where my excitement ended.
The Biolite gives priority to the fan of the power module, and any left over power is what is available for charging devices. So if you have recently charged or 'conditioned' the power module battery you will be able to start charging devices in under 10 minutes of building a fire.  Through the course of testing the Biolite the amount of time until the charge light came on steadily increased.
2nd test burn: 9m, 3rd Test Burn: 11m 33s, 4th Test Burn: 13m 5s, 5th test Burn: 13m 10s, 6th Test Burn: 14m 45s, 7th Test Burn: 15m 11s, 8th Test Burn 15m 19s, 9th Test Burn: 16m 55s, 10th Test Burn: 17m 3s, 11th Test Burn: 18m 51s, 12th Test Burn: 19m 27s, 13th Test Burn: 22m 19s, 14th Test Burn: 24m 41s, 15th Test Burn: 36m 44s.
As you can see the time steadily increased with each burn. I decided to test a theory and I again conditioned the battery of the Biolite Stove by leaving it plugged into my computers USB port overnight. The next day I began testing again, and once more had a charge light at around 8-10m for the first few burns, but it again began to steadily increase. The longest time it has taken for the charge indicator to turn on was 36m 44s, and by the time you have reached this time and the indicator has turned on you only have 10-20 minutes or so before needing to empty the ash and start all over.
I tried several times to find a way to remedy this significant time increase. I attempted to just let the fire burn without charging any device for up to 30 minutes at a time on three separate occasions, but this seemed to have little to no effect. I believe part of the root cause of this issue is the amount of time it can take to establish a healthy fire in the Biolite if you are not using kiln dried wood. It can take as little as 3 minutes or as long as 20 minutes to get a healthy fire burning, and during this time the fan is running and is also assumedly not being charged by the TEG.
This continual draw I feel contributes to the extended times it takes to get a charge light after the first few uses. Plugging the Biolite into a USB port for even as little as an hour will again bring the charge light time down to below 10m.
I feel there is a combination of factors at work here.
1) A poor design that does not provide natural ventilation/air flow to the fire without the use of the fan, which during startup can cause unnecessary use of the fan which I believe draws down the battery/ DC bus.
2) No way for ash to fall out of the stove or into an ash pan, which essentially makes the maximum time the stove can be used about 45m-75m before needing to dump out the stove and restart.
3) A possible faulty battery which will not effectively hold a charge for any significant length of time.
Conclusion:
The Biolite Camp Stove would be best for the unweightconscious backpacker, car campers, or even home preparedness and disaster use. I found the Biolite to be a good camp stove, although a tad on the heavy side for a camp stove at 33 oz.
The weight of the stove, and the time factor involved to achieve all of the benefits from this stove are not the best match for most backpackers. However, the Biolite can match or beat most any stove in regards to boil times.  
When compared to other wood burning stoves the Biolite stacks up quite well: Bushcooker LT1- 2 cups in 4m 20s, Antig woodstove- 2 cups 3m 8s, 4 cups 5m 17s, Homemade coffe can stove- 4 cups 5m 55s. (all times averaged over 3 burns utilizing Mors Bushpot). Even when compared to other types of stoves the Biolite still shines, Whisperlite- 1 liter 3.9 minutes, JetBoil- 2 cups 2m 15s (manufacturer specs).
However, building a fire in the Biolite does take a little time, takes practice to get proficient at it, and you must let the stove cool down after use. Charging devices on the Biolite can be a lesson in patience, but when you finally get that charge light to come on it is a very easy way to keep your devices topped off.
The Biolite Camp Stove is a neat and novel idea, but in my opinion is not best suited to long distance backpacking, and to gain the most benefit from the Biolite I would limit its use to trips of 3 days or less in duration. I would not take the Biolite stove with me unless I brought a backup stove of some sort, because I have not seen any other wood burning stove be as finicky about getting a healthy fire going and simply put I cannot trust this stove to be 100% dependable in regards to its functionality as a whole.
The Biolite instructions say not to use any other type of fuel or accelerant, however I wonder if a companion alcohol burner could be used for that quick cup of joe. I have a companion burner that would fit, but have yet to use it during this period of testing to be able stay within accordance of the Biolite instructions and guidelines.
Where to Buy
sponsored links
Help support Trailspace by making your next purchase through one of the links above.