User Review:
BioLite CampStove
Rating:


Source: received for testing via the Trailspace Review Corps (Sample provided by BioLite for testing and review)

Summary
In the right venue, this little stove is a nice complement to cooking, heating, and ambiance. After using it at home, backpacking, and canoeing, the stove works best as more of basecamp/tailgating/car-camping stove.
Pros
Burns very hot
Uses all types of biofuel
Recharges electronics while using the stove
Nice to have grill option
Grill is the best cooking feature
Very portable
Great base camp or survival stove
Cons
Noisy. The fan must be used while burning fuels
Uses 6" or shorter sticks. Hard to break bigger sticks down
Hungry fire. Must re-fuel constantly
Annoying to refuel while trying to cook with a pot
Can be very hard to light
Heavy for backpacking
My best short answer is this stove fills a niche place in the world of outdoor cooking.  It can be very effective in the right application.
I have used the BioLite at home, backpacking, and canoeing. With the nice weather all summer, I have not had the chance to try it in wet conditions.
With that, however, I did have to use it in VERY windy conditions while backpacking.  In calm weather, the stove worked pretty well. In the wind, though, the fire was especially difficult to get started and keep going until the stove got hot. The stove created copious smoke, which made dealing with restarting especially difficult.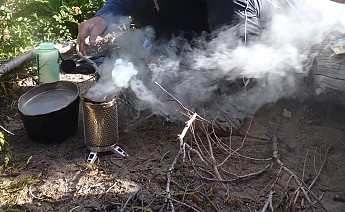 The stove, as a crossover piece of both electronics and a simple fire chamber, did need the battery to be pre-charged as instructed by the manufacturer. I just hooked it up to my computer and left if for several hours.  I have not had to re-charge it again this summer, even after several uses, as the stove recharges itself as well as can charge other small devices.
After the precharge, the stove is very easy to set up. Just put the power module into the sensor slot, open the the stand which holds the module in place, pull out the other two feet, and the fire box is ready to stoke.  Keep in mind, that unlike a gas stove which if properly ventilated, one could use indoors. This stove CANNOT be used indoors because of the fuels it requires.  It's essentially a high tech fire place, and this stove MUST be used out of doors, always! One could probably put this stove on a wooden table to cook, but I would put some kind of heat shield under it as a precaution. Just make sure, like all stoves, it is reasonably level.
Starting the fire to me was the most aggravating part. Windy conditions made it very challenging to start at all. But this stove is not instant start even in the best of times. The easiest way to start is was to use the included firestarters, but that is not practical. After all, this is supposed to use all bio-fuel. While canoeing, I even used dried cow chips. That was very effective at getting the fire going and getting the fire box hot. 
After getting the fire going, it took several minutes to get the fire box hot enough to stabilize the fire, then be able to cook on it. I was so frustrated by the time it took, I stopped using it to cook breakfast.  I had much more time in the evening to get it going well, so I used it for dinners and grilling.
The stove can have some flame control. The fan on low produces much less of an aggressive flame, and if simmering is required, one could just the coals. But using the stove like that makes it very touchy and time intensive. 
For example, it was very frustrating that while trying to cook or boil water, I constantly had to lift the pot and feed the stove. It would have been less aggravating had I had a pot with a handle, but instead I had to take off the lid, use the pot grabber, lift the pot, feed the fire, and repeat frequently.  Only once was I able to boil water without feeding it, because I took lots of time to prep wood that was thick enough and short enough to get into the fire box.
When the fire was running well, it took less than 2 minutes to boil 2 cups of water. But as previously noted, I found the stove portion to be fussy to fuel and tend when trying to cook.
When using the pot on the stove, it did feel quite stable. The fire ring is about 3.5 inches across, so the base of the pot gets quite a lot of heat. The feet of the base is 8" from back foot to front foot, and 6" across the front feet. The whole stove stands at about 8.25", but with the wide base, it never felt top heavy.
The battery/fan pack comes off easily with folding the back leg down, and the pack fits inside the firebox, and the whole system slides into a bag. The stove takes up about the same space as a Nalgene. With all parts included (extra pot ring-1oz, firestarter- 1.75 oz, stuff sack- 1 oz, battery pack -15 oz, fire box -17 oz), the final weight was 37.75 ounces, thus 2.35 pounds, about the same weight as a full Nalgene.
This stove takes about 20 minutes to get to recharge heat, and if used for long periods of time, the firebox must be emptied of used embers.  Also, the stove can take 20-30 minutes to cool if emptied of coals, and much longer if allowed to naturally burn down.
One of the best features about the stove is that one can have a fire anywhere using a stove is approved.  In the case of testing this stove while canoeing the Missouri Breaks and returning home, we had three places that fires were just not permissible, and it was wonderful to have a fire in the evening.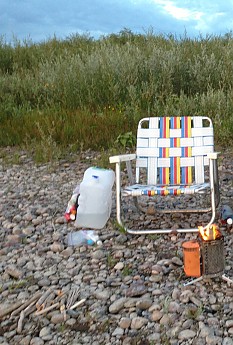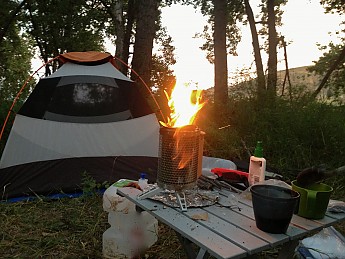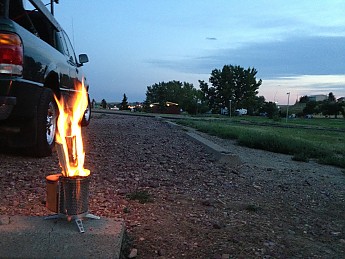 It was nice to not take a second device to charge my iPhone. I wanted to try just using the phone as a camera, so I had to leave it on all day. I also had limited extended coverage one day to check in at home, which really drained the battery, so I had to recharge three times during the trip. 
For charging, I found that the stove had to get hot, which took about 20 minutes before the charging aspect would even kick in. Then, I discovered that the charger would kick on for about 10 minutes, and on high, it would only give 2% a push. So it took 3 hours to get a 30% charge. 
Two days later, I needed to charge again, but this time I used the low setting. Going through the same heating process, each charger push actually gave me 4% a time. I got 35% charge in about hour and 45 minutes.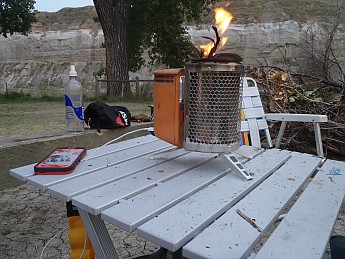 A nitpick of the stove is when it is running, it is noisy. Because I was charging my phone, I had to let it run for hours, as noted. Thus, I also had to learn how to dump the firebox while keeping a few starter coals, and had to listen to the fan as it ran, which out in the quiet got kind of old, and rather defeated one of the reasons I was out in the first place.
Another nitpick is, as I alluded earlier, it took a lot of preparation to get the right size of sticks, especially for cooking. I had to either hatchet them down, or stomp them into usable chunks. If I was just enjoying the fire or using the grill, it wasn't so bad.  But the prep work took me up to 20 minutes or more, which I did so I could tend to other camp chores as the phone charged, or I was ready to soak up the ambiance of the evening.
Ultimately for me, this is a great second stove. I would stick with car camping/tailgating/canoeing/ or emergency fire and cooking option.  It was a nice tool to have on the long canoe trip. But I think it's a niche product. It works, it has some very cool features, but it would not be my first go-to stove. However, the grill and fire box aspects are what really made this product a great stove to have "out there".
Where to Buy
sponsored links
Help support Trailspace by making your next purchase through one of the links above.