User Review:
Black Diamond Alpine Carbon Cork
Rating:


Source: bought it new
Price Paid: $100-120

Summary
The poles that keep giving and giving!
Pros
Balance
Durability
Weight
Cons
Handles are large for small hands
I hate adjustable poles and poles with lots of features (the anti-shock stuff is strange?). My favorite pair of trekking poles are my DIY poles made using carbon fiber golf club shafts and cork fishing pole handles if that tells you anything about my choice in poles (rigid...super light...comfortable and surprisingly durable...what more could I ask for?).
Upon purchasing these poles I immediately removed the baskets and straps...so I cannot speak to their performance...except the volume they require in a trash can. Similarly...I have never really needed the foam extensions either...because if an incline is long enough I simply adjust the pole lengths. With that said...I hardly complain when I use my BD Alpine poles...and everyone I let borrow these poles LOVES them...some converting to pole-users after realizing how much poles save on their backs and feet.
As far as ease of use...what could be easier (and more durable) than the flip-adjust mechanisms on these poles? There are a few complaints on here about the flip-mechanism being too easy to release...but my pair have a tension screw on each locking mechanism...and I have NEVER had mine release without me doing so...but then again...I do have a lot of tension on these screws (also...I store my poles with the locking mechanisms open to prolong their tension...just as I do with tent poles...etc.).
They only complaint I really have...and I think these poles are a solid buy for anyone...is that if you have small hands (as I do) the cork handles are a little beefy. Don't get me wrong...the cork handles are as comfortable as can be (I have never had a blister yet?)...but I do find the size of the handles a little too large for my small mitts...which only seems to be magnified while wearing gloves.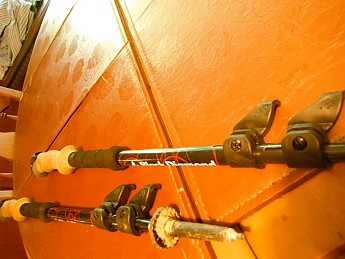 Where to Buy
sponsored links
Help support Trailspace by making your next purchase through one of the links above.