User Review:
Black Diamond Half Dome
Rating:


Source: bought it new
Price Paid: $39

Summary
Another classic helmet. Great for the price.
Pros
Light
Durable
Easily adjustible for different conditions
Headlamp clip
Adequate ventilation
"Promise me Dad, that you won't get me a helmet like yours or my brother's."
She mostly meant that she didn't want an orange or red helmet but to be sure I ran the Half Dome by her first and after approval, placed the order.
This is the third helmet I have bought and, after two seasons of sport climbing and easy scrambling, we don't regret it.
Besides the Camp Rock Star, this is probably the most common helmet I see climbing. Since my oldest wanted a helmet that looked more modern, adjusted to accommodate her pony tail, and the price was right we gave it a go.
If all we ever did was sport climb in nice weather the adjustable suspension of this lid would be overkill.  However we also get into the mountains enough to need a few more features. For my daughter, who never wears her hair the same way twice and is just as likely to wear a beanie as not, easy adjustments are a must.  This lid has the ratcheting knob like most helmets designed this century and it makes adjustments a cinch. She also likes the color. The vents are bigger on the new model but she likes the clips for a headlamp which come in handy on alpine starts. 
The only issue, and it shows up in the pic below, is that the helmet has a lot of extra space in the back.  This may be because my daughter has it sized down for her head but it makes it bigger than it needs to and she dislikes the bulk. "It kinda makes my head look big" I think were her words. Maybe the M/L wasn't the best pick.
The one we bought was on clearance and BD changed the style the year after we bought ours but I suspect that some of these versions are still around.
You see in the pic below that it also hugs her forehead so she has good visibility while she climbs which is a requirement for a climbing helmet.
Luckily, we haven't given this helmet the ultimate test; I haven't dropped any rocks on her, yet. Girls frown on that sort of thing, but it's rated for climbing so I know it will provide a certain degree of protection from reasonable damage, should the need arise.
A good deal for the price.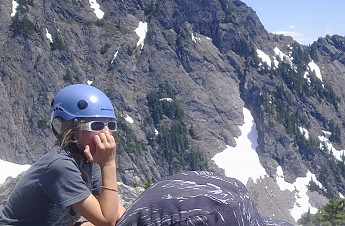 On Kaleetan Peak, getting ready to summit.
Where to Buy
sponsored links
Help support Trailspace by making your next purchase through one of the links above.