User Review:
Black Diamond Orbit
Rating:


Source: bought it new

Summary
Lightweight, bright, and cleverly-designed, this lantern makes excellent use of diffused light, compacts so that it won't accidentally turn on, and adds a cool secondary light source as backup to a headlamp and/or campfire. Recommended for backpackers who enjoy a supplementary light to give a dark campsite more illuminated texture.
Pros
Small
Light
Great design
Bright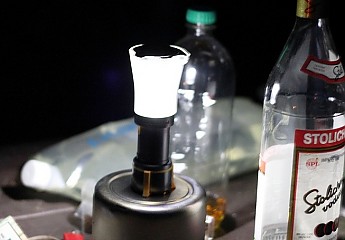 I bought this lantern to replace my old single-mantle white gas lantern which was enormous, heavy, fragile, and occasionally dangerous.  The amount of light that the Orbit emits is quite impressive for its size and weight. 
I use this lantern primarily as a supplementary light to our headlamps and/or the campfire. 95% of the time we keep it on low to conserve battery life and to help preserve our night vision. Used this way, for 2-4 hours per night, the batteries last through a long weekend (I'm using the 1st generation Orbit — the newer models advertise longer burn times). I should also mention that I use rechargeable batteries, which really don't last as long as your standard non-rechargeables.  
The design is very clever. The base of the lantern is slim, so that diffused light is reflected all around and down.  So if you hang this lantern high, you'll be able to see directly beneath the lantern. The loop on top of the lantern is really two metal hooks that come together as a loop, so you can essentially hang this anywhere without needing to thread something through a solid loop (this is easier to see than to explain — it's actually a very simple setup). 
If there's a tree branch hanging low, you don't need to attach it from the end of the branch — you can enclose the loop at any point along the branch. Pretty groovy. When the light is not in use it collapses down and becomes almost 1/2 size, completely securing the on/off button from accidental trigger. The single button also serves as a dimmer switch when you hold it down. Again, very simple and intuitive. 
Just when I thought I couldn't possibly love this thing more deeply, I had a couple sips of camp whiskey and went for a midnight swim, and the lantern got knocked into the lake. It slowly sank and filled up with water — never turning off or going out! I quickly rescued the Orbit, disassembled it, wiped it dry and left it in a tent pocket overnight. The next morning it was thoroughly dry, so I reassembled it and pressed the button.  It worked like a charm and hasn't quit on me yet. 
This has been a staple in my pack since 2009. If you require a major lantern to brightly light up an entire campsite (as for a group of campers), then maybe a more powerful torch would be a better option. This light, even on low, will give some extra local light to a campsite, but will not overpower the landscape. 
Recommended for weight-conscious backpackers who want a supplementary light to enrich, not drown out, a campsite or tent. Great for picnic tables and lean-to's.
Where to Buy
sponsored links
Help support Trailspace by making your next purchase through one of the links above.