User Review:
Black Diamond Ultra Distance
Rating:


Source: bought it new
Price Paid: $50

Summary
These lightweight poles have extended my hiking into an age where arthritis has wrecked my knees.
Pros
Amazingly light
Fold up compactly for travel
Cons
Small baskets
Non-adjustable length
Let me start by saying that Mike Gartman's Killer Review on these poles really can't be improved on. I sat down to write a detailed review and discovered I was just echoing Mike. Instead, let me focus on why I love these poles....
I came back from an 80-mile hike in March 2013 with my knees shot. What I thought was simple "hiker's knee" turned out to be osteoarthritis. On this trek (and all previous ones) I had carried a home-made wooden hiking staff, that was more for effect than as a hiking aid. To be honest, I thought of trekking poles as trendy, unnecessary, and silly looking.
Based on a suggestion from my physical therapist, I purchased these poles on a whim from Steep 'n Cheep and immediately set out to see if they could "save" my hiking. They have! I have not had a recurrence of knee pain since I have started using them--that's roughly 4-5 trips and 100+ miles of hiking in hilly, uneven terrain. 
The light weight is fantastic. I expected to finish my days with tired, worn out arms. Instead, I hardly notice them. My arms are no less fatigued than simply swinging my arms at my side with a pack on. Ascending hills is much easier than with my wooden hiking staff.
Although, I listed non-adjustability as a "con," I can't say it has been a problem for me. The foam grips are long enough to allow a variety of holds, and on descents, my hands simply slide onto the very tops. I think taking the time to readjust the lengths would drive me nuts on the ups-and-downs of Shawnee's hills. I suppose on a long accent or decent that might be a benefit.
I've played around with other poles at my local REI. I haven't found anything in the sub-$100 range that compares, and some of the obscenely expensive poles haven't impressed me.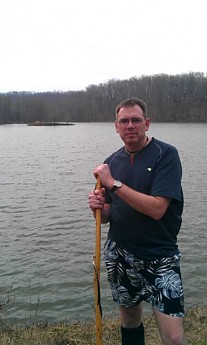 My homemade hiking staff. My knees always hurt after a 10 mile day.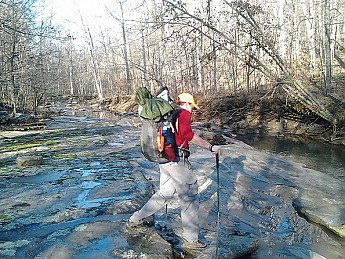 Another great day with these poles!
Where to Buy
sponsored links
Help support Trailspace by making your next purchase through one of the links above.