User Review:
Brunton Raptor
Rating:


Source: bought it new
Price Paid: $44.99 USD

Summary
Very solid for its size. Extremely small and lightweight. Fits great in my mess kit, and has been an extremely valuable addition to my technical gear.
Pros
Small
Lightweight
Sturdy/solid
Great value for price
Precise flame control
Piezo-electric ignitor
Cons
Color tarnishes from flames
Lighter doesn't work at high elevation
Ladies and Gentlemen, may I present to you perhaps the greatest backing stove I have ever had the pleasure of owning. I'm stacking this up against my MSR Pocketrocket, my Optimus Micro-Crux, and my few other stoves (Coleman Ultralight, Coleman Peak 1 Feather 400, MSR Superfly).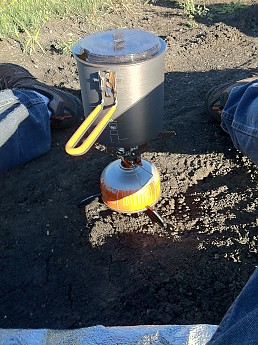 I bought this stove in 2007 to replace my first two stoves (which were both Coleman brand and very heavy). The second stove I bought was my first canister stove and I absolutely loved the convenience, but the stove I had purchased left a lot to be desired when all I needed to do was quickly boil water for dehydrated meals and this little raptor was the answer. 
IGNITION
It's extremely convenient to light as well. As mentioned above I have a few other stoves and all of them universally need lit with matches or a firesteel (and I've used a lantern lighter) except for this one. This stove has a small piezo-electric ignition system on it. You turn on the gas flow, hit the button and in literally an instant you have a small roaring flame. I will warn you though, at high elevation, the piezo doesn't want to work so make sure you bring something to light it with! I had it fail me at about 10,500ft when we were up in the mountains last year!
FLAME CONTROL
The flame is easily controlled via a wire triangle that sticks off the side of the stove and is adjustable from a tiny little flame to a roaring inferno, but don't be mislead by that statement, it's extremely fine. I have no problem finding a comfortable level in between the two to get the water boiling. After my experience with flame control being poor on the Crux and the Pocketrocket, I was extremely pleased that the adjustment has been so fine. 
COOKING
As far as actually cooking with this stove it's definitely best suited to boil water for preparing dehydrated meals. I have, however, fried individual eggs, made all manners of pasta including ramen, spaghetti, and even stuff like hamburger helper with no problems. If probably won't handle a large frypan well. My GSI Soloist pot fits great on it, however.
When used with a wide-base (4.25") can and especially with that supplemented with a can stand it's extremely stable and I'm not at all worried about it tipping over and spilling boiling water in my lap. I can usually cook several meals with one can of fuel as well. Also, I haven't timed the boil using my stainless kettle, but using the aluminum soloist, I can boil a quart of water in about 4 minutes. 
PACKABILITY
Compared to the crux, this stove seems large but it's also about 100x more solid, but when setting it next to the Pocketrocket or the Superfly, it seems tiny. It's about 1.25" in diameter when folded up and about 2.5" long. In all I can fit it about anywhere I need to, which is lovely! It only weighs 5.4 oz according to my scale so it practically weighs nothing.
SUMMARY
In closing I'll just say that if you can find this for sale ANYWHERE, I would HIGHLY recommend it. I've had it for five years and I use it more than all of my other stoves combined. The only thing I've seen change about it over time is the color tarnished to a singed brass color. It doesn't seem to have effected the performance of the stove at all, and I'm sure with a little TLC I could probably have it looking brand new.