User Review:
Canada Goose Men's Snow Mantra Parka
Rating:


Fabric: Polycotton
Fill: 675 fill down.
Source: It was regular issue for my job.
Price Paid: $800

Summary
This parka has a great reputation, but I find the styling and materials are antiquated. There is so much better out there.
Pros
Lots of pockets if you need them.
Moderately warm but not great.
Cons
Incredibly expensive (over 1000 dollars in 2012)
Not baffled construction; cold spots
Low grade 675 fill down.
Heavy, around 10 pounds
Too tight around the neck
Hand warmer pockets not insulated
Too stiff and boardy, straight jacket effect
Too many D-rings, haul loops, name tag holders, etc. None of which contribute to warmth
Cheap poly-cotton shell which is not water proof nor very durable.
Sure, this parka may have been made for people working in the Arctic (like me) but rest assured they usually have a warm place to go to close by. And it's a good thing too because every winter I have to wear this thing and every winter I find fault with it.
First of all, this thing weighs almost 10lbs (I weighed it myself) and is mostly pockets and excessive layers of reduntant materials. Sadly the weight does not reflect the warmth which is sub-par to say the least. There are large areas across the shoulders and in the hood with no insulation in it at all. The "Arctic-Tec" shell is nothing more than cheap polycotton, which is neither waterproof, windproof nor as durable as nylon.
All things being equal, nylon is 5 times stronger than polycotton. And the down, (which is only 675 fill down as advertised) is not held in place with baffles (you would think at this price it would be) but only sewn through quilting.
The arms are not articulated; a standard feature on expedition grade clothing for the last 20 years, meaning that the insulation compresses at the elbows. I have yet to zip up the hood all the way because the zipper keeps getting stuck while the zippers on the sides won't stay closed and the reinforcing on the elbows seems to be made out of lighter material than the shell!
The hood is also a snorkel type that was popular in the 1950's but which I find silly and restricts my vision too much. Also, while on a snow machine, it tends to funnel in the wind. The Coyote fur around the hood is also useless in my opinion and does not add much to the insulative value of the parka. I also do not need all the pockets, haul straps, ID tags and D-rings; they seem superfluous and the seams are a potential leak for wind and water. They also do not add to the insulation, but make a conveniant place to snag and rip the outer material.
The pictures below are of my Snow Mantra Parka and Feathered Friends Rock and Ice. The Rock and Ice weighs about half as much and packs down much smaller. It is also warmer.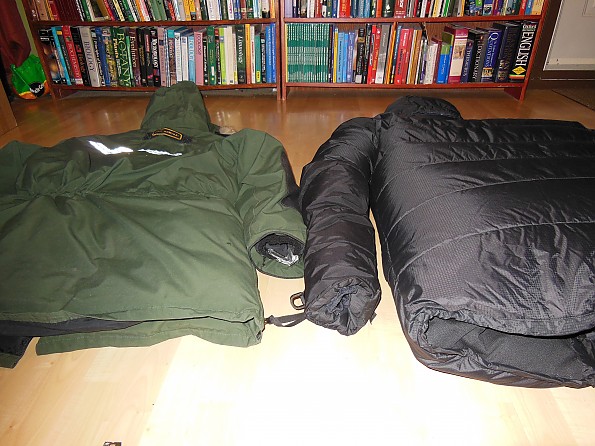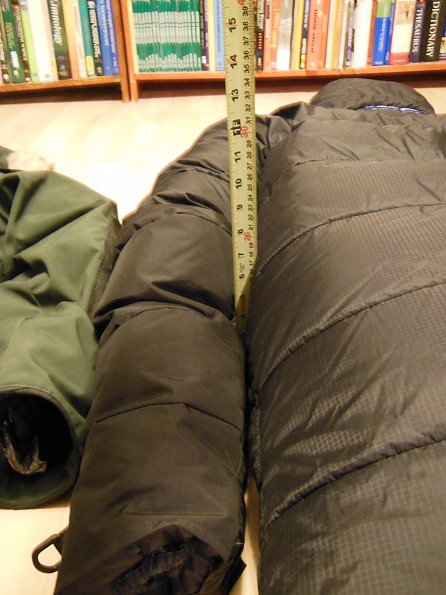 A previous writer had commented on the hand warmer pockets and I concur; they are useless with only a layer of some kind of polyester "fun fur" for insulation.
I could go on but I should say that this is an authentic, Canadian made product, purchased at a registered dealer, but for the cost there is so much better out there. This parka may be fine if you need to crawl under your car in the winter to change the oil, but for full on expedition use, my old NF parka — twenty years old and well lived in — is still far superior than this and still twice as thick.
At this price your money is better spent elsewhere.
Where to Buy
sponsored links
Help support Trailspace by making your next purchase through one of the links above.