User Review:
Coleman Solo Cook Kit
Rating:


Price Paid: $23.89 + Tax

So I picked this up on a whim one day and thought it might be a good two pot system for cooking on stoves and coals.  If it got too messed up I wouldn't be out too much bread and if it worked I would consider it a victory in purchase power.  
The overall weight, including sack is 15 7/8 oz. The small pot (20oz.) and pan (12oz.) weigh in at 7 oz.  The large pot (32oz.) and pan (16oz.) come in at 8 1/8 oz.  Yikes, it's a tad on the heavy side for both, but what it lacks in weight it makes up for in cooking ability.  
The pots are made of hard anodized aluminum, a surface that conducts heat well, and evenly. They come in a matte black finish, and have measurement labels cast on the inside of the pots.
These pots are amazingly strong, and well made for the price. The large pot is big enough to nest a large Snow Peak canister, and the small pot nests a small canister comfortably.  My Snow Peak gigapower nests inside both, with or without the case.
Cooking with the pots are a joy, once warm they require very little heat for simmering, and if you cook like I do that's important.  If I have a fire, complex gourmet trail cooking is a breeze with this set.  
If you want a classic meal like linguine with sauté garlic and olive oil, I recommend boiling the water in the large pot and using the small pan to sauté the garlic in extra virgin olive oil over coals. Use the small pot to act as a mug and drain the semolina water into the small pot using the large lid, inverted over the large pot and presto, you have hot water for tea, or hot coca.  Add a little shaved Parmigiano-Reggiano, some cracked pepper and you're molto bella.  
Frying a large or jumbo egg in the large pan provides the perfect surface area for an english muffin, just use a little oil or butter on the pan and the egg is real easy to manage.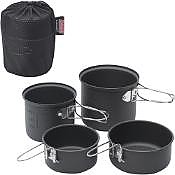 If all you are interested in is boiling water, this set might be a little on the heavy side. That said, I have taken only the small pot and stuff sack with me on occasion and they have served me well. The pots won't bend and warp when hot like titanium, and the folding handles are long enough to stay cool when simmering and boiling.  
My Snow Peak 450 Double wall mug nests inside the small pot perfectly, although you'll have to pack the canister separately.  One thing to consider is that cleaning can be somewhat tedious, due to the raised measurements on the inside of the pots.  Getting in between those zeros is a little less than tricky.
Overall, I find that these pots and pans work well in the backcountry, whether you are boiling water or going gourmet you'll find an ease of use, relatively inexpensive and more importantly they provide a uniform cooking surface that efficiently accepts heat and cleans relatively easy.  
Try it for yourself, if you don't like it you won't be out too much cheddar.