User Review:
Cumulus Panyam 450
Rating:


Source: bought it new
Price Paid: around 300$

Summary
Universal, compact and lightweight, this sleeping bag surely deserves a place in your backpack whenever you travel in a moderate climate.
Pros
Very light, yet very warm
Resistant
Good materials and manufacturing
Cons
Sometimes hard to combine with other sleeping bag (the zipper sometimes works hard on other bag's zipper)
Panyam 450 by Cumulus
I got my sleeping bag two months ago, just before my biggest trip so far. I tested it during my journey to Russia. I spent several weeks in the east and I am very pleased with this sleeping bag. I used it mainly while sleeping in a tent (with a night temperature spanning between 40ºF in Khamar-Daban Mountains and 50ºF – 55ºF at Lake Baikal's shores), but it turned out to be very useful also indoors on several occasions and I didn't get overheated.
It's a good choice when you are looking for an all-season equipment in moderate climate. Though I haven't used it in a really rough climate, I believe this sleeping bag could still be warm enough in temperatures way below those I've experienced in Russia.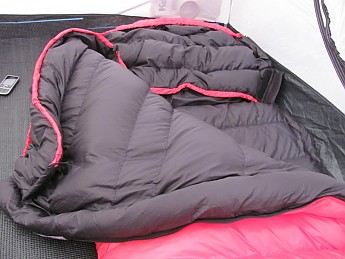 The Panyam 450 sleeping bag is very light  — only 1,8 lb with a thermal comfort down to 20ºF, which is a very good result. I also liked it for its dimensions – when compressed in a small traveling pouch, it took less place in my backpack than I had expected.
I really appreciate the quality of materials and manufacturing – I didn't take a good care of it during my four-week journey, but there is no sign of damage at all. No punctures, no tears. I didn't notice any down escaping from it which sometimes seems to be a common problem in low-cost down bags. It looks like the Pertex Quantum material does very well. 
The only inconvenience I've noticed so far is that Panyam is sometimes hard to combine with sleeping bags from other manufacturers. I used several times a synthetic sleeping bag as a "sheet" and my down bag as a cover. Panyam's slider tends to work hard on other zippers' coils and it may take a few moments before finally linking both sleeping bags. Anyway, the zippers operate smoothly in the "single player" mode :)
The sleeping bag by Cumulus is comfortable and well-adjusted. The down uncompresses easily after unpacking from the pouch — shaking the sleeping bag a couple of times will bring it to its initial dimensions. Panyam, as any other down bag, may need some drying to prevent humidity, keep that in mind before packing it. However, the fabrics seem to be quite breathable.
This is my first experience with Cumulus products, but I have to admit that I'm really satisfied with its overall quality and I can honestly recommend Panyam 450 as an universal sleeping bag.
---------------------
You can find more technical details at Cumulus website.