User Review:
DAC J-stake
Rating:


Price Paid: $1.25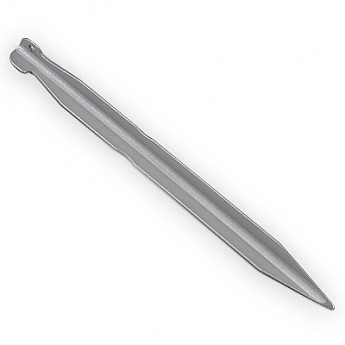 So tent stakes...pretty straightforward, yes, but there are still fifty different choices out there. I also reviewed The North Face 10 Stake Set, which are the same exact aluminum stakes but include the reflective cord removal loop (which is useful, no-doubt-about-it). 
The stakes are great, easy to put in and hold firm in the ground for guyout lines and tent corners/vestibules.  My suggestion though is to buy these DAC V-Stakes individually (EMS, $1.25/each), buy a spool of reflective cord (EMS, $15) and attach the removal loops yourself.  Then you can use the extra reflective cord for guyout lines and have a laser light show around your campsite at night! 
Seriously, the stakes are good - cheaper and lighter than the MSR Groundhog stakes.
These are the same stakes that come with the ultralight Big Agnes Fly Creek UL2, so obviously they are well respected in lightweight backpacking.
Where to Buy
Buy Online We found the DAC J-stake at 1 outdoor retailer:

sponsored links

V- , 1/4 in.
$1.25

s, Pack
$7.00
Add your voice
to the world's most comprehensive and useful collection of
independent outdoor gear reviews
.
Review Your Gear