Danner
Talus GTX
2

reviews

5-star:

1

4-star:

1

3-star:

0

2-star:

0

1-star:

0
Reviews
Okay, they're heavy, and hot.  Now the good stuff:…
Rating:


Price Paid: $130

Okay, they're heavy, and hot. 
Now the good stuff: My feet are Sherman Tanks in these beasts.
I had a pair of  boots with the Cordula nylon panels or what ever it was and they were comfortable and cool. I never had to pull boots during the day. For stream crossings (like your toe gets in the water) and just a heavy morning dew they were useless. No matter how much mink oil I gave them I got wet feet. I got good at pulling boots while my buddy splashed through 4" of water and sniggered at me.
Not so with these boots. Not only are they tanks in the water, they are a great shield to the toes when it comes to roots and rocks. I was on an overgrown trail and kicked a rock about every 10 minutes; these babies kept me safe.
With a full pack I get the support I need. I wear one pair of liners and a heavy pair of hiking socks and on a full pack day out, pull the boots at lunch, pull my socks and in 10 minutes I'm ready to put the boots back on (but I usually don't). 
On rock scrambles they have great traction; the mud seems to fall out of the tread on its own in a short time...seems to, I've never had to go digging at the soles. I have not had sore feet at the end of the day with these, or my old ones for that matter. 
I have been able to keep the tongue straight with these boots and I don't know if it's because I took care of keeping them straight while I was breaking them in or the design. The gusset comes up quite a way for the waterproofing I'd guess.
In my old boots I couldn't keep the tongues straight and would have no padding at the knot on the laces. These Danners have a very padded tongue and I can cinch up the laces about bone crushing if I want to.
Just not having nor worrying about wet feet has made these boots worth it. The armor-plated feel, and comfort help too.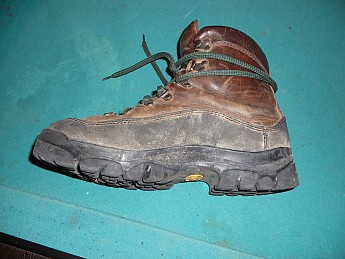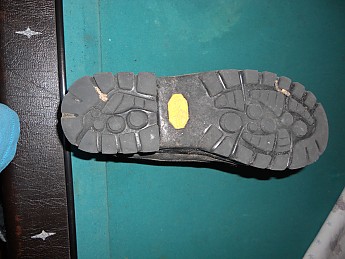 I wasted a few dollars trying to find some good, tough…
Rating:


Materials: leather, gore-tex
Use: day-hike, multi-day hike, snow-shoe
Break-in Period: almost immediately
Price Paid: $135

I wasted a few dollars trying to find some good, tough hiking boots, but eventually, I ran into these Danners. I'm skeptical of "waterproof," so I took them on a 3 hour swamp-marsh hike" shortly after getting them. No leaks and was in water 3-5" high for a long periods of time (like 5-10 minutes a pop).
I use them for 6-8 hours snow-shoeing in wet, soggy snow and no leaks. And miraculously, my feet are usually pretty dry after such gigs, which means these boots breath well.
Danner boots come in width-sizes too so if your feet are a little (or a lot wide), you can get a better fit. Boots come with nice solid laces (and an extra pair or laces), fit really well the first time I tried them, and have an awesome rubber bumper around the entire boot. This helps keep leather from getting nicked up (protects waterproofness). Also, the leather is constructed from a very large (non-seamed) piece. This helps with warmth and waterproofing.
All-in-all, these are the best boots I've owned out of about 3-4 pairs. Weight is pretty low on these boots too!
Manufacturer's Description
Visit Danner's Talus GTX page.
Retailers' Descriptions
Here's what other sites are saying:
A modern take on the classic hiking boot, the Talus(TM) GTX(R) boot is wrap-around comfortable and designed to tackle a variety of difficult terrains and climates. A full-grain leather upper and 360deg rubber rand offer tough abrasion resistance while GORE-TEX(R) lining provides breathable, waterproof protection. A unique speed lace-and-hook combination ensure a secure fit, and the aggressively lugged Vibram(R) Bifida outsole gives traction and durability.
- Danner
The Danner Men's Talus GTX is a modern take on the classic hiking boot. Durable and versatile, it is designed to tackle a variety of difficult terrains and climates. A full-grain leather upper offers tough abrasion resistance, while Gore-Tex lining provides the ultimate in breathable, waterproof protection. A unique speed lace and hook combination ensure a stable fit. And an aggressive Vibram Bifida outsole gives traction on loose surfaces and durability on long expeditions.100% waterproof, breathable Gore-Tex lining for the ultimate in comfortable, breathable protection.Vibram Bifida outsole is the staple hiking boot outsole due to it's advanced lug design that provides traction on varying terrains.A full-grain leather upper provides outstanding waterproof protection while the leather padded collar offers superior ankle support.Abrasion-resistant rand encircles the boot where wearing most often occurs.Speed lace and hook combination system for a secure, true fit and quick entry and removal of boot.Offers 6.5"" of support.Weight: 3.2 lbs.
- Campmor
The Danner Men's Talus GTX Hiking Boot takes weeklong backpacking trips in stride and the Gore-Tex insert keeps you dry and comfortable when the weather turns bleak. The Talus GTX Hiking Boot's one-piece full grain leather upper ensures years of tough durability and the rubber rand adds an extra line of defense against rough terrain. Scramble up the steeps and stomp through spring run off with the Gore-Tex liner to keep you dry. The Talus GTX's tough Vibram Bifida sole gives you solid purchase on anything from sketchy scree fields to soggy sandbars. These burly hiking boots lace up quickly and easily with the speed lacing system and hooks for a solid, comfortable fit every day of your excursion.
- Backcountry.com
Danner Men's Talus GTX
MSRP:
$190.00

The Danner Men's Talus GTX is not available from the stores we monitor. It was last seen July 9, 2013 at Campmor.
If you're looking for a new backpacking boot, check out the best reviewed current models.