User Review:
Deuter Kid Comfort II
Rating:


Design: Aluminum Frame
Max. Load Carried: 48-50 pounds
Height of Owner: 5'7"
Price Paid: $180

We recently bought the Deuter Kid Comfort 2 backpack child carrier. We bought this pack to carry our 6-month-old daughter on our frequent hikes. The Kid Comfort two has brought our family closer together and our daughter seems to love riding in it. Anytime we put her in the pack she smiles real big and begins to kick her feet in excitement. She is constantly looking in every direction on our hikes and has not fussed or become upset.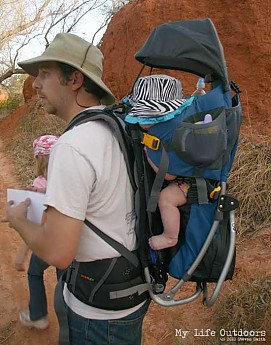 My daughter asleep in the Deuter Kid Comfort 2. Take note of the optional sun shade, retracted kick stand, and under seat storage and large padded hip belt
The Kid Comfort 2 is a aluminum frame backpack child carrier capable of carrying 50 pounds. Our daughter currently weighs 15 pounds combined with the pack weight of 5 lbs. 6 oz. I am consistently carrying 20 pounds. This does not include first aid kit, survival kit, rain gear, diapers, 2-3 liters of water and other miscellaneous items that end up in the packs ample storage space which easily push the pack to 25-30 or more pounds.
Even with this much weight the Kid Comfort two is very comfortable. The padded shoulder straps adjust to fit any torso. Combined with the padded hip belt it is very easy to keep the load off your back and on your hips. The back seems well ventilated. On a recent 6-mile hike with temperatures reaching 110 degrees I expected a lot more sweat. The pack breathed well and kept my back cool.
The child cockpit is well ventilated to help keep our baby cool. The optional sunshade/rainhood is great for keeping the sun off the baby without blocking her view. I am not so impressed with the rainhood aspect. Caught in a recent thunderstorm while attempting to summit Mount Livermore, the rainhood seemed to keep her head dry but did nothing to protect the rest of the child. We ended up wrapping the entire pack with a rain poncho just to keep the baby dry. I have since bought the Deuter Deluxe Rain cover which claims to protect the entire child. We will see how it does.


Deuter Deluxe Rain Cover
The side buckle allows easy access when putting the child in our taking them out of the pack. My daughter seems to like to rest her head on the buckle which began to scratch up her chin on our last trip. It must not have hurt too much, she didn't cry nor try to move away from the buckle. Part of this may be due to the fact that our daughter is still quite small. The child cockpit seems to be built for larger children up to 2 years old. Even with the straps adjusted as small as they will go our daughter can still more around a lot.
The other day we put a friend's 2 year old in the pack just to see the difference. We weighed the youngster at 27 pounds. He fit well in the cockpit and seemed very comfortable. I hiked him around our living room for about 5 mins and couldn't really feel the extra weight. Of course I didn't put any of the extra stuff in the back I mentioned earlier which would have added 5 to 10 pounds.
All in all we are very pleased with the pack. There are many convenient features like the retractable kickstand, water bladder compatibility, load lift straps, and a lifetime warranty. It is easy to see why this is the number one backpack child carrier on the market. I highly recommend the pack for anyone looking for a high-end backpack carrier.
Where to Buy
sponsored links
Help support Trailspace by making your next purchase through one of the links above.