User Review:
Eddie Bauer Men's First Ascent BC MicroTherm Down Jacket
Rating:


Source: bought it new
Price Paid: ~$225

Summary
It isn't meant for Tennessee winters, but it's still one hell of an active-use winter parka for cold, wet days around town or the campsite.
Pros
Comes in Tall sizes
Lightweight at 20.~ ounces
Hood is very adjustable and warm
Large hand pockets = great front vents
A Waterproof, Windproof, Lightweight Down Jacket?! Am I dreaming?!
Down dries well, no issues with clumping
Cons
Hand pockets are not very warm for hands
With base layers on, too warm in temps above 30°
Some of the adjustments don't really hold
It is not a rain jacket; don't do it.
I'll admit it. I'm a pretty big fan of down. I have a few sleeping bags and jackets of all types, so when I saw this in an ad in Backpacker magazine, I looked into it, found a deal, and bought it. 
I am 6'1" and 190 lbs, athletic, Medium to Large torso length. I got a Large, Tall. It's possible I didn't need the Tall size, but I have always suffered with shorter than preferred sleeves and jackets that don't cover my waist sufficiently, so I went with the Tall option since it was available. I ordered this, so I wasn't able to try on different sizes. However, the Large fits me well. The Tall length sufficiently covers my waist down below my pants pockets, but not too low, which is huge for me. The length on the sleeves could be taken in an inch or so, but really no gripes there. 
If I only have on a t-shirt, the jacket doesn't feel baggy, and it doesn't feel restricting when I have on multiple layers. I relate this versatility to the jacket's cut and adjustability. There are three draw cords. The first is around the waist or bottom of the jacket, and the excess cord is hidden in the pockets. I have noticed that this draw cord is fastened with a foam cinch-er instead of the traditional "push-to-release" cord locks. They obviously switched those out here to save some weight, but the foam piece doesn't hold very well unless pulled tighter than I prefer. Not a big issue though.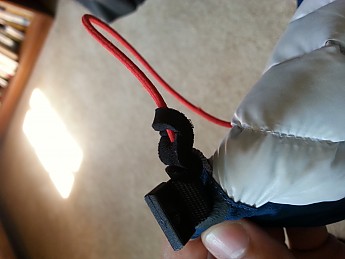 The second draw cord is around the back of the down hood. It's awesome. Easily adjustable from helmet to head, and when it's drawn tight around the head, the hood is oh-so warm. Love it. The third and final draw cord cinches the hood around the face. This is clearly another lightweight switch out like the foam cinch on the waist line. It took me forever to figure out. To cinch tight around face, just pull on cord and then up to lock in position. Just look at the picture. I can't explain it better than that. However, when properly locked, it works well and releases easily.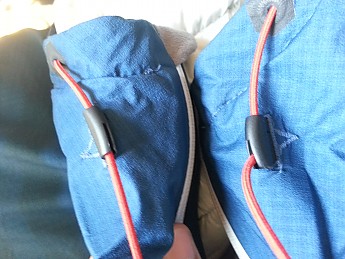 That's about it for adjustability. The cuffs secure well with velcro closure. Standard. The material is very light and the down is even lighter. Abrasion resistance seems okay, but I really don't have any experience wearing the jacket in highly abrasive conditions. 
Moving on, water resistance is good. I sat in the rain at a football game for several hours wearing this jacket. It was soaked, but the water didn't seem to penetrate the shell and absorb into the down. It was, however, strange wearing a down jacket in the rain. I mean, water gets in either through your cuffs or hood. I was damp inside, and the jacket definitely gets clammy, but I was warm, which I can't say for anyone else at the game.
I definitely would not wear this jacket hiking in the rain. It is NOT a rain jacket; don't do it. I do wear it around town in Knoxville, TN, and I do enjoy the fact that it is waterproof. On cold, wet days, I stay very warm and dry in town, and I love wearing it in town for that reason, but up in the mountains of TN, this jacket just wouldn't have the opportunity to dry.
This jacket performs the best in icy or snowy conditions, which I have used it in. That is what it was designed for, so no big surprise. Breathability is good, but not through the fabric. The hand pockets can be unzipped into giant vents, which really vent the jacket well.
I generally wear this jacket over a sweater/fleece shirt over a short sleeved shirt. For light physical activity or moving around setting up camp, this set up has kept my upper body very warm into the low 20°s. I found it to be surprisingly warm for the weight and amount of down. When I sit down in camp, I layer a Marmot Zeus down vest over my fleece shirt, inside the jacket, this set up has me feeling great sitting out in below freezing weather. A first for me.
As far as warmth goes, the temperature has to be well below 20° for this jacket to be comfortable while hiking with a backpack on. Once again, this jacket is designed for colder application, so no surprise there. 
Overall, it's a great cold weather jacket/parka/coat. For winter camping, I bought it to replace my Golite down jacket and Mountain Hardwear Typhoon Goretex rain shell. I replaced the Golite but not the rain shell, as the BC Microtherm is too warm to be worn while hiking on most Tennessee winter days.