User Review:
Eddie Bauer Men's First Ascent Peak XV Down Jacket
Rating:


Source: bought it new
Price Paid: $240

Summary
This is a preliminary look at the jacket's fit, features, and construction, which I will supplement after using it this winter. This looks and feels like a substantial down parka for cold weather. Design is simple but satisfies several key needs. A tad heavy, but with the apparent intent to survive some abuse. I'm looking forward to some winter camping.
Pros
Extremely warm
Simple but useful features
Appears to be well-constructed
Nice puffy hood
Burly outer fabric
Sized to fit over layers
Cons
Probably too warm for anything but deep winter use
Somewhat bulky/heavy
No stuff sack
As noted, I have not yet used the jacket but wanted to provide some basic information. This will replace the down jacket I use to stay warm when I'm sitting still on winter trips in Northern New England and New York State.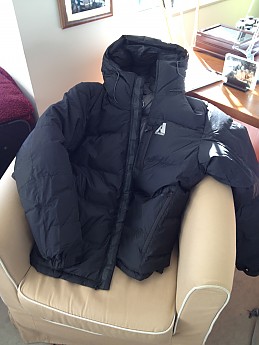 This is a down jacket made for very cold weather, and has the expected pluses and minuses.  it is reasonably heavy and bulky - i have not weighed it, but I am guessing it weighs roughly 2 1/2 pounds, eg 42 ounces.  in part, that is because it has a lot of down, 14.5 ounces of 850 fill power down in this size XL jacket (checked with the manufacturer on this), and an outer shell that in the 'lightweight' areas is solid, but on the shoulders, outer arms, ends of the arms is even heavier. 
This jacket is clearly not made with ultralight fabrics to save weight, but rather to hold up under abuse.  Given the conditions one normally sees in the winter, in the mountains, that's not a bad idea.  The outer shell purports to be waterproof & breathable, though it does not appear to be gore tex or eVent brand.  On a baffled down jacket, it is not possible to see whether the seams are taped, but I doubt it.
to put this jacket in perspective, it is not a true Himalayan beast like the Mountain Hardwear Absolute Zero, the Feathered Friends Rock & Ice Parka, or the Valandre Bering, but it's not far behind in terms of insulating value. 
The jacket is true to size, would fit over a fleece or soft shell for me. Sleeves and shoulders are cut generously, so when i raise my arms up, it only rides up about an inch.  the hem is a few inches below my hips - enough to stay warm, but short of a true 'parka.'  the hem has an elastic to pull it tight; there is no waist elastic or powder skirt.   
Cuffs have tabs with velcro.  the hood is puffy - not removable, has a rear adjustment to cinch it down, as well as the normal pulls on each side, in a place that is easy to grab and pull, and allows pretty good peripheral vision by the way it is designed.  the hood is easily large enough for a helmet.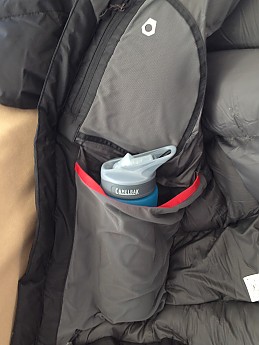 One nice feature is that the inside of the jacket next to your face has a thin layer of fleece. for pockets, the jacket has 3 zippered outside pockets, 2 for your hands and a smaller one at the chest.  zippers have pulls which are large enough to use with gloves on, and the zippers all run easily.  in particular, the front zipper, which has no outer flap but is backed by a thin draft tube filled with down, has a stiffer material adjacent to the zipper. 
Someone clearly understood that zipper snags can plague puffy down jackets like this and designed around that.  inside, there are three stretchy mesh pockets - a small zippered one at the chest, and two larger ones on each side of the lower front.  the larger stretchy pockets each swallow a one liter water bottle but could also hold spare mitts, hats, food.  These are all features I will really appreciate on winter evenings in a tent, or during stops when i put something on to stay warm.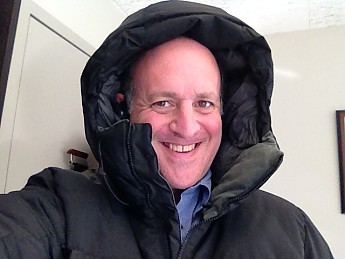 Stitching is clean and tight, extra stitching at stress points at the top and bottom of the zipper, cuffs.  I saw only one or two stray feathers.  Durability, of course, remains to be seen.
I should mention the price, because it was a key positive. Jackets with this much high-loft down generally cost a small fortune. Compare Valandre's Immelmann or the Feathered Friends Icefall or Frontpoint.  It is fair to say that you pay a price for the quality of the super-premium brands, and that those brands offer a similar amount of insulation in a lighter-weight overall package; generally, they are 8-10 ounces less than this jacket.  But, this retails for $400 and is often on sale.  With a recent 40% off 'cyber monday' price, it was an irresistable steal.     
More to follow once i have taken some trips this winter.  for now, i'm very pleased.