User Review:
GoLite Shangri-La 3
Rating:


Source: received it as a personal gift

Summary
It's light weight, surprisingly stable in high winds, and versatile.
Pros
Weight and packability
Stability
Unique design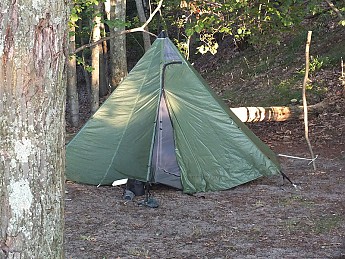 I've used this tent three times since I got it. The setup I have includes the internal nest and external tent.
The first time I used it was in is the dead of winter. I just used the main tent part. It was along the Lake Michigan coast and the night I used it, about 6 inches of snow fell on it and it held up fine. 
The next time I used it was this summer — mid July, again along the shores of Lake Michigan with both the next and the external tent. This time there were sustained winds of about 10 mile an hour. I set it up and it held fast despite the wind. 
The third time I used it was early fall backpacking in northern Michigan. This last time that I used it I got wet. It did rain for about two days straight but not torrential rain, just light and steady. It was also insane to set it up. I never had trouble setting it up but in the fading light of the day it just wouldn't work.
It is hard to line up the mesh inside door with the external door and make it fit right. Also it sometimes requires two people to set it up which the defeats the purpose of this being the go to tent for a solo backpacker.
Lastly it's a tight fit. The one time that I just used the external tent part, I tied off the top of it to an overhead branch. I didn't even use the pole that time. In that situation I had some room, but I didn't really want to spread out all that much since it was about 10 degrees out. But the other two times I shared with someone else and it was tight - and be careful you don't knock the pole down. 
All in all I'll probably keep using it for solo trips. It replaced a Eureka Zeus 2 that gave out on me.  I wouldn't recommend it for anymore than one person and I'd recommend it primarily in weather that isn't wet.  
Where to Buy
sponsored links
Help support Trailspace by making your next purchase through one of the links above.